Malladi Suribabu, Thiruvarur Bakthavathsalam, Nithyasree Mahadevan, Mysore Nagaraj, Chitravina N Ravikiran and Udaiyalur Dr K Kalyanaraman will conduct the classes in the online Music Summer Camp.
A virtual Carnatic Music Summer Camp will be held from July 12 to 24, organised by Acharyanet and the International Foundation for Carnatic Music. This is the 10th edition of the summer camp and is open to students worldwide, who have reached at least the varnam level.
The camp will consist of 45 to 50 sessions that focus on core music strength training, voice stability, mobility, fidelity and flexibility, Laya-based aspects, Manodharma and Ragadharma as well as compositions of diverse composers. There will be guided listening sessions with assignments and feedback as well.
Chitravina N Ravikiran will anchor the camp which will also feature sessions on topics like How to Create Aesthetic Experience by Malladi Suribabu, How to Improve your Laya by Dr Thiruvarur Bakthavathsalam, 10 Steps to the Top by Dr Nithyasree Mahadevan, Art of Accompaniment and Solo by Mysore Nagaraj, How to Identify Ragas in a Few Seconds by Chitravina N Ravikiran and Ashtapadis of Jayadeva by Udaiyalur Dr K Kalyanaraman.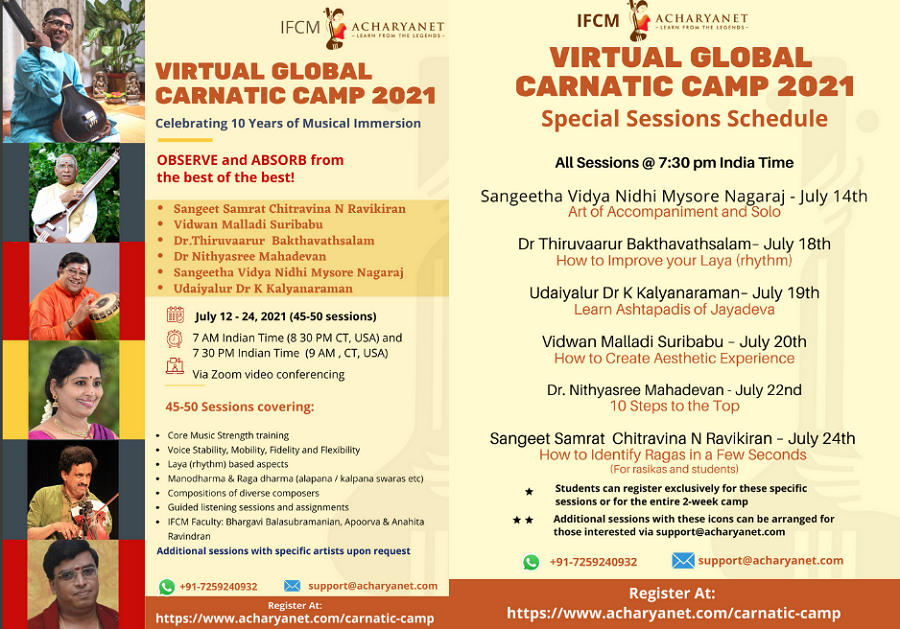 The camp was originally initiated by the Madison-based Melharmony Foundation and will include sessions by the faculty of IFCM Bhargavi Balasubramanian, Anahita and Apoorva Ravindran. Founded in 2010,
Acharyanet.com has a large online repository of over 500 masterclasses by legends like Madurai T N Seshagopalan, R K Shrikanthan, Trichy Sankaran, Tanjavur Shankara Iyer, P S Narayanaswamy and Chitravina N Ravikiran, to name a few.
Recordings of previous sessions will be made available for those who missed earlier sessions. Registrations are currently open and students can register here.
Email: [email protected]
or
Call/WhatsApp: +91 – 7259240932 for more information.