The guru Chitravina Narasimhan who has produced many prodigies and revolutionised teaching concepts in Carnatic, turned 80 this July.
In 1969, at the famed hall of Madras Music Academy, a 30-month-old boy sprang a surprise in front of music luminaries. The little one was able to identify 325 ragas, including all the 72 Melkarthas, 175 talas and could answer a bevvy of complex questions on music. The audience included stalwarts such as Semmangudi Srinivasa Iyer, Pandit Ravi Shankar, M S Subbulakshmi, Flute Mali, Palghat Mani Iyer, T N Krishnan, Ramnad Krishnan and Ustad Alla Rakha. "With mikes all around him and his hands full of biscuits, all the time playing, the child gave out correct answers", recorded The Music Academy Journal in 1970.
The boy grew up to become musician Chitravina Ravikiran. Standing behind the curtains was his father and Gotuvadyam exponent Chitravina Narasimham. Apart from Ravikiran, Narasimhan moulded and introduced to the world of music his other children Sashikiran, Kiranavali and nephew Ganesh, all at a very young age, and has trained many other young artists.
Son of legendary musician Gotuvadyam Narayana Iyengar, Narasimhan was an accomplished vocalist at age 10. He popularised Narayana Iyengar's advancements on the ancient Chitravina, including the string arrangement, tuning methods and playing techniques. He has composed several ragam-tanam-pallavi-s in intricate talas and evolved complex melodic-rhythmic techniques.
In an interview with India Art Review, Narasimhan discusses the importance of coaching musicians at a young age and more.
You've changed the dynamics of teaching Carnatic music with your focus on young children. How do you recognise talent in a very young child?
Music is like language; a systematic one at that. When we speak, there is sruthi, vibration, and tonal modulation. In music, these are measured. From the day a child is born, he is listening to various sounds. So the child picks up language naturally, just by observing others. But grown-up has to 'learn' a new language. So, like language, you should introduce music naturally.
How early can a child be introduced to music?
Infants, as early as three months, can be introduced to music. However, the concept should be introduced very tactically rather than antagonising a child. Ragas such as Kaapi, Shama and Thodi, which a child can pronounce easily, should be introduced first. Make the child listen to the most important phrases of the raga multiple times. The 'nada' will attract the child. For example, when a three-month-old baby is lying on the bed playing, you sit next to and sing a phrase of Thodi and say "Thodi". Repeat this many times and the child will relate the word to the raga phrases. Never sing the phrase and ask the child what raga it is. That will only antagonise the child. Instead, you can ask the same question to another grown-up and s/he can tell you the answer. The child will pick up through observation and will acquire sangeetha gnyanam.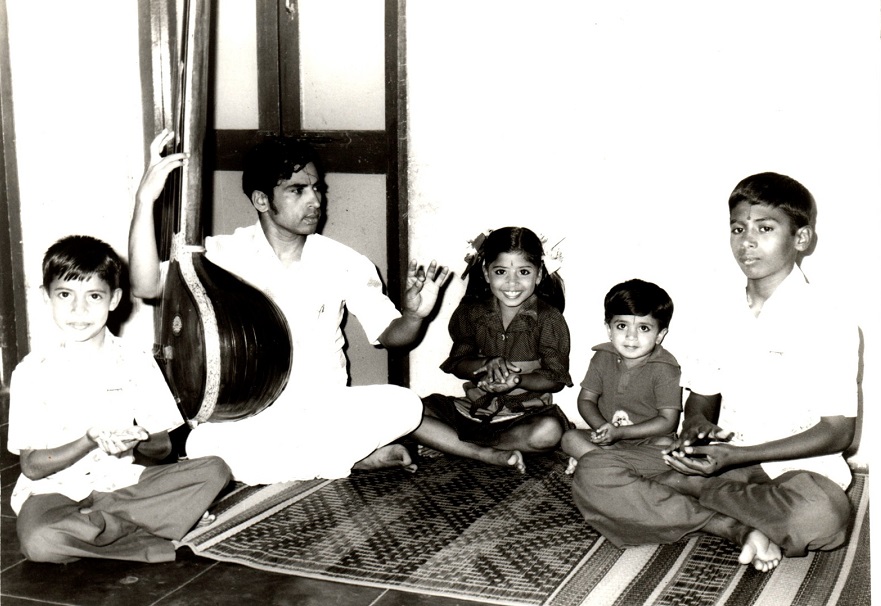 Isn't sangeetha gnyanam an inborn talent?
Music is not hereditary. I'd say God is impartial and hence any child can learn music. It has to be nurtured well. A convenient atmosphere is more important. There should be a musical atmosphere from the day the child is born or even before that. Listening to good music is the first and most important step in acquiring gnyanam. Kelvingnyanam is very important for developing sangeetha gnyanam.
How do you teach the names of the 72 Melakarthas to a very young child? Sounds complex.
The 72 Melkartha ragas are like alphabets. You can recite their names while doing mundane things like climbing steps. Make the child listen to the names of the ragas interestingly. Slowly introduce the arohana, avarohana of each raga. The next step is to introduce gamakas and small phrases, then the 12 swarasthanas, 16 notes and the 22 sruthis.
What are the benefits of catching them young?
Everyone has got the talent. However, learning is effortless for a young child. Retaining what you learned as a child is much easier than keeping what you have learned at an older age.
How can a student balance his school education and music?
If you want to become a great musician you have to learn and practise music with that goal in mind. If you dedicate yourself, it will bring you everything. My father used to say that if you believe in music, it will bring you food even if you are inside a deep forest.
And this stands true in my life. When I was 17 years old, I went to Thumbur Theertham, the holy watercourse located inside the Tirupati forest with my instrument Gotuvadyam. I planned to stay there for 48 days for rigorous practice and to perform trikala snanam (dipping in the theertham three times a day). It was a dhyanam. I practised for almost 22 hours a day. After 45 days, my food got exhausted and I was so tired. But to my surprise, a bear from the deep forest came to drink water from the theertham. It carried a bunch of Elanthapazham (Indian Plum) and it left them near the water source. I could survive the rest of my days with those.
Is lakshya more important than lakshana in music?
Some people will sing only with lakshya gnyanam. They might sing well but will not have lakshana gnyanam. Both lakshana and lakshya are important and are complementary to each other.
When your career was blooming as a performer, you took a break to become a guru. Why did you do that?
I still consider myself as a music student, not as a guru. Learning music is a joyful journey. There is so much to learn and enjoy. Mahaperiyava Chandrasekhara Saraswathi swamigal has told me that the life of a musician is great because just by singing a note with a perfect sruthi, a musician can transport his ecstasy to a rasika. Nobody else in this world can do that.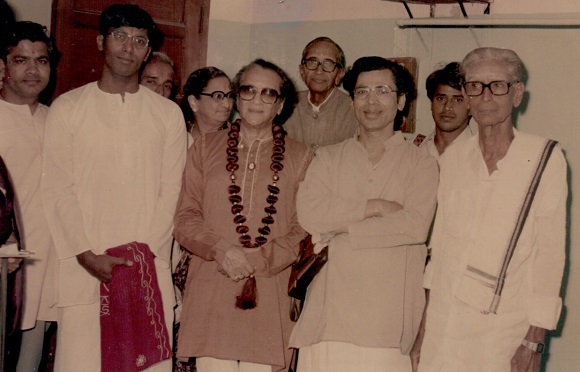 My father was my guru. But I have learned many aspects of music from other Mahagurus. After hearing the greatness of his guru from my good friend Pandit Ravishankar I went to meet the legendary grand old guru Ustad Allaudin khan in his hometown Miher and played Gotuvadyam in front of him. He was so mesmerised with the 'nadham' of the instrument. My father, Gotuvadaym Narayana Iyengar has arranged the strings of the instrument in such a way that it will vibrate for around one minute.
How did Gotuvadyam become Chitravina?
Musicologist P Sambamurthy in his writings has mentioned that the ancient instrument 'Chitravipanchi', which was played by Lava and Kusha in Ramayana, is the same as Gotuvadyam. It was played using 'Kona', a piece of wood. In North Indian music, the instrument 'Vichitravina' was developed from Gotuvadyam.
Renaming Gotuvadyam to Chitravina helped popularise this instrument in foreign countries, as they connected with the name Vina easier. Now, the instrument is a bit smaller as well; this makes it easier to carry around. At the international level, Chitravina is popular now.
You have composed many complicated pallavis and korvais. What are the major aspects to keep in mind while composing pallavis?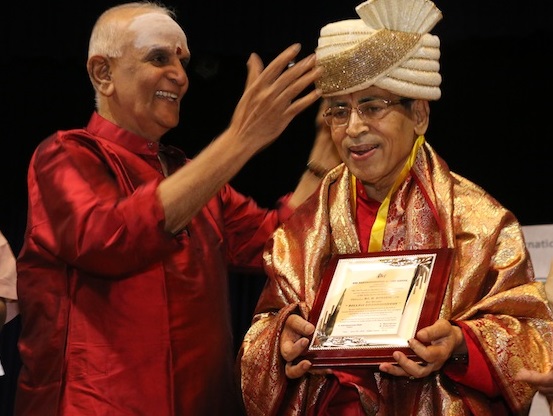 Umayalpuram K Sivaraman has composed Panchanadai korvais. Taking inspiration from the same, I came up with Swaroopa panchanadais. Each korvai has an underlying theme of chaturashram, tishram, mishram, khandam or sankeernam in each section. The first korvai will be in chaturashra swaroopam in each of its five parts, the next will be in a theme of tishram in each part and so on.
Pallavis are filled with kanakku. However, the basic rule is that the 'music' should excel. If the kanakku is excelling than the melody, it won't be appealing to the listeners. Both Nadabrahmam and Layabrahmam are equally important and inseparable. However, the laya should be embedded in the music without protruding like gem-studded ornaments.
What is the most important quality of a guru?
A guru should be a knowledgeable person in theory as well as in practical lessons and should be able to inculcate interest in the shishya and encourage him. While imparting the lessons, he should treat his students with the utmost affection and should be patient enough to repeat the lesson how many times a shishya needs. Patience should be his most important quality.
For a student, passion should be prime. Listening to the guru, obeying him and his passion for music will help a student to grow and develop as a good musician.