Indian Fine Arts Academy, San Diego (IFAASD) and Acharyanet,  will jointly host the 12th edition of the
Carnatic Music Summer Camp, tagged as Discover the Performer in You. The two-week immersive musical experience will be jointly conducted by veteran musicians Neyveli Santhanagopalan and Chitravina N Ravikiran, in San Diego from July 15 to July 29, 2023 and will also be streamed live for online participants.
Designed mainly for middle and advanced level students as well as emerging performers, the camp
will offer 45-50 sessions, some individually and some jointly by the two gurus. It will focus primarily
on the science and art of performance with equal stress on creativity (like alapana/kalpana swaras)
and compositions. 12 special sessions have been planned for beginner level students which will be
taught by disciples of Santhanagopalan and Ravikiran. Santhanagopalan explained the spirit of the camp and said, " This is the first time that we are collaborating in a revolutionary way to empower passionate and serious students of music in this Camp in both compositions, creativity and Kutchericraft and competence."​ ​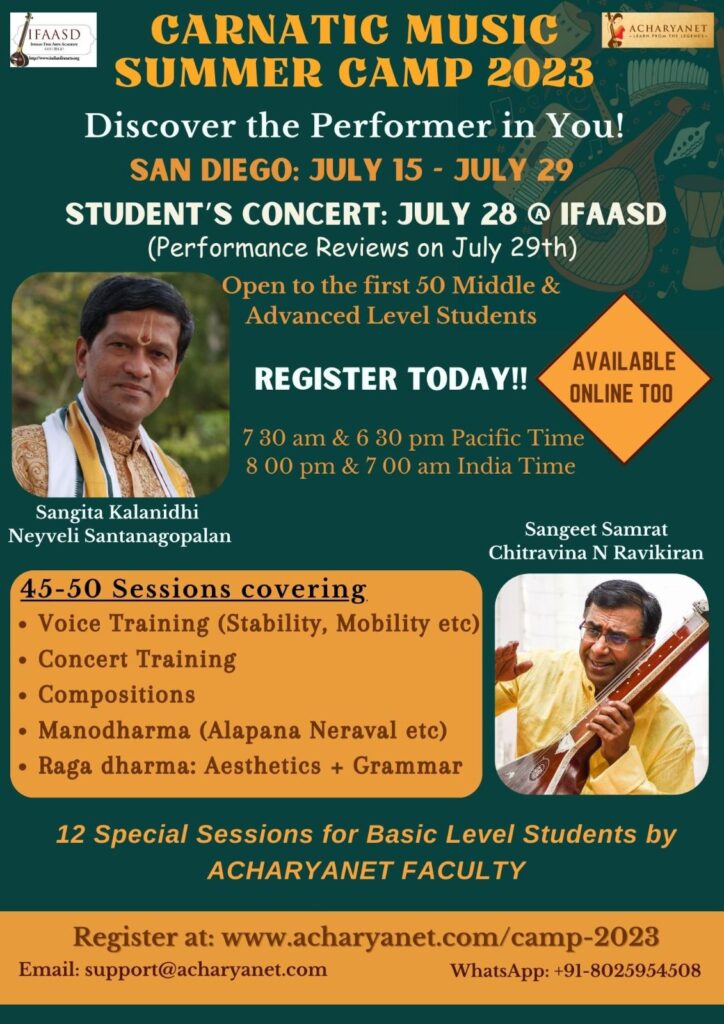 "The two key words in this camp are: observe and absorb", said Ravikiran. "Students who learn
diligently, introspect on what is taught and follow the recommendations of good gurus tend to
progress more than students with equal talent who do not do these. We aim to cover compositions,
manodharma, raga dharma, gayaka dharma and vadya dharma."
Students can register at: https://www.acharyanet.com/camp-2023.