With her melodious voice, Parassala B. Ponnammal rewrote the 300-year rule that prevented women inside the Navarathri Mandapam. The writer reminisces the historic moment and the deep bondage they shared.
One of my fond childhood memories was, listening to Maharaja Swathi Thirunal's Padmanabha Shathakam broadcast by All India Radio as part of the morning program (called "Udaya Geetham", I think.) The owner of the rich deep, melodious and profoundly calming voice featured in this often repeated program, was Vidushi Parassala B. Ponnamnal.
Years later I met her briefly during the 60th Birthday celebration of my beloved Guru Prof. Vechoor Hariharasubramania Iyer at his home, which was just a few houses away from her home in Valiyasala Street in Thiruvananthapuram. Over the years, I got to attend several of her concerts, mostly at the Sri Swathi Thirunal Sangeeta Sabha and I always enjoyed her music which was completely pure and classical, containing the essence of just what was good, which she imbibed from her illustrious Gurus, minus their mannerisms. The formidable list of her Gurus includes veterans like Harikesanallur Muthaiah Bhagavathar, G.N.Balasubramaniam, Musiri Subramania Iyer, K.S.Narayanaswamy, K.R.Kumaraswamy and Semmangudi Srinivasa Iyer.
Years passed and I left Thiruvananthapuram after my Guru Vechoor Hariharasubramania Iyer Sir passed away in 1994. Once I was honoured and delighted when she attended a veena recital of mine at Thiruvananthapuram and blessed me. But we were not really acquainted with each other at that point.
At the Navarathri Mandapam
From my age 16, I had been trying to get the authorities in charge of the Navarathri festival, to change the 300-year rule that disallowed women inside the Navarathri Mandapam, be it as performers or as listeners. The moment arrived 22 years later, when we had a Navarathri Trust meeting, soon after the 2005 edition of the Navarathri festival. The big question was, who should be the first woman to sing there? Though I had no idea whether Vidushi Parasala B. Ponnammal was still singing or not, it was only her face (and her music) that instantly came to my mind.
I took my car and went to Valiyasala Agraharam, found out where her house was and entered the place unannounced. Ponnammal Teacher was a bit shocked and overwhelmed initially when I revealed the purpose of my visit. At age 82, she felt that she had had her innings and was content to stay at home and fade away quietly. She exclaimed "I don't even know whether I will be Alive next year!" and I assured her that none of us knew whether any of us would still be alive the next minute and that was settled.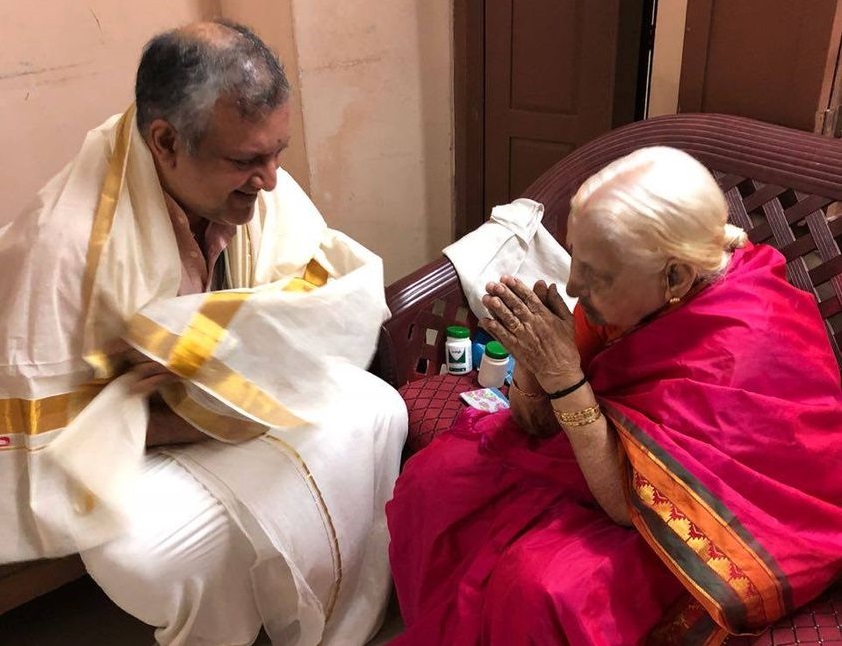 Everyone involved, was tense and excited when Ponnammal Teacher walked into the Navarathri Mandapam the next year. But the moment she opened the concert with the magnificent Thodi Varnam "Daani Saamajendra" all doubts, if any, were laid to rest.
Though I hadn't heard of YouTube at the time, I was sensible enough to capture this unforgettable rendition on video, with help from my father.
There was a fair bit of local media coverage about this peaceful milestone in the annals of Navarathri Mandapam chronicles. I visited Ponnammal Teacher again, after the Navarathri festival was over, to assure her something that I knew right from the time her concert was going on…..that her concert was the best of the series! She was thrilled.
A rare gem
I told her that when the world discovered her music, she would not have time to be at home anymore, though I didn't have a clear idea about how the world would discover her at the time. When I told her that she had just sung on the first day of the nine-day festival and that she would have to sing eight more times, the same Ponnammal Teacher who wondered whether she would be alive the next year, when I invited her the first time, joyfully agreed that she would certainly be happy to sing for the next eight years!
And then YouTube arrived! The timing couldn't have been more perfect! I uploaded a few videos from Ponnammal Teacher's concert on my channel and sent the links to hundreds of music-related people whom I knew. And the enquiries started pouring in.
Who was this? When was this recorded? And so on. I would give them Ponnammal Teacher's number and she started getting invited to Madras (again and again), Bangalore, Hyderabad, Bombay, you name it! And she did a tour of the U.S. too in 2009! Along with concert invitations, the awards started pouring in too, including a Padmasri. The All India Radio where she was an A Graded artist for more than 50 years or so, finally decided to give her an A Top Grade. At least one documentary has been made on her life and music. Things came full circle for me when I introduced my student Amrutha Venkatesh to Ponnammal Teacher and both of us paid tribute to her on her 90th birthday by singing the same Thodi Varnam which started this Golden period of my life.
All of us were waiting to celebrate her 100th birthday with a concert by her, but sadly that was not to be. Our "Golden Girl" as I used to call her affectionately, physically left us at the age of 97. But her love, blessings, humanity, integrity and sterling music, continue to light up the lives of everyone who was fortunate enough to have discovered this rare gem of an artiste and human being.