Vocalist Sarathi Chatterjee (1964-2020) was destined to synthesise two major schools of Hindustani classical. Indian music lost those rare notes abruptly.
Growing up in Kolkata, Sarathi Chatterjee used to engage in a curious tryst with music. Barely 10 years old, he would tune his parents' tanpuras at home and keep them back in the right place. "This I did religiously when I was a school student in class 4 or 5. That apart, I only sparingly practised vocals those days," he would recall with a chuckle.
Whatever, the pre-teen boy of the mid-1970s grew up to become a fine exponent of Hindustani classical. Not only did he groom under his father and mother starting from the age of four; Chatterjee later received advanced training under the famed Rajan-Sajan Mishra. It meant a blend of two famed music schools: Kirana and Benares.
That confluence took its course further forward and proceeded well for quite a while — until when tragedy struck unexpectedly. Chatterjee died in Gurgaon of the National Capital Region this week, aged 56. The end came on December 29 following a failed liver transplant.
Chatterjee used to say with a happy smirk that he was never initiated formally into music. "Both my parents were musicians; so sa-re-ga-ma was integral to our family. The saptaswaras would constantly waft across the rooms," he would wind back in a 2018 television interview.
Little Sarathi was trained initially under his father Arun Kumar Chatterjee, who sang in the Kirana style. The gharana has had its influences with the country's south — much to the pride of the senior Chatterjee (92 years old now), who also accompanied Sarathi on the harmonium. Sarathi's mother, Shefali Chatterjee, was an expert in Vaishnava Padavali — the medieval Bengali poetry rendered in the temples. She sang in Akashvani. Sarathi's sister, Mahua Chatterjee, too got training in khayal — and later married tabla percussionist Prasun Chatterjee.
Benares blend
As youthful Sarathi's music began to blossom, he chose to undertake higher studies in khayal. From 1995, he became a disciple of the Benares gharana masters Mishra brothers. They live in Delhi, to where Chatterjee had moved in the previous year. As the new student would later comment: "Guru is one who always shows you the way ahead."

Amid widening his exposure to music, Chatterjee worked with Akashvani. "He was a programme executive. From 1994," recalls colleague Saraswati Rajagopalan, a Carnatic veena player. Chatterjee's radio job lasted only a decade. "On the one hand, I found the job wasn't permitting me to fulfil my aspirations as a vocalist. On the other, I felt I wasn't perhaps meeting my employer's requirements," he tells Lok Sabha channel in a 2018 interaction.
Notwithstanding his artistic pursuits, Chatterjee was at one stage pretty desperate about not making trips abroad as a musician. "I could see my fellow artistes flying to other continents, giving concerts and leading workshops. Nothing came to me," he would trail off.
Then, just into his 30s, the vocalist got an invitation to three countries in one go: England, France and Dubai. Since then, Chatterjee began performing fairly regularly in the West, not to speak of concerts within the country. Also, after graduating from the University of Calcutta, he researched on the psychological impact of music and collaborated with a central government project.
Chatterjee first appeared on the AIR national programme of music in 1998. That was the year he won the Union Human Resource Development Ministry's junior fellowship for research on 'Different Styles of Thumri'. Six years later, he sang for Doordarshan. In 2006, Chatterjee founded a society to train students, conduct symposia and honour masters. Sangeetam, as the organisation was named, also conducted music and dance festivals with focus on up-and-coming artistes. His son, Saptak Chatterjee, 25, holds promise as a classical vocalist.
Art world grieves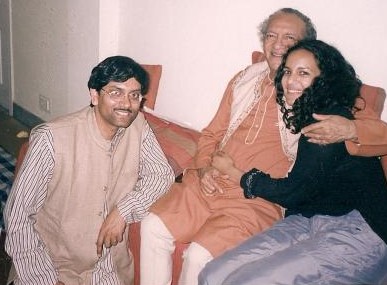 Chatterjee used to say that any degree of fame to a classical musician is of benefit to fellow professions. Today, his colleagues are shocked over the death of the vocalist. Sitarist Shubhendra Rao notes his telephonic conversations with Chatterjee invariably centred around music. "I tried calling him just 10 days ago, completely unaware that he was in the hospital…never to return! Will always remember your smile and you calling everyone guru!"
Emphasising the element of humility in Chatterjee, Carnatic vocalist Sudha Raghuraman recalls the admiration Chatterjee had for the southern music. "On that note, he would reiterate he was a fan of mine!" Khayal performer Lavanya Sundaram notes Chatterjee was as good a teacher as a performer. "He was keen to impart his immense wealth of knowledge. He motivated every student," she says.
Singer Shashi Sargam remembers Chatterjee's contributions to her doctoral thesis: "He spent endless hours proofreading my research papers and giving me excellent suggestions which always resulted in improved versions of documents." Chatterjee's son Saptak recalls their first-ever duet in May 2019. That was in Dhaka, where "moments before the concert, my father decided to perform a raga I hadn't formally learnt: JogKauns. Whatever I sang, I literally learnt on the spot!" the youngster says in a Facebook post subsequently.