Khayal musician Malini Rajurkar's mastery over taans lends her tappa a special flavour. The Gwalior gharana exponent turns 80.
Malini Rajurkar's tappa renditions roll out exhilarating vocal patterns that reinforce her excellent sense of geometry. One can, with an applausive smirk, part-attribute this taan eminence to the Hindustani musician's exposure to mathematics during her college days. This analysis can be true as well, but only if it gives centrality to the artiste's cultural upbringing.
The vocalist was brought up in northwest India. It is a semi-arid belt where camels further enchant the sights and sounds. The hump-backed animal is typical of Rajasthan, where Malini spent her formative years.
Tappa owes its "semi-classical" status to a sting of improvisations over the folk songs of the region's camel-riders. Encouragements by kings and composers over the past three centuries kept adding to the flourish of tappa. Its aesthetics, enriched by generations of court singers, manifest in the virtuosity of certain present-day maestros. Among them is Ajmer-born Rajurkar, who turned 80 this week.
Notwithstanding her specialisation in tappa, Rajurkar is primarily an exponent of the expansive khayal system, essentially built on imagination. She has been noted for her adherence to Gwalior gharana, one of the oldest schools of Hindustani classical. Even so, pundits notice a healthy eclecticism in Rajurkar's style, thanks to her capability to assimilate ideas and techniques from a range of yesteryear stalwarts.
"I am what I sing. If people like it, they are welcome. But suppose they aren't interested. Then I have no fun sitting on the dais. That way I stand by the views of Manik Verma and Hirabai Barodekar," Rajurkar says, referring to two frontline 20th-century khayal vocalists of schools beyond Gwalior.
Perfect guru and husband
Out of her teens, a young Malini seemed to veer way off music when she became a maths teacher. After graduating in the subject, she taught for three years at the Savitri Girl's High School & College. It didn't seem to be going in line with the promise Malini showed as a talented vocalist. This was despite her parents being avid music-lovers, and encouraging her talent that gave her a reputation in schooldays.
Then, luckily for Malini and Hindustani music, the youngster won a three-year scholarship in the arts. Thrilled, the vocalist joined for a Sangeet Nipun degree from Ajmer Music College. Also, she became a scholar under the Rajasthan Sangeet Natak Akademi. That led Malini to learn under Vasantrao Rajurkar and his even more illustrious uncle Govindrao Rajurkar. Her father, too, was pleased, though he put a condition: Malini must discontinue the course if the family found a marital match for her.
That, Malini did get. And without disrupting her artistic pursuits. She found a perfect husband in Vasantrao, who went on to become her life-long guru. The career only strengthened. The couple migrated to Hyderabad, which the Rajurkars made their city. Malini has also been into devotional songs and folk music, and plays the harmonium well too.
As for Pt Govindrao, he was a noted disciple of Rajabhaiyya Poonchwale of Gwalior. Malini's tutelage under him helped the vocalist assimilate the essence of the gharana, even as she learned from gurus of other schools. For instance, Rajurkar keenly follows the titanic Kumar Gandharva.
"You cannot simply become a good singer by copying your guru. You need to make additions to what you are learning," says Rajurkar. "Change is a part of growing."
Inspiring specialisation
Rajurkar's expertise in tappa has kindled interest in several Hindustani vocalists to learn more about that form of music. Manjiri Asnare-Kelkar, 50, for one. Into her teenage, Manjiri had become a "fan" of Rajurkar. "I bought her cassettes, painstakingly took down the notations and perfected tem by rote," she tells musicologist Deepak Raja in a 2003 interview.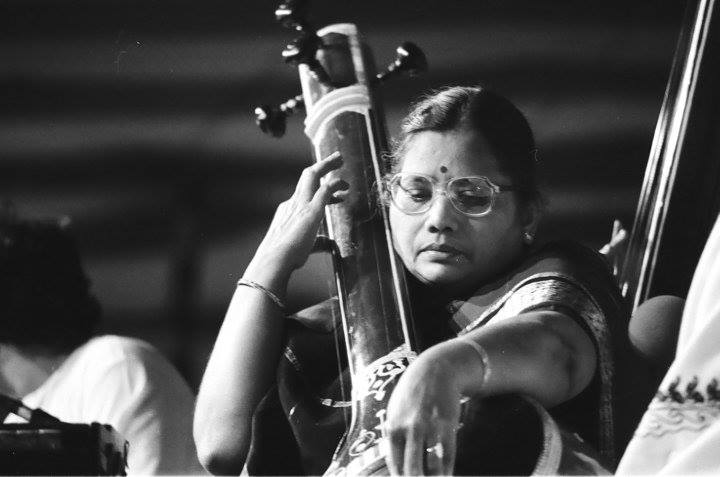 Aficionados of Hindustani music hail Rajurkar's felicity with fast phrases. Her consummate command over tappa, tarana and thumri merits appreciation, they note about the musician who began giving concerts since 1964 and has toured the US, UK, Canada and the Middle East. The domestic festivals Rajurkar has graced include Gunidas Sammelan (Mumbai), Tansen Samaroh (Gwalior), Sawai Gandharva (Pune) and Shriram Shankarlal (Delhi). A regular at Akashvani and Doordarshan, she has won several awards, including the Sangeet Natak Akademi (2001).
Harmonist-composer Chaitanya Kunte notes Rajurkar teaching him a tappa and bandishes. "For the last few years, she has deliberately moved away from the performing circle," he notes. "Despite health issues, the music is fresh as always! Sometimes when I call her to ask queries about a particular bandish, she would quickly render it. That gives me goosebumps."
Late critic Mohan Nadkarni lauds Rajurkar for overcoming the rigidities of the gharana ideology. "She has successfully evolved her own style that is firmly rooted in parampara (tradition)."
The story goes that her father, after Malini's marriage, wanted her to give prime attention to taking care of the family. The artiste's in-laws, though, insisted she accorded priority to music — her forte. Interestingly, Rajurkar seldom taught anyone music. "I have never denied to whosoever approaching me to learn the art. But I don't give music classes in the strict sense of the word," she says.