Ustad Amir Khan's contribution to Khayal Gayaki remains unparalleled. His unique style will continue to impact generations to come. February 13 is Khan's death anniversary
Ustad Amir Khan who revolutionized the modern Khayal singing, and with his unique style, he has left an indelible mark on the artists of many generations. Right from Bharat Ratna Pandit Bhimsen Joshi, to modern legends like Ustad Rashid Khan, everyone has borrowed from his Gayaki. Before Ustad Amir Khan, Khayal was thought of only as something which appeals to the intellect, and has no emotions. Barring artists like Abdul Karim Khan, most artists would aim at impressing the listeners with their complex Taans, extremely powerful Ghamakas, at times terrifying, and extremely chauvinistic Layakari. However, in doing all this, they did not pay enough attention to the melodic aspect of the raga, and clarity of words. Ustad Amir Khan changed all this and brought this format to the masses. He would often say, "Nagma Wo Hi Hai, Jo Ruh Sunaye, Aur Ruh Sune." (Only that can be called music, which is sung by a soul, and heard by another soul.)
Unique Khayal presentation
Other than his father/guru, Ustad Amir Khan was mainly inspired by three musicians. Ustad Rajab Ali Khan , from whom he imbibed Ghamaka patterns, Ustad Aman Ali Khan, from whom he learned the various Sargam and Merkhand, and built on them, and Ustad Abdul Wahid Khan who's Ati Vilambit style appealed to him. He often would take Jhumra taal in Ati vilambit speed, and preferred a simple Theka. The Raga elaboration would be in the lower and middle octave, which was a novelty in those days. He advised his disciples to do Mandra Sadhana with various Paltas, as he believed that if the foundation is strong, one can build a sky-scraper. So, if an artist is good in the lower octave, he can easily sing well in the higher octave as well.
Ustadji realized, that to compete with film music, classical music should also be melodious, and appealing to the mind of the audience. To do this, he removed the chauvinistic layakari and made it very subtle. He said, "people only restricted themselves to tishra and chatashra jati layakari. Even if they used other jatis like khanda/mishra/sankeerna jati patterns, they would use the same for the entire repetitions. I mixed them in a way that, if I say a phrase of tistra jati, the next phrase would be chatastra jati, and so on. Due to this, my layakari became very subtle."
Exceptional sargams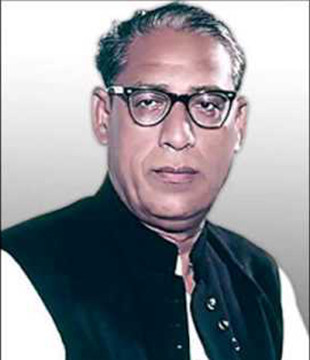 According to him voice should be like a pyramid, strong in the lower octave and soft in the higher. He selected ragas like Marwa, Megh, Darbari Kanada, Komal Rishabh Asavari, Bilaskhani Todi, Gujri Todi, Malkauns etc, [invoking gambheera rasa] which facilitated a lot of lower and middle octave development. His drut renditions were influenced by Qawwali, as he believed that, Chota Khayal is a different form of Qawwali.
Khan also developed his own style of rendering sargams. "Earlier people would only sing the notes of the raga. I added things like gamakas, meend, taan patterns, which would bring more of the voice use. Due to this, my Sargam became more expressive of the raga bhava," he said. While doing Sargams, his rigorous merkhand practise helped him. "My father made me practise 5040 taan patterns, which are possible through permutation and combination of the 7 notes, without repeating a note, for 22 years in only in Swaras. Even when you sing in Akar, you should be clear as to what note you are singing," he said. " As I grew older I realized that, out of these 5040 patterns, only 168 are useful. However, due to this practice, I can do any number of variations, on a single note, and can easily jump from one note to another distant note."
This Merkhand practise also helped him sing extremely complex as well as Sapat and Choot ki Taans. Before Khan, Taans were rendered with very powerful Gamakas and at slow speed. He softened the Ghamakas and sang ultra-fast Taans covering all the three octaves.
Another contribution of Khan is his extreme attention to words. Most classical singers previously would never pronounce the words. Khan not only pronounced the words clearly but also brought their emotions while developing the raga.
Blending carnatic
Ustadji had enormous respect for Carnatic artists. Artists like T Bala Saraswati were his good friends. He rendered many Carnatic Ragas like Hamsadhwani, Kalavati, Abhogi, Charukeshi, Janasamohini in his concerts and composed a Persian song of Amir Khusrow in the Carnatic Raga Ramapriya and named the raga Ram Kalyan/Priya Kalyan. While developing a Carnatic Raga, he would focus highly on Jeeva Swara of the raga, and develop more around it.
Even though Khan had talim of Kirana and Bhendibazar Gharana, he also sang ragas of other Gharanas like Nand, Kafi Kanada, Basant Bahar, Kaushi Kanada, Shahana Kanada, Basant Mukhari etc. He also sang some rare ragas like Pancham Malkauns, Hindol Pancham, Harikauns etc.
Tarana is often thought of as being a composition of meaningless words. Here is what he said about it. "A friend of mine once told me that a Persian Rubai contains words like Dara Dani Tana etc. From this, it struck me that, Tarana is not meaningless. I did a lot of research on it and found out that Tudani means you know, Nadir Dani means he knows everything, Odani means he knows, Yala is a short form of Ya Allah, tom means I belong to you etc. Because people like Bhatkhande did not know the Persian language, they thought Tarana has no meaning.". Ustadji himself composed many of Amir Khusrow's Persian Taranas in various ragas. His Tarana "yar-e-man diya diya [o my friend! Come quickly]" is very famous.
As a composer
Khan believed that, to understand a raga one should know many Bandishes in it. So he composed many Bandishes with the pen name of 'Sur rang'. Many of his Bandishes like "Guru Bin Gyan Na Pave (Raga Marwa) does not contain this Mudra, as he started using it quite late in his career. He also created a Raga Amirkhani Kauns, which contain all notes of Raga Vachaspati, except Re and Dha.
Ustadji was more of a spiritual seeker, so he never sang semi-classical forms like Thumri in concerts. However, according to his disciples, he was an expert at Thumris as well. He had a great fondness for good poetry and sang a Ghazal for a documentary made on Mirza Ghalib. He sang raga based songs for a few films like Baiju Bawra, Jhanak Jhanak Payal Baje, Shabab, Ragini etc, which earned him mass popularity.