In the second and final part of this interview, mridangam maestro T K Murthy recollects his association with stalwart musicians such as M S Subbulakshmi and Chembai Vaidyanatha Bhagavathar.
How has the style of playing the mridangam evolved over the centuries? What are the contributions of your guru Tanjavur Vaidyanatha Iyer to it?
In the olden days, artistes won't play much sophisticated numbers on the mridangam. Mostly, they will end up playing in samam. Moras were common for all talas. After that, it was Vaidyanatha Iyer who modernised and elaborated basic talas for the mridangam. He formulated basic lessons and made separate moras and koravais for all talas. He also framed paddhatis to play for compositions.
How were concerts during your childhood days?
Many musicians used to sing geethams like Sreegana Natha while starting a concert. That time there was no pancharatna aalapana concerts. That happened much later. Musicians also used to render alapana with tala. Mridangist will accompany. Those things changed gradually.
Ragas such as Asaveri, Salakabhairavi and Prathapavarali were popular during the old days, but they are not much heard in kucheris these days. Those times, concerts will be for about four hours and rasikas won't get up when the taniavarthanam starts. Now it is not so. People won't stay back for the taniavarthanam. That is not a good practice.
You played the mridangam for M S Subbulakshmi for most of her concerts. How did the association begin?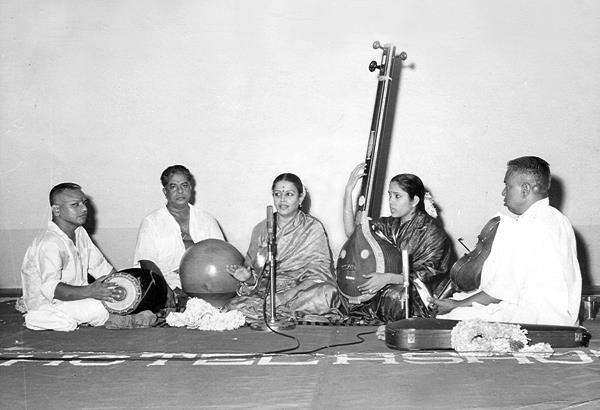 I must have been hardly 15 or 16 years old when I first played for MS Amma. I first met her when she came to my guru's residence for lunch. He introduced me to her. On that evening, we had a concert at his home and I played for her. From then on, for more than 50 years, I accompanied her for several concerts.
They include her historic UN General Assembly concert in October 1966.
That is unforgettable. Vikku Vinayakram was on the ghatam. We wanted to do something different to invoke interest in the audience, who were not exposed to Carnatic music. During the taniavarthanam, I suggested to throw the ghatam up and catch it while playing on at certain intervals of kanakku. We got a standing ovation with loud applause.
You accompanied almost all stalwart musicians of yesteryears. Share some experiences.
In 1935 winter, there was a concert of Chembai Vaidyanatha Iyer at Shimla. His brother Chuppamani Bhagavathar was on the violin, I was on the mridangam, and Viluvadi Iyer was on the kanjira. We were staying at the home of an organiser.
It was freezing cold. Chembai didn't mind it. He removed his shirt and had an oil bath as soon as we reached the place. He had curd rice after it. The organiser was worried about this affecting his voice and was apprehensive whether he will be able to perform well. When the concert was about to start Chembai asked him to sit near the entrance of the hall and listen to the concert from there. There was no mike those days. Chembai sang for four hours. He wanted to prove that his voice is so powerful and can be heard at any distance sharply.
The organiser was mesmerised. After the concert, he booked another concert for the next day. There Chembai sang for five hours. His pitch used to be 3 kattai (E scale).
Semmangudi used to sing in 2.5 kattai, Musiri Subramania Iyer in 4 kattai. Mysore B S Raja Iyengar's shruti was 5 kattai (G scale). It was Raja Iyengar who started singing Jagadodharana (kapi raga) and Kheerasagara shayana (Devagandhari) in concerts.
Accompanying Alathur Brothers was challenging, as they sang pallavis with a lot of kanakku. Panchanadai pallavis (five-gait rhythmic sequence), for one. I liked to play for Semmangudi; I relished his kalapramanam (pace). Kalapramanam should be perfect. Like how the sun rises, at the correct time.
I have played mridangam for over five generations. They include Tiger Varadachariar, Harikesanallur Muthiah Bhagavathar, Ariyakudi Ramanuja Iyengar, Madurai Somu, Kunnakudi R Vaidyanathan, K V Narayanaswamy, Lalgudi G Jayaraman, Mandolin U Srinivas, D K Jayaraman and M Balamuralikrishna.
How can you develop an interest in very young children?
Young children should hear many kucheris before they start learning the mridangam formally. This will help develop in them a taste and liking for the instrument, enabling them to learn fast. Also, they have to listen to a wide range of mridangam artists and different styles of singing. Kelvijnanam (knowledge earned through listening) is very important because each vocalist will have a different kalapramanam. For instance, G N Balasubramaniam's pace is different from Semmangudi's while MD Ramanathan sings in a completely different kalapramanam. A mridangist has to play for everyone.