Internationally acclaimed artist and curator, Bose Krishnamachari is the founder member and president of Kochi Biennale Foundation. Having done his education in fine arts from Sir J.J School of Art and from the University of London, he has showcased his work at several international exhibitions and curated several shows. The vividness of his work extends to abstract paintings, figurative drawings, sculpture, photography, multimedia installations and architecture. He has been the recipient of many prestigious awards, including the Mid America Arts Alliance Award , the Charles Wallace India Trust Award and Lifetime Fellow of Kerala Lalitha Kala Academy along with several other recognitions.
How do you define art?
Art is beyond the barriers of wordy definition. Art is in the process of living; it is the process of understanding. Art is life itself.
How do the Biennales contribute to the overall development of artists?
During Biennales, we organize seminars, academic lectures and also critically analyze films. These serve as an opportunity to learn as we explore several forms of art. Moreover, students become more self-analytical after attending biennales. They start sensitizing the objects at their home and look at the possible ways of creating an installation out of it. They tend to observe art all around them. This is the effect biennales create in curious minds. There are several books written as well, on the Biennale effect.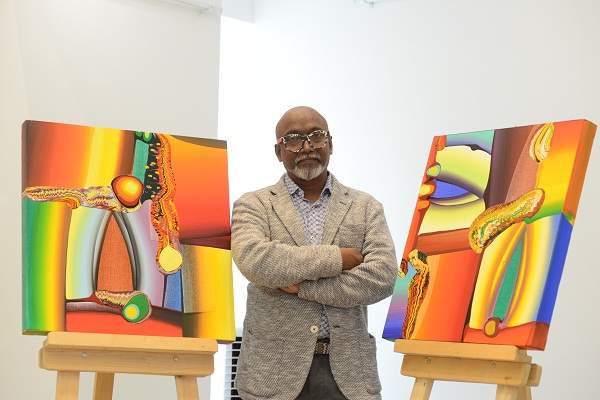 You have curated shows at various places that speak of diverse culture, history and linguistics, be it being the first curator at Yinchuan Biennale in China or curating shows in Mumbai and Kerala. Do you think this diversification contributes to the diversified themes as well, which the artists work on?
Surely. The culture and heritage of a place definitely has an influence in the work of art produced there. For a contemporary art work to develop, the artist should make sure to know about the history and heritage of the site. It is important to read and get involved. While I was curating the Yinchuan Biennale in China, it took me nine months to put together everything as I was keen on knowing deeply about that site where I was to curate the biennale.
Over the course of these years, gaining a lot of experience in this field and after curating several biennales, how do you think you have evolved as an artist? Did interactions with your contemporary artists change your perception towards art in general?
I became more humble (laughs). These experiences have taught me that everything in life is momentary. Nothing can be predicted. I believe, if a work can be predicted, then it is not an art. Improvising from the memory and creating something new from the old is what I've learnt.
How did the COVID-19 pandemic affect art and the artists? Did it make the artists more introspective, gloomy or any such kind of subjective emotions that you feel, has affected art?
The kind of emotions the artists deal with are subjective to the artists themselves. I don't believe in a secluded life as an artist and in romanticizing the old school dramatic notion of artistes keeping themselves isolated in a studio. An artist needs to be socially committed and politically conscious, whatever the situation is. He/she should be a public person- socializing with communities around. Only then, will a true art emerge that everybody can relate to.
There are several reports that suggest art has not bowed down to this pandemic. Several international galleries have sold artists' work worth millions. Even in this situation, painting as a business has boomed internationally, if not evident in India so far.
The pandemic has left us a lesson that we are all one. Everybody is together in this issue and unitedly fighting for a common cause. What do you have to say about your decision to continue with a new show, "Lokame Tharavadu" which means the whole world is a family.
My idea behind curating "Lokame Tharavadu " is to bring artists socially together. With this show, we aim to explore the possibilities by being together, unlike online biennales like the one which we conducted for students earlier this year. Whenever I go to Jahangir Art Gallery in Mumbai, I always see shows put up by Bengal School of Arts, Baroda School, but never have I ever seen Keralites coming together and having a show. So, this time, we aim to bring artists from Kerala under one roof and showcase their works. This show will be conducted in Ernakulam and five other sites in Alappuzha with 269 artistes. I did a project like this in 2005 with several artists from all around the world.
You have worked closely with students. What do you have to say about the works of the new generation? What advice would you give to the budding artists?
Students these days are very well informed and smart. Sometimes I feel that liberal education can be dangerous. I always encourage students for higher education like an MFA degree. Students should read a lot, while not confining themselves only to the books. They should make friends. Interaction and discussion are very much important. What I feel is, students are really talented, but are raw. Their true potential can be unleashed through daily practice- like sketching and reading and through proper guidance.