What comes to your mind when thinking of a dissertation? A densely packed prose text? Well-formatted works cited section? A neatly typed two-hundred-page door stopper?
The Cambridge Dictionary defines a thesis/dissertation as "a piece of writing involving the original study of a subject." A graphic dissertation, on the other hand, challenges writing by drawing one's ideas.
Comics dissertations make use of the elements of a typical comics book to unleash the potential of blank pages of a would-be thesis. The wedding of words and images, unlike in the prose text, offers a fuller, richer and truer interpretation of the world around us.
In a way, graphic dissertations herald the most radical change in the way one's research is presented for a Ph.D. degree.
Progressive universities, the growing legitimacy of comics, the immediacy and accessibility of the comics medium, and a broader visual turn in the world have contributed to the development of graphic dissertations.
Comics dissertations are redefining the ways of thinking, knowing, and the very conduct of inquiry itself, thus marking a generational shift in how dissertations are presented within academia and beyond.
New horizons
It's the eyes that you see first, many open and a few shut. Then, there are panels that ensconce those eyes and whirl around the page, suggesting creative tumult and deep thought.
Spread across the page as elegant fractals and drawn in a black-and-white color scheme, these elements combine to produce a whirligig effect on the page.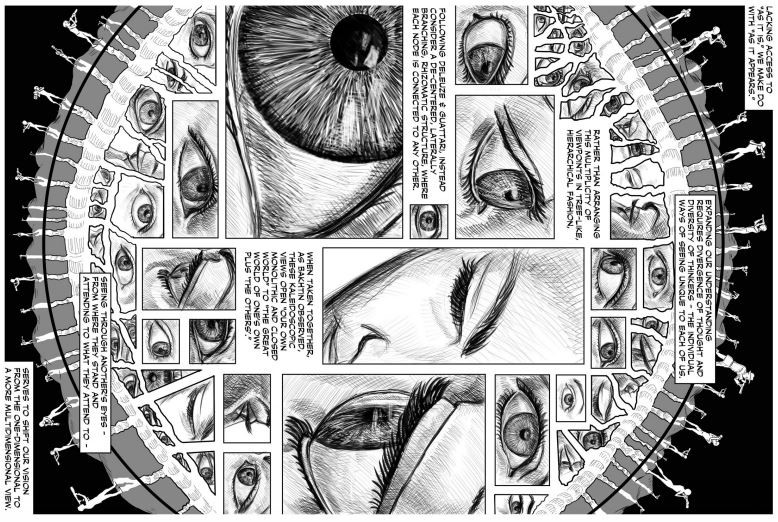 These pieces quickly dissolve into a larger eye which sports tiny individuals who are peeking into infinity. Perhaps it is a reference to readers who are peering into this near-kaleidoscopic cornucopia of intricately rendered panels and drawings. Fittingly, the accompanying captions discuss shifting one's view from "as it is" to "as it appears" and from "the one-dimensional to the multi-dimensional."
One may presume this as a description of a page from a science-fiction graphic novel or as an interpretation of surrealist art. But this is a page from a graphic dissertation by Nick Sousanis, perhaps the first to use the comics medium for a Ph.D. dissertation.
Comics as line of inquiry
Should scholarships need to look like the "12 point font, Times New Roman, double spaced with title page" form the basis of Meghan Parker's Art Teacher in Process: An Illustrated Exploration of Art, Education and What Matters.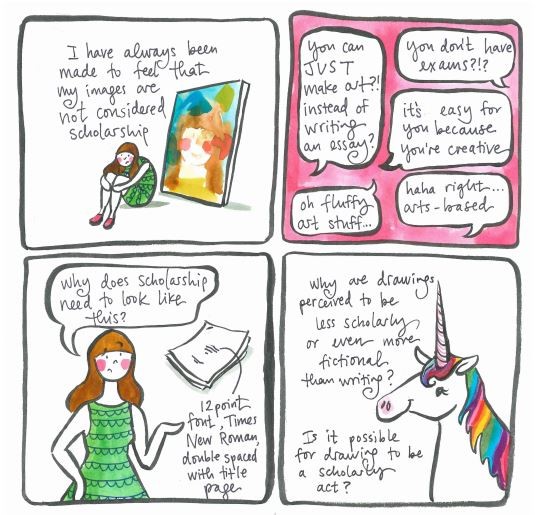 Submitted as a master's thesis to Simon Fraser University, Canada, in 2017, Art Teacher in Process, using non-linear narrative, free-hand drawings and a resplendent color palette, challenges drawings as less scholarly and seeks to introduce an arts- based medium as a mode of scholarship.
There have been several analytical and essay-type comics before: Cracking Jokes: A Brief Inquiry into Various Aspects of Humor (1975) by the critically acclaimed Art Spiegelman and Scott McCloud's Understanding Comics: The Invisible Art (1993), a landmark primer which uses comics to explain the strengths of the medium.
However, these were not submitted for a Ph.D. degree at a university.
Unflattening: A Visual-Verbal Inquiry into Learning in Many Dimensions by Sousanis was submitted to the Interdisciplinary Studies, Teachers' College, Columbia University. Unflattening was later published as a book by the Harvard University Press in 2015.
Written and drawn entirely as comics, Unflattening provides currency for "thinking in/through comics." With stunning details, it explores knowledge systems, nuances of visual thinking and the unending tension between words and images.
In our email conversations, we asked Sousanis about the reasons behind his choice of comics as a medium for his dissertation. To quote him: "I wanted my work to be read, to be accessible to broad audiences, and comics most certainly let me do that."
Clarifying "thinking in/through comics," Sousanis observes: "I'm not drawing pictures to go with words. I'm navigating a dance between images, the composition of the page, the idea and research behind it, and yes, the words – and in paying attention to all these different forces, I eventually arrive at something that helps me understand my thinking better, and hopefully communicate ideas in a way that reaches people on a different level than I might otherwise."
Eisner Award-winning American cartoonist, ethnographer and teacher Ebony Flowers' DrawBridge is perhaps the second ever graphic dissertation after Sousanis' Unflattening.
Formatted as "a zine and mostly composed of comics," Flowers's DrawBridge was submitted to the Department of Curriculum and Instruction, University of Wisconsin-Madison. It studies the use of comics in the context of visualization practices and seeks to interpret aspects of how children communicate via images.
The trend continues
Kay Sohini Kumar, a New York-based South Asian comics researcher, recently submitted her graphic dissertation, titled Drawing Unbelonging: Comics as Thinking, as Method, as Resistance, for her Ph.D. to Stony Brook University, New York.
Described by her as "a graphic autoethnography," the graphic dissertation is an extensive meditation on race, illness, and sexuality. Defending her choice of comics, Sohini Kumar states, "Comics as a medium initially appealed to me for two key reasons."
"The more I thought about how comics appeal to diversity and justice, and how they accommodate narratives about people who have been "historically pushed to the margins.
Just like Sousanis, Sohini Kumar's dissertation was welcomed: "I was allowed a lot of creative freedom to frame my dissertation in a way that made the most sense for my work. The fact that they [Ph.D. committee and co-directors] believed in my ideas at a very early stage and were enormously supportive when I was still finding my way with my art."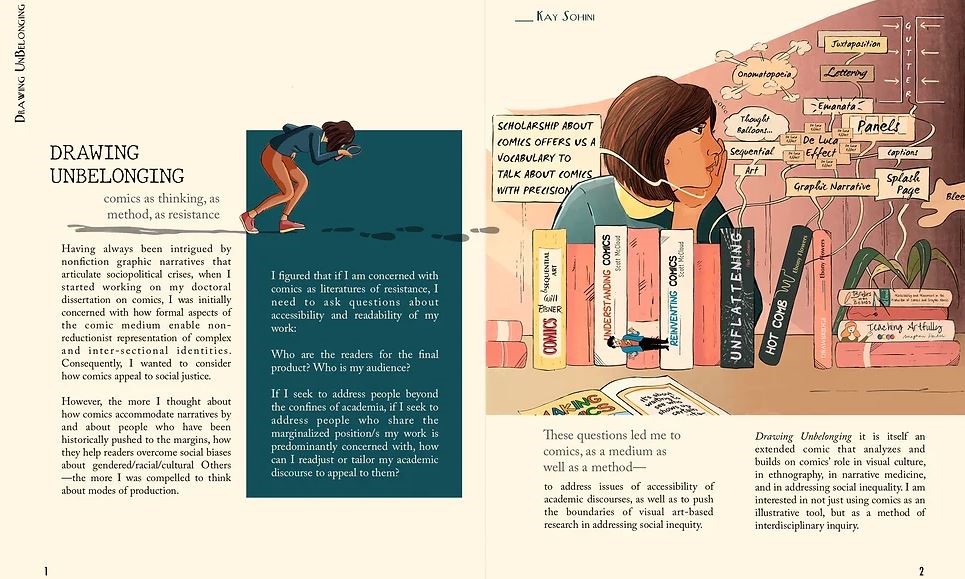 Drawing Unbelonging will soon be published as a book titled Unbelonging by Graphic Mundi, an imprint of Penn State University Press, in 2023.
Unleashing dissertations from the stubbornness of writing and rigid formatting, graphic dissertations are one large step forward in aiding visually-oriented writers and in reinforcing comics as analytical texts.
Comics dissertations are redefining the ways of thinking, knowing, and the very conduct of inquiry itself, thus marking a generational shift in how dissertations are presented within academia and beyond.
S Yuvan, an alumnus of National Institute of Technology, Tiruchirappalli, and an independent researcher based in Chennai co-authored this article.