Themed 'Humanities must unite', ITFoK will feature 12 international plays and 14 national productions.
As a befitting tribute to the veteran English theatre director, Peter Brook, Tempest Project is the main highlight of the 13th edition of the International Theatre Festival of Kerala(ITFoK) that will kickstart at the K T Muhamed Theatre, Thrissur tomorrow.
Tempest Project, a play that stemmed from research on The Tempest by William Shakespeare that is adapted and directed by Peter Brook and Marie-Hélène Estienne will be featured on Feb 11 and 12th at the Actor Murali Theatre. It is the first time that this play, Brook's last production, is coming to India.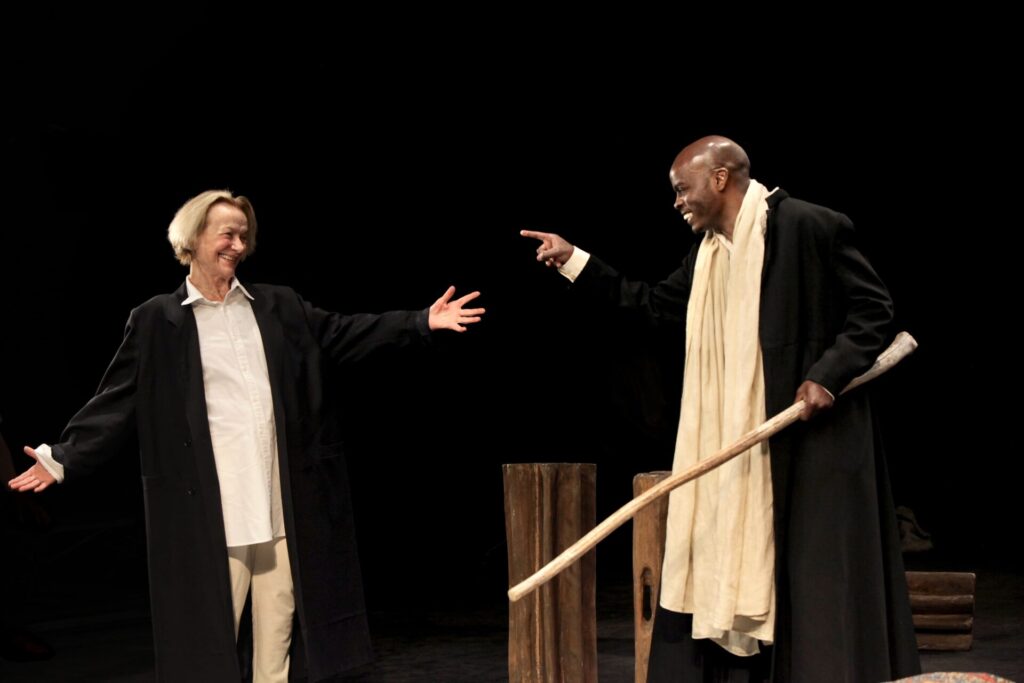 Organised by Kerala Sangeetha Nataka Akademi and the Cultural Department of the Government of Kerala, ITFoK also showcase other international productions such as Antigone ( Uzbek/U.K.), Hero Beauty (Taiwan), Kafka ( France), Museum (Israel), Ave Maria (Denmark), Samson (South Africa), Told by Mother (Lebanon), Don't Believe Me if I Talk about War (Israel/Palestine), Seven Moons (Tashkent/Uzbek), Three Episodes of Family life (Poland) and 3rd Reich (Italy). Taking Sides' directed by Atul Kumar of 'The Company Theatre, Maharashtra will be the inaugural play.
Envisioned by Bharat Murali
The festival which started in 2008 in Kerala, is the brainchild of Bharath Murali while he was the Chairman of Kerala Sangeetha Nataka Akademi. Though a film actor, Murali was an ardent devotee and practitioner of classical and modern theatre and further an authority of Natyasastra. By conducting the first festival in December 2008, he proved a resourceful organiser of an international festival which was the first of its kind to be held anywhere in the country.
Another testimony of his abiding faith in the aesthetics of Indian arts was the project, "Aesthetics Chair" conceived by him and inaugurated during his tenure as the chairman of the Akademi.
However, fate did not allow him to live long to see the second edition of ITFoK and he passed away in August 2009. Ignoring his failing health, he travelled to South Africa for the shooting of a film against the advice of all. But his excuse was that he would try to rope in theatre groups from that country for ITFoK. The Aesthetic Chair could not be continued by his successors, except for another event. Maybe they were unable to comprehend the significance of that project.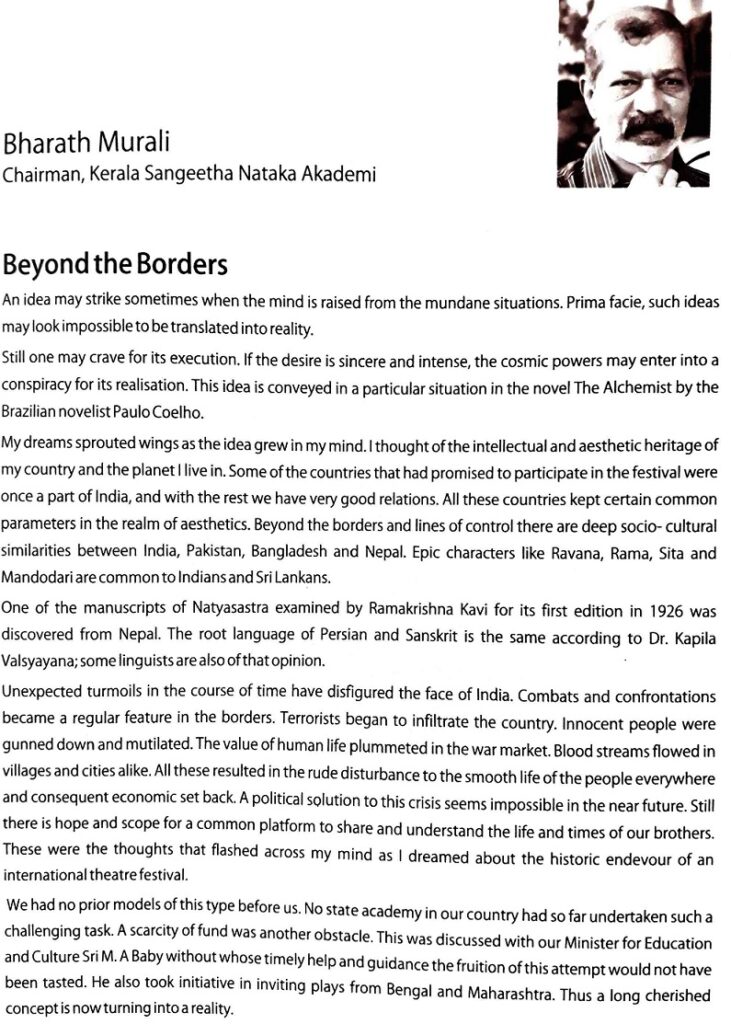 A rendezvous of artists and theatre lovers
For the 13th edition of the annual festival, theatre director Deepan Sivaraman along with B Ananthakrishnan (dean of Sarojini Naidu School of Art) and veteran theatre person, and former director of National School of Drama Anuradha Kapur are the lead curators. "Since it is a post-pandemic we want it to be a space where we could be together, hold hands, discuss and soak in theatre. We want to encourage theatremakers and theatregoers to return. We want to give them a space," says Deepan.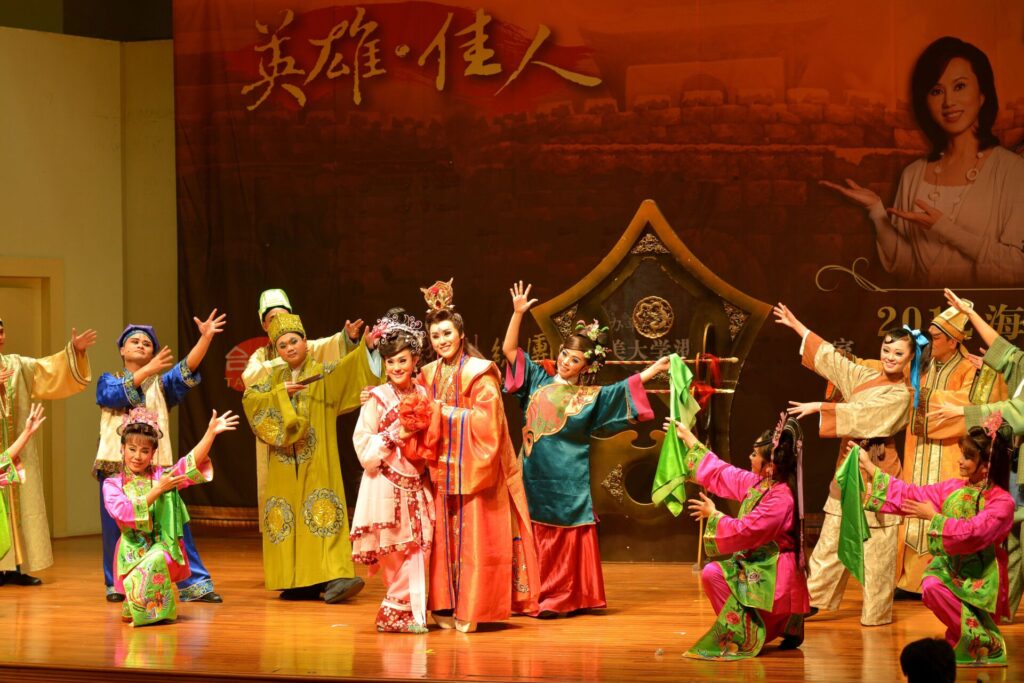 According to Karuvellur Murali, secretary of the Kerala Sangeetha Nataka Akademi, the team has put its best foot forward to hold the festival this year with a limited budget. ITFoK, the only international platform in the country for the art of theatre will be a venue for artists and enthusiasts to catch a glimpse of global trends in the field.
Kerala Chief Minister Pinarayi Vijayan will inaugurate the festival tomorrow evening which will be followed by a percussion ensemble of 101 artists led by the academy chairman Padmasree Mattannur Sankaran Kutty Marar at the Academy complex. Musical performances by eminent artists across India including a Hindustani Jugalbandi performance by Kolkata-based musicians Moumita Mitra(vocal) and Sayak Barua(Sarod) on Feb 12, colloquiums focussing on theory, practice, challenges before the theatre, and expert talks and 'Meet the artist sessions will also form part of the festival.