Embark on a comic wonderland: Unveiling the delights of Franco-Belgian Comics, from Asterix to Tintin and beyond!
As I have mentioned before in my musings, the crowning glory of the lovely city of Trivandrum in the 1970s, were her libraries. The beautifully maintained British Council Library with its deep-cushioned chairs, meticulously jacketed books, carpeted floors, and cathedral-like silence was my favourite. Just behind in order of preference came the Trivandrum Public Library followed by The University Library and the various lending libraries.
The Trivandrum Public Library had the largest number of books, shelves upon shelves peopled its cavernous halls. The halls themselves were huge, some as big as a football field.  The gothic building had several little cornices, niches, mysterious-looking doors, and umpteen balconies and staircases. The atmosphere could be quite eerie at 8.30 am every Saturday when the Library opened and a bespectacled eleven-year-old with an overactive imagination and the courage of a mouse made his nervous way inside.
I was pretty sure the place was haunted. I'd just read the first book in the series starring Alfred Hitchcock and the Three Investigators called ' The Secret of Terror Castle'.  While I thoroughly enjoyed the book when I read it in the safe environs of my brightly lighted home, a visit to the gloomy cavernous Public Library brought forth disturbing images from the book. I was sure Terror Castle was based on the Trivandrum Public Library. I was convinced that somewhere on the premises were a host of ghosts, gargoyles and  goblins, elves and trolls all waiting to pounce on an unwary book loving kid. I fully expected to bump into the Headless Horseman, carrying his head underneath his arm, having tied up his horse in the porch  while he stalked the halls seeking a hearty breakfast. Maybe one of the ghosts or demons fancied a snack before going on to a more filling meal. There were plenty of dark corners and alcoves where they could hide the bones they spit out. Why oh why did I have to venture into this house of horrors ? I could have kicked myself,  had I possessed the calisthenic ability, not that it would have saved me from my grisly fate.
Why then was I there every Saturday morning, on the dot, sure in my quaking heart that today was the day I would meet my doom? I had no wish to  end up in some corpulent ghost's capacious stomach, being dissolved by ghostly gastric juices while the ghost heaved a sigh of content and picked little pieces of me out of his discoloured teeth with a toothpick fashioned out of my femur. The answer would make sense only to a book lover. I was there for my weekly fix of comics, a host of which were available in the Children's Reading Room. 
The Public Library was the only one which had comics. These were only to be read and, unfortunately, could not be borrowed. I would frequently hatch some ingenious plan in my imagination where I could raid the Library and carry off all the comics, thereby sparing me my weekly ordeal.  Unfortunately this would entail visiting the Library after dark which I was not prepared to do under any circumstance. Better men than me would have quailed and said nay. Prince Valiant, Tarzan of the Apes, even the Ghost Who Walks, the Phantom would have trembled and needed an immediate change of pants faced with the ghoulish prospect.  I had no other option. Either stop my visits altogether or brave the prospect of a grisly demise in order to get my hands on those enticing, addictive comics. 
Franco-Belgian delights
What comics were these you will ask, that would lend such courage to a craven coward. I had read plenty of comics from Gold Key, Dell, Harvey, Charlton, Fleetway, Indrajal and all the other usual suspects. I loved all of them but not enough to risk my life for them. The Public Library had a bunch of titles, translated from the original French, that were different from all these old favourites and had captured my heart. These comics were collectively lumped under the term ' Franco Belgian Comics' and were slowly becoming available to an awe struck English speaking populace. I had fallen in love with these wonderful comics ( called Bande Desinee in French ) and was so addicted that any week that went by without my weekly fix of comics was tortuous, like a druggie going cold turkey. These books were like none I had seen before. Larger in format than the usual comics, these had hard covers, were 62, 48 or 42 pagers instead of the usual 32, no advertisements inside and gorgeous art and stories. Many of the titles first saw the light of day in the immensely popular French comic magazines like Pilote, Spirou and Tintin.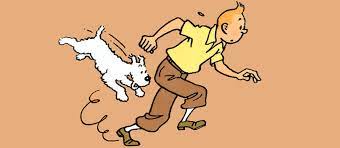 One of the series, published by Brockhampton Press, chronicled the adventures of a little warrior called Asterix and his Gaulish friends whose little village was surrounded on all sides by armed Roman camps. The stories were written by Rene Goscinny and the wonderfully detailed art was by Albert Uderzo. Set during the reign of Julius Caesar these hilarious books contained jokes on history, literature, geography, cinema, music, popular culture, art and even economics. These titles, beautifully translated from the original French by Anthea Bell and Derek Hockridge, contained brilliant word play, clever puns and laugh out loud dialogue. Asterix is a bachelor (lucky man) and his best friend is Obelix the outsize menhir delivery man who hates being called fat. ' Who's fat. I'm just well covered' he says, a phrase that has been borrowed by some of my horizontally challenged friends. Obelix too is a bachelor but is extremely susceptible to feminine charms, though the sight of a sylphlike figure leaves him red faced and speechless. Other major characters include the bard Cacofonix who is a terrible singer, Vitalstatistix the Chief, Impedimenta the Chief's wife, Fulliautomatix the Blacksmith, Unhygenix the Fishmonger and his wife Bacteria, Getafix the druid and Geriatrix the oldest inhabitant of the village. Geriatrix may be ancient but he is married to the most beautiful woman in the village. He is also first in line at the Gaul's favourite pastime of thumping Romans, using his crutch to deadly effect. Obelix's terrier Dogmatix loves trees ( since he can't find any lamp posts of fire hydrants in ancient Gaul). He howls when he sees tress being felled and is comicdom's first canine environmentalist. Most of the in jokes were way over my eleven year old head but over the years as I continued to reread these wonderful titles, I discovered jokes I had not noticed before. As the reader's knowledge increases, he or she 'gets' more and more of the jokes, the reason why this is one series that repays multiple readings over time.
Timeless treasures
The other series that caught my attention was ' The Adventures of Tintin' by Herge ( Georges Remi ). The adventures of Tintin, a boy reporter with a trademark quiff of hair, these were rendered in Herge's signature ' ligne claire' or clear line style. Tintin was accompanied by his small white mongrel Snowy who made up in heart what he lacked in size. Many of the adventures also featured the irascible Captain Haddock , an ex sailor with a huge capacity for liquor and a vocabulary that would have left Shashi Tharoor speechless with envy. The Captain's favourite epithets ' Bashi Bazouks', 'Troglodytes' , 'Bilious Blue Blistering Barnacles' , ' Thundering Typhoons' and the like have become part of the language. Other characters include the absent minded genius Prof. Cuthbert Calculus, the twin Scotland Yard detectives Thomson and Thompson and the Captain's bête noire Bianca Castafiore, the opera singer with a voice that rivals Cacofonix's. Herge wrote other popular series including 'Quick and Flupke' and ' The Adventures of Jo Zette and Jocko'. Herge's style was much imitated and he was an inspiration for several other illustrious creators including Edgar P. Jacobs whose 'Blake and Mortimer' series featuring the adventurers of a pair of true blue British advent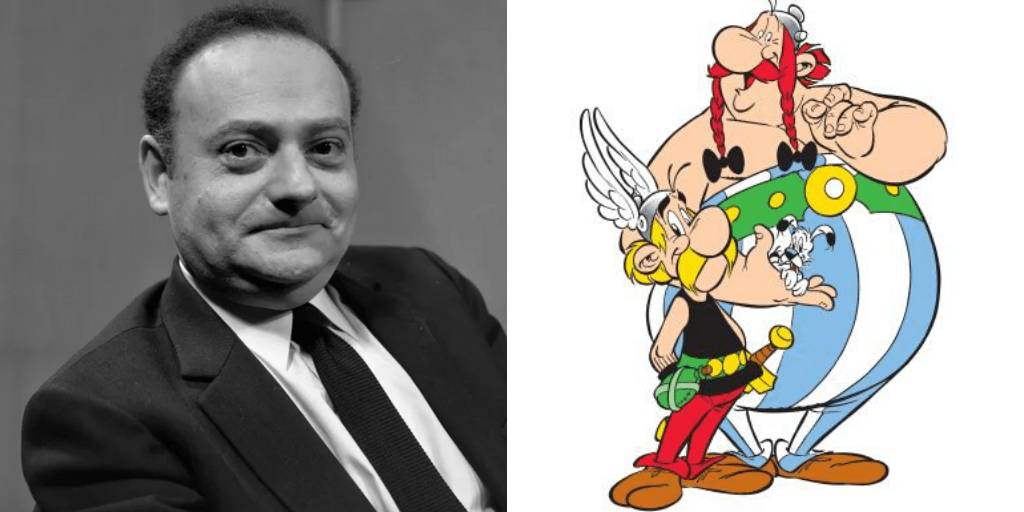 The third 'Franco – Belgian' comic I discovered in the Public Library was 'The Adventures of Alix' by Jacques Martin. This visually stunning series drawn in the 'ligne claire' style recounted the adventures of the Gallo – Roman adventurer Alix and is set during the latter years of the Roman empire. Though a number of titles were published in French, only two titles were published in English. The Public Library had both these titles 'The Sacred Helmet' and 'The Black Claw' both published by Ward Lock. I must have read these titles at least twenty times each. These titles have since become extremely rare and after almost forty years of searching I have managed to find both which now have pride of place in my library.
Having discovered these treasures in the Public Library and emerged unscathed without being devoured, I started a quest for more of these titles. In 1984 on a visit to Chennai I chanced upon yet another title written by Rene Goscinny with art by Tabary. This was called ' Iznogoud the Infamous' and narrated the adventures of the wicked Iznogoud, Minister to the Haroun Al Placid, the Caliph of Baghdad,. The Caliph is a peaceful, easygoing soul but Iznogoud's single minded motto is " I want to be Caliph instead of the Caliph'. His reluctant accomplice in various schemes to assassinate the Caliph is his trusty right hand man W'atalaaf ( or ' Na'atusmaat' ) depending on which translation you are reading. Iznogoud's nefarious schemes always backfire spectacularly and the books with the trademark word play, groan inducing puns and witty repartee are must reads.
More Franco-Belgian gems
When I got a job in Delhi and discovered the wondrous Daryaganj market I came across two more series by the great Goscinny.' Lucky Luke' featured a straight shooting, laconic cowboy who can shoot faster than his own shadow and whose horse Jolly Jumper is almost as smart as he is. Luke comes up against several characters based on real life personalities including Jesse James, Billy the Kid, Calamity Jane and the Dalton brothers. This series featured art by Morris and more great puns and plays on words as is the case in Asterix, Iznogoud and other series by Goscinny . Many of the Lucky Luke comics were translated by Frederick Nolan, well known in India as the writer of five western novels featuring Sudden under the pseudonym Frederick H. Christian. The ' Ompa Pa' series by the team of Rene Goscinny and Albert Uderzo chronicle the comic adventures of the Native American brave Ompa Pa of the Flatfoot tribe and his friend the French officer Hubert Brussels Sprout whom Ompa Pa calls 'Brother Two Scalp' because of the wig he wears ( 'Detachable scalp, how practical'). Another brilliant series any comic lover should read and reread.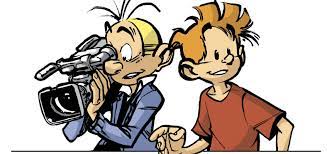 Other Franco – Belgian series which have been translated into English and can now be enjoyed by discerning English speaking comic aficionados include the adventures of those tiny blue coloured creatures called the ' Smurfs'. Created by Belgian cartoonist Peyo ( Pierre Culliford) these delightfully funny comics are squarely aimed at the 6- 12 market but can be enjoyed by those like me who never really grew up. I have the heart of a little boy although, unlike horror author Robert Bloch, I do not keep it in a bottle under my bed. Another juvenile series aimed at young kids which I enjoy immensely is the 'Yakari' series. Written by Job and illustrated by Derib the series features the adventures of a young Sioux Native American who can speak the language of the animals. The stories are simple and light hearted but the gorgeous art is what makes it stand out. ' Leonardo' by De Groot and Turk features the misadventures of everyone's favourite scientific genius and his incompetent assistant. Other series to look out for include 'Melusine' , 'Cedric', 'Ducoboo', 'Gaston' , 'Bob and Bobbette' ( also known as 'Spike and Suzy' and ' Willy and Wanda'), 'Spirou and Fantasio' , 'Walter Melon' and many others. Adventure series include those based on Enid Blyton's Famous Five, W.E,Johns' Biggles, aviator Buck Danny , Viking adventure with Thorgal, science fiction adventures with 'Valerian and Laureline' , swashbuckling historical adventure with ' the Scorpion' and a host of others.
Franco-Belgian comics conquer the world
Probably the greatest western comic series ever ' Blueberry' by legendary creators Jean Michael Charlier and Jean 'Moebius' Giraud, recounts the adventures of Mike Blueberry in the old west, many during his time in the cavalry. The writing and art have an almost cinematic feel and you can smell the dust, feel the grit and smell the blood being spilt in the fight between man and man and man and nature in those lawless times. A new series that has become a firm favourite is 'Trent' by Rodolphe and Leo featuring Sergeant Trent of the Mounties as he strives to keep law and order in the far North West of the American continent in the late nineteenth century. This is a slow burning, noirish western series that becomes increasingly complex and addictive with each issue.
Keeping in view the success of Franco Belgian comics translated into English, publishers started publishing translated graphic works by other European masters. ' Bouncer' written by legendary author / movie director Alejandro Jodorowsky with art by Francois Boucq is another gritty, violent western saga filled with surreal images ,definitely not for the squeamish. Jodorowsky also wrote the epic science fiction graphic series ' Metabarons' with art by Juan Jimenez and yet another seminal science fiction series ' The Incal' this time with are by Jean ' Moebius' Giraud.
Over the years more and more of these wonderful comics are being translated into English. Egmont Methuen, Hodder & Stoughton, Red Fox, IDW, Cinebook , Humanoids , Fantagraphics and several other publishing houses are now translating more and more of these fabulous titles into English . Even Indian publishers like Euro Books and Frank Bros. have jumped on the bandwagon. Asterix , Tintin and some of the other more popular titles have been translated into Hindi. Many of the titles including Lucky Luke, Bluecoats and Barracuda are being published in Tamil by Lion Comics and Muthu Comics. European comics are also being published by publishers in West Bengal and several were published in Hindi and English by Groversons.
Of late there has been a spate of publications comprising all genres from funny animal , humour, horror , science fiction , western , historical fiction, adventure, erotica and thrillers to graphic novels based on literary masterpieces. As the world discovers these Franco Belgian wonders you would not want to be left behind. Strap yourself in for the fun ride of a lifetime. And you don't have to risk your life to experience it, the way I had to, unless you plan to visit the Trivandrum Public Library.