Winner of the much-coveted A D Boland Gold medal in Kalamandalam, John is the ambassador of Kathakali being a globe-trotting guru teaching, lecturing and performing the world over. 
Though stories excerpted from Ramayana and Mahabharata form the core of Kathakali plays, since the early days of Kerala Kalamandalam there have been attempts to produce plays anchored on Bible stories. Vedic scholar OMC Namboodoripad's Snapakacharitam and TMK Nedungadi's ( former chairman of Kalamandalam) Magdalena Mariam have been glaring exemplars. But the institution, over the nine decades of its history, could produce only one Christian Kathakali artiste – Kalamandalam John.
John who completed 50 years of his Kathakali journey in June this year is a consummate performer, a venerated guru and a versatile choreographer widely known for his training skills across the world. "I can't count the number of foreigners I have trained so far. They belong to all nationalities. Perhaps that's why I am the only Kathakali ashan to be received by my disciples, whenever I land in any airport in any part of the world", says John with a look of pride in his eyes.
When John appeared in the interview for admission in 1971, out of his insatiable passion for Kathakali, the principal Vazhenkada Kunchu Nair was not surprised, for they had already a non-Hindu student before – the renowned Kathakali musician Kalamandalam Hydrali. Interestingly, John was the last student to offer dakshina to Kunchu Nair since ashan retired soon. But his further training continued under ashan's son, Vazhenkada Vijayan. Thus John marks the connecting link between the two generations of Kathakali gurus from the same family! A rare privilege indeed.
Training under veterans
Though John fared very well in sports during his school days at Koothattukulam, his native place, the hazards of physical training and massaging sessions in Kalamandalam were unbearable. But he had already made up his mind that under no circumstances he would leave the course. True, he had to go home on one month's leave unable to withstand the rigours but returned to Kalamandalam after two weeks.
"What had moulded me was the meticulous care of a long array of illustrious ashans like Ramankutty Nair, Padmanabhan Nair, Gopi, MPS Namboodiri, Vazhenkada Vijayan", recalled John. Admittedly, one can see in his artistry traits of their pedagogical virtuosity, especially when John dons the veshams of Duryodhanan, Bhiman, Hanuman, Kattalan and Ravanan in different plays. He has also shared Kathakali stages with most of his gurus and celebrities like Kottakkal Sivaraman. Perhaps he is more indebted to Padmanabhan Nair since he trained solely under him during the three years when he did advanced studies with a scholarship from the government of India.
It was the long association with Padmanabhan Nair that moulded the teacher in John. Even as a student he was called upon to handle classes for juniors and also foreigners since unlike many of his classmates, he was comfortable in communicating in English. This continued during the three years of advanced training and also during many years after, when he served his alma mater as a temporary teacher.
Setting up Kalatharangini
Small wonder, John secured the much-coveted A D Boland Gold Medal for being first in the final examinations in 1977. Naturally, his ambition was to be a teacher in Kalamandalam which he could realise only on a part-time basis. Distressingly, he was not selected for the permanent post notwithstanding his merit.
But a well-groomed Kathakali artist like John, fired by the ambition to be a teacher of Kathakali, opened the institution Kalatharangani Kathakali School in Cheruthuruthy. The institution has become "A home away from home" for foreigners seeking training in Kathakali, over more than three decades of its existence. Also, international theatre groups and scholars from many universities around the globe visit the institution periodically for training and lectures. As for John, he has been a regular invitee for lectures in the University of Sydney, University of Columbia, University of New York, Hunter College, US, University of Bologna, Italy, to mention only a few. As vouched by the Kathakali artists, countless are the foreign jaunts they made with John for performances across the world.
Performer, author and choreographer
Performances apart, regular workshops are still held for the world-renowned theatre groups like Teatro Tascabile di Bergamo (TTB), Italy and Odin Teatret, Denmark. Also, he had opportunities to associate himself with the theatre celebrity Eugenio Barba. While Odin Theatre, Denmark honoured him with a diploma, the TTB presented him with an honorary plaque in 2003 as a gesture of gratitude for 25 years of cooperation with them.
While in Germany in the 1990s, he was honoured by the Chancellor. John said that theatre groups across the world are fascinated by the physical training methods and the gestural communication of Kathakali which they consider ingenious. They consider them vital to innovations in physical theatre. Further, the two books in English authoured by him – Kathakali Plays (three volumes) and Practical Approach to Kathakali Training and its Body Exercise Routine – are highly useful for them.
A prolific choreographer, John's production Chavaracharitam (Life of the legend St Chavara Kurikose Elias CMI) production made history as for the first time in the annals of Kathakali, the play introduced a Christian priest on the Kathakali stage. John himself had donned the vesham clad in the traditional cassock of a priest.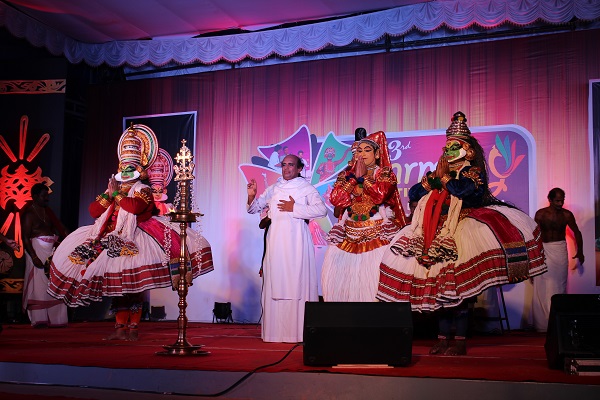 John's is a family of performing artists. Wife Mary John is an acclaimed danseuse and further the first Indian female 'chuttikkari' (make-up artiste). While both the daughters are dental doctors, Riya, the senior, is a consummate performer of Kuchipudi and Bharatanatyam, and the younger Ruby is trained in Ottanthullal as well.