Emergence of Kathakali Clubs in Kerala during 1960s had a positive effect on the level of appreciation of the spectators.
Kathakali clubs in the 1960s made sea changes in the appreciation style of the urban audience.
Thiruvanathapuram Kathakali Club was a pioneer and kathakali lovers in all districts of Kerala started an 'evening kathakali programme' named Kathakali Club.
This ensured participation of educated office-going people in clubs, which resulted in the new wave in Kathakali performance and appreciation.
Office-going people had little chance to watch kathakali performances because the temple festivals, where they were staged, happened during the working days.
Soon, regional clubs took birth here and there. The Tripunithura Kathakali Kendram in the outskirts of Kochi became operational in 1972 with more than 80 members who lived in and around Shree Poornathrayeesa Temple.
The club rose to fame soon with more members and programs and the late Padmasree Kalamandalam Krishnan Nair played a crucial role in its growth.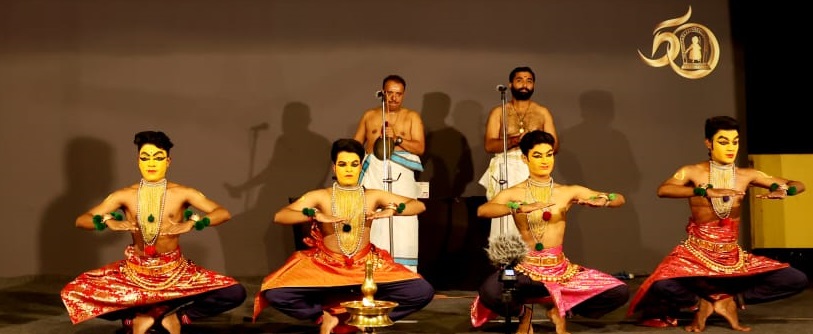 On its 50th anniversary recently, the Kendram staged a three-day multi-layered festival which started with keli, led by senior chenda artiste Kalamandalam Unnikrishnan and Vellinezhi Anand. Sadanam Bharatharajan and Kalamandalam Prasanth played maddalam with ease and élan.
Captivating performances
There was an hour-long thodayam, a body exercise part of the martial art kalari, that was staged by students in the southern style.
The performance in the evening was dominated by purappad and melappadam, executed by living legends in chenda and maddalam — Padmasree Mattannur Sankarankutty and Cherpulasseri Sivan — respectively.
Mattannur Sreeraj, Sankarankutty's son, and Kalamandalam Hariharan, Sivan's son, were other chenda and maddalam performers.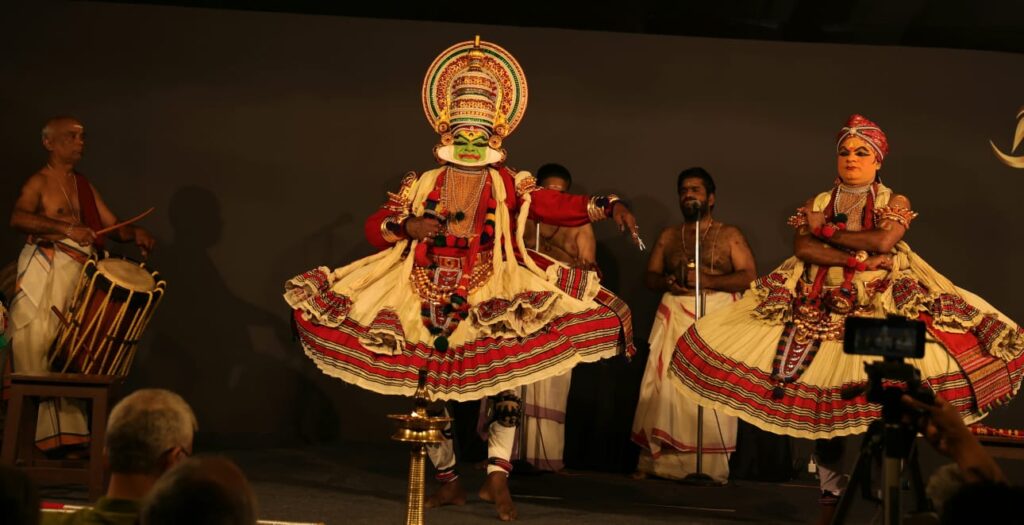 Gifted singer Kottakkal Madhu led the vocal side with his equally brilliant partner Nedumpalli Rammohan.
The team showcased a fantastic piece of music that begged to be different from the traditional ways of melappadam, inviting a standing ovation from the audience.
Kathakali cholliyattam and pavakathakali were staged on the second day. Pavakathakali was performed by Natana Kairali, Irinjalakuda.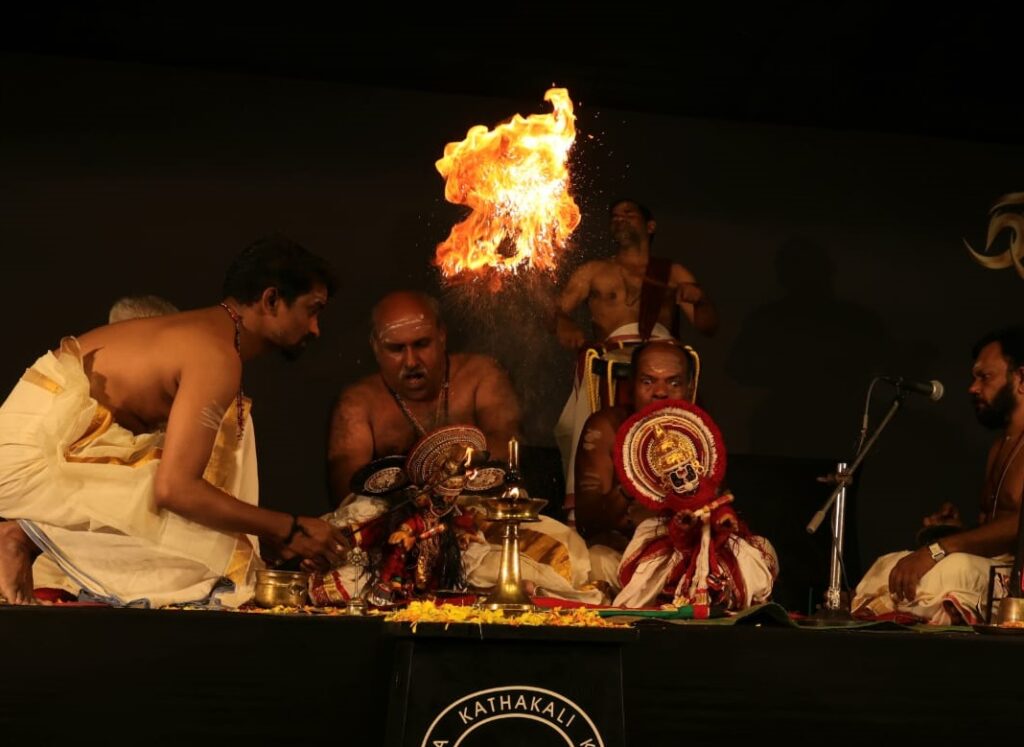 Nivathakavacha Kalakeyavadhom play was performed by both senior and young artistes. Sadanam Krishnankutty, one of the senior performers of kathakali, played the lead role of Arjuna meticulously.
From the first scene where Arjuna meets his father's (Lord Indra) chariot driver Mathali, it looked majestic in terms of artistic and technical niceties. Krishnankutti's flexible body movements once again proved his mastery over doing stylised roles. Towards the end of his performance, he looked more attached to the character, while doing the 'manodharmam'. Kalamandalam Harinarayanan's Mathali looked straight and strict in techniques and methods.
Kalamandalam Arun performed the role of Lord Indra. In the second part of the story, where Urvashi meets Arjuna, Peesappalli Rajeevan's enactment as Urvashi was outstanding. In the second portion of his acting, in the padam 'Smara sayaka doonam…," Rajeevan applied the Lokadharmi acting style which looked suitable to the occasion.
Kalamandalam Adithyan (Indrani and Sakhi) also performed well. Kalamandalam Chinosh Balan was Lord Indra and Kalamandalam Pradeep did the role of Arjuna in the second part and followed Krishnankutti in technique and quality.
Kottakkal Narayanan and Kalamandalam Babu Nambudiri were the main singers, while Kottakkal Venger Narayanan and Kalamandalam Hareesh supported them.
Kalamadalam Unnikrishnan once again proved his potential in supporting chenda. His micro-analytical approach helped the actors very much. Kottakkal Ravi and Kalamandalam Venu were maddalam artistes.
Drawpadi's Nirvahanam
The final day of the three-day festival was really a feast for eyes and ears. Usha Nangiar's Nangiarkoothu was the first program. Duootha Sabha of the Drawpadi's Nirvahanam was the piece performed.
Usha's experience and her unparalleled acting style made it unforgettable.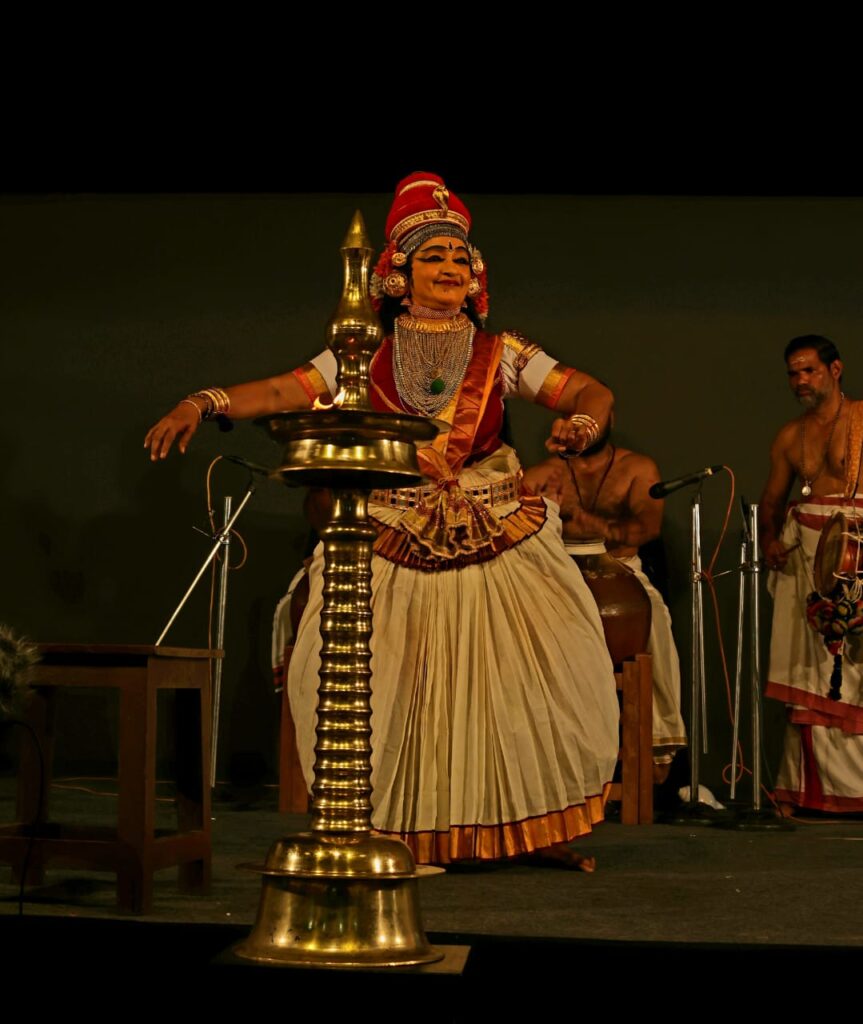 Dakshyagam Kathakali was the added attraction. Leading artiste Kalamandalam Balasubramanian did the role of Daksha with smart movements and rhythmic steps. Kottakkal Devadas' Veerabhadra and Kalamandalam Manoj's Bhadrakali won the hearts of the audience.
Sadanam Bhasi (Lord Siva) and Kalamadalam Vijayakumar(Sathi) were the other main performers. Kottakkal Haridasan's Dhadeechi looked a different pick of the evening. Pathiyur Sankarankutti with the support of Kalanilayam Rajeevan and Sadanam Jyothish Babu rendered the padam with proper blend of bhava.
An outstanding exhibition of melam was created by Kalamandalam Krishnadas, Kottakkal Prasad and Kalamandalam Sreehari in chenda and equal support in maddalam by Kalanilayam Manoj, Kalamandalam Vineeth and R L V Sudev Varma.
By conducting such an awesome festival on the occasion of the 50th anniversary, Tripunithura Kathakali Kendram highlighted the cause of kathakali in more than one way.