Kathakali maestro Sadanam Krishnankutty, who recently turned 80, is an artist who can still don several masks and enthral the audience.
Performing artists never grow old. They only grow mature, like wine. And just like wine, the quality only increases with the years. Kathakali Maestro Sadanam Krishnankutty is no exception to this adage. Even at 80, the reputed artist still exudes unbeatable energy. He is as excited about each of his performances, just as he was in his twenties, as people around him explain. The excitement is enhanced by the fact that the stages and performing centres are opening up slowly after the bleakness of the lockdown brought in by the Covid-19 pandemic.
"I just did something too daring,' he declares. He is talking about the day of his Asheethi or 80th birthday celebrations, which was inaugurated at Irinjalakuda. "Immediately after a hefty performance of 'Balivijayam', I had to leave for Delhi right in the morning, to attend the Kerala Piravi Day at Delhi's Kerala House. In the evening, I performed Nalacharitham. By the grace of God I am still healthy for my age," says Krishnankutty.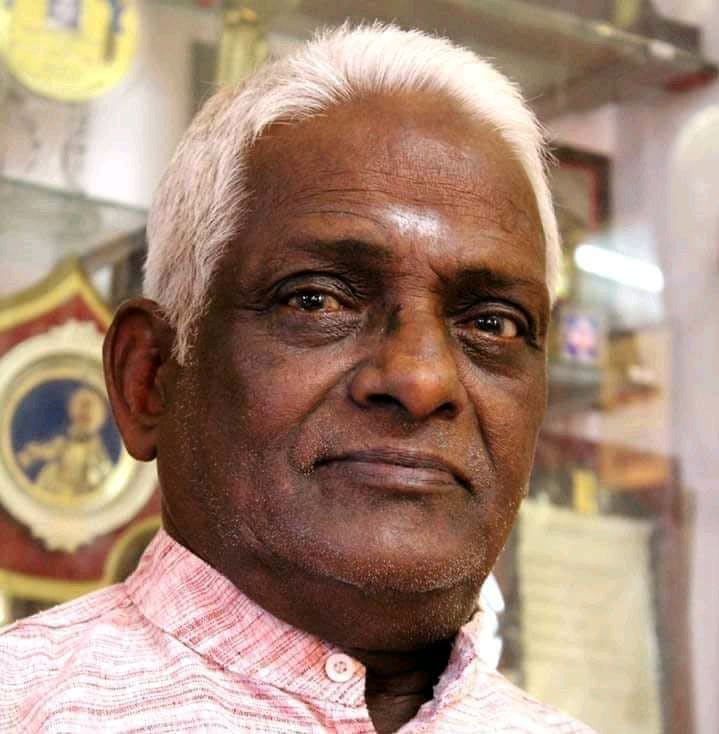 Truly he is contentment personified. The same emotion applies for his life as well. "I am so lucky that all my family supports my passion. They love Kathakali. I have seen the families of many other performers view Kathakali just as a source of income. But I'm blessed," he says. "My daughter has learnt dance at Kalakshethra and now conducts classes. My son is also passionate about Kathakali though he is a journalist by profession," adds Krishnankutty.
The training ground
The journey of life had started for Sadanam Krishnankutty from Cherpulassery, the quaint Valluvanadan village where he was born. He moved to Gandhi Seva Sadanam at Peroor near Ottappalam where he learnt the art form for almost 10 years under the maestros such as Thekkinkattil Ravunni Nair and Keezhpadam Kumaran Nair. He then moved across the length and breadth of Kerala, wandering from stage to stage and finally settled down at Irinjalakuda, another seat of the classical dance form close to Unnayi Warrier Smaraka Kalanilayam, the institution where he taught briefly.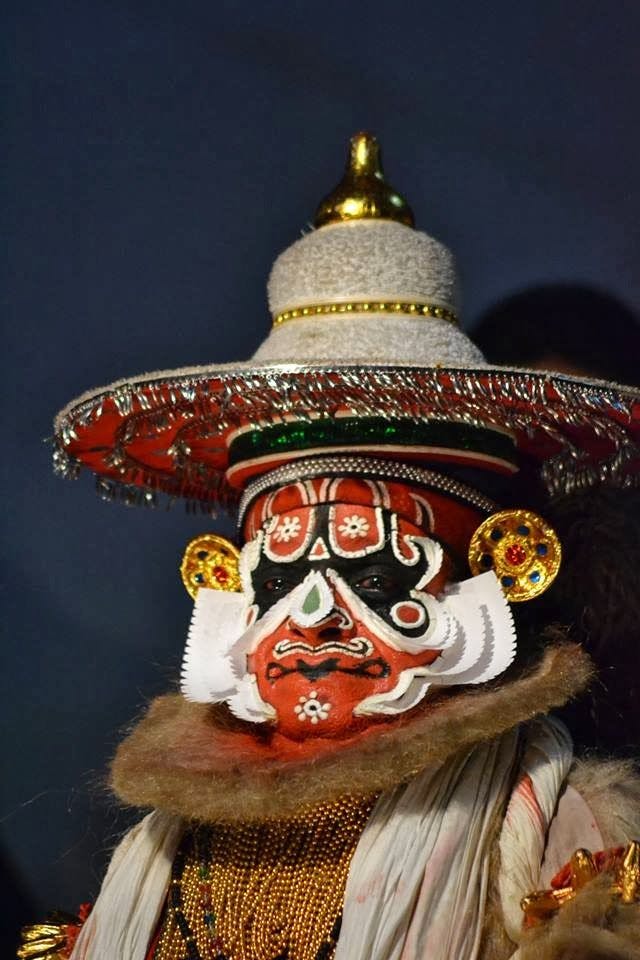 Krishnankutty has always led the life of a performer. He could never confine himself to any institution, either as an artist or as a teacher. Apparently, he enjoys his freedom. Just like he prefers not to be confined to any character or vesham in Kathakali. While most of the performers usually choose to specialise in a particular vesham, he is at ease with all of them, be it Pacha (green), Kathi (knife), Kari (black) or Minukku (radiant), considered the major veshams in Kathakali. He excels in portraying the valorous hero, the dark villain, the damsels and the sages all alike.
The young artist and his aspirations
The story of Krishnankutty's childhood is quite ordinary, yet peppered with unexpected turns of fate and strokes of luck, in his words. He does not hail from the artistic family background. His father ran a village tea shop known in the Kerala countryside. It was a big family and though not extremely poor, they were not exactly well-off too. Still, all of them loved Kathakali. And obviously so. Cherpalassery, in the Palakkad district, has a rich legacy in the art form and is considered the land of Kathakali. The classical art form was born in those surrounding Valluvanadan villages.
In fact, not a night used to pass during those summers without at least a couple of performances being hosted in the innumerable temples in the neighbourhood. So, when a young Krishnankutty declared his decision to drop out of school after 8th standard and become a Kathakali artiste, no one objected. The decision stood him in good stead. Krishnankutty and his work not only became popular, but he also grew to be a master performer and travelled the world – all through his art.
The world in his palm
Speaking of international travel, Krishnankutty is full of fond memories as he narrates his travel experiences during the pre-pandemic world, a time when Kathakali artistes led an almost jet-set life. The first 'foreign' tour happened during the early 1970s, he says. It was organised by Milena Salvini, the Italian-born French exponent and scholar of Indian classical dances. Meppally Keshava Pillai Krishnankutty Nair, the great scholar and connoisseur who was also the managing director of Fertilisers and Chemicals Travancore (FACT) at that time, was the driving force behind it. The tour, a 17-member team led by the Kathakali exponent Kalamandalam Krishnan Nair, was organised by Salvini's Mandapa Centre in Paris.
"It was a five-month tour. We travelled all over Europe and the Western world except the US. We were all a group of youngsters – Balasubrahmanian, Kalamandalam Kesavan, Sankaran Embranthiri, Kalamandalam Hyderali, Chalakudi Nambisan – it was a great team. I got Rs 8,500 as remuneration. I remember buying an AIWA tape recorder for my brother for which I had to pay Rs 500 as customs duty," exclaims Krishnankutty. Paris was only the beginning. It was followed by many others till the world ground to a halt in March 2020 when Covid-19 struck. Krishnankuttly, just like all other artists, is hopeful the stages and the performing platforms will reopen for good and life will resume its flow once again.
'Sharp Criticisms' vital to perfecting the dance
Be it his aspiration to join Kathakali, his journey as a performer and a stage artiste, the octogenarian has absolutely no complaints against life. Krishnankutty says he is thankful to all the gurus who taught him. "I was taught not only by my teachers but by many, many others," he points out. "Those days, senior performers keenly watched the youngsters. They would criticize without any mercy and such sharp criticisms helped me develop as an artist,' he states without a hint of doubt.
Any art form thrives not just when patrons support them but also when expert performs take interest in imparting the right way of learning the art form. On the tradition of seniors observing the beginners' performances in the process of grooming them, Krishnankutty says, "I was taught to watch as many performances as possible. I have seen many senior performers play accompanists to juniors just to observe them. Kalamandalam Ramankutty Nair Asan has played elathalam for my performances. He was observing me. It was part of the process of grooming the young practitioners."
However, Krishnankutty rues the fact that such a grooming process is not happening these days. He points out that as the youngsters refuse to accept criticism of any sort, this important aspect of training is fading. "Criticism is not taken in the right sense. So, generally, no one points out the weaknesses in anyone's performance. People would just say, 'Oh, it was a great performance!' This is not good for the growth of the art form," he says.
('Krishnanadam,' Krishnankutty's 80th birthday celebrations, is continuing with its second phase to be held at Thiruvalla on Sunday, December 5. The third phase of the celebrations will be held at Kerala Kalamandalam on December 26.)
Featured in this article:
Gandhi Seva Sadan:
It is a Kathakali school located in Perur village in Palakkad district in Kerala. Founded in 1953 by K Kumaran, Gandhi Seva Sadan is home to several musicians and Kathakali exponents including Sadanam Krishnankutty, Balakrishnan, Ramankutty, Narippatta Narayanan Namboodiri, Pariyanampatta Divakaran and Sadanam K. Harikumaran. Noted Kathakali artiste and the Padma Shri awardee Keezhpadam Kumaran Nair taught Kathakali for several years at this institution
Write to us at [email protected]