Piccadilly Book Stall in Delhi is a clear example of why one should never judge a bookstore by its window dressing
The first thing I did when I reached Delhi in 1989 pursuance of my new job was join the British Council Library. The library was then situated in the AIFACS Building diagonally opposite my office in Shastri Bhawan. Next on the agenda was joining the American Centre Library on Kasturba Gandhi Marg. Books were as necessary for me as air. Once I had ensured my supply of this essential commodity, I began to look around for fresh prey.
My friend Darwin introduced me to the Daryaganj market thus starting a romance that lasted almost 30 years. By now, I was confident enough to hunt on my own and soon had discovered bookshops and pavement sellers in Karol Bagh, Rajinder Nagar, Saket and Connaught Place.
Connaught Place, in particular, was a happy hunting ground. It had a number of bookshops and places where second-hand books were sold. There was Bookworm in the inner circle that had all the usual genres and a particularly good selection of science fiction books.
Twentieth Century bookshop in the middle circle was a shop I loved browsing through. Unfortunately it shut down shortly after I arrived in Delhi but not before I got a truckload of good stuff including 40-odd Avalon hardcover western titles for the princely sum of Rs 5 each. The round shaped glass walled Midland book shop on Janpath became a favourite. The books came at a heavily discounted price and I got dozens of lovely books at a throwaway price. The affable young man named Salim who managed the bookshop became a firm friend and I also began to frequent the two branches in South Extension and Hauz Khas, both managed by his older brothers.
The second-hand bookshop next to Plaza Theatre was another place where you could find good stuff. Many pavement book sellers also dotted the covered walkways and one would run into the occasional gem peeking shyly from under a pile of nondescript paperbacks.
Borrowing seems better
As I had just started on my first job, mindful of budgetary constraints, I started looking for lending libraries where I could borrow books. These would not be as burdensome on my pocket as buying books outright. A friend then told me about an extension of Connaught Place named Shankar Market. He was certain he had seen some book shops there. Off I went the next Saturday, hot on the trail of this new scent.
I soon located Shankar Market which, I later learnt, had been in existence since before Independence. It was located in a building built in a straight line with several corridors radiating off. There are seven corridors in all and each such spoke has an open area in between.
The market specialises in fabrics and ethnic wear and it also had several low-budget eateries where you could feast on Chole Bhature, Rajma Chawal, Chole Chawal, Kachauris, Aloo Paranthas or Chaat and Gol Gappas at mouth-watering prices. Having satisfied my hunger pangs with a plate of Rajma Chawal, I started to explore the market.
I soon located a second-hand book shop called Ram Gopal Verma & Sons. They also functioned as a lending library and I lost no time in registering. They had heaps of books, mostly paperbacks, in all genres as well as a stack of comics bound neatly in volumes of 7 or 8 comics each. The reading charge in 1989 was Rs 3 per week. I visited the store every Saturday and would return the two books I had borrowed the previous week and pick up two new ones.
Casting a spell
In the corridor adjacent to the store, I discovered yet another second-hand book shop. This one was also called Ram Gopal Verma but this did not lend books, only sold them. It had shelves from floor to ceiling stuffed with books and I ended up buying a lot of books from there over the next few years including a lot of westerns.
The owner was a glum looking, middle-aged gent who was not given much to talking. Over the next few weeks, once I became a regular customer, his reserve began to thaw and I was informed that he was a relative of the Ram Gopal Verma in the adjoining corridor.
Apparently there was some kind of feud going on between the two Vermas like the one between the Hatfields and the McCoys, the two American Appalachian mountaineer families engaged in an endless feud in the late 1800s.
Each of the Vermas spoke disparagingly of the other and I was careful to be ready to dive for safety in case one of these characters suddenly produced an old blunderbuss and started discharging it in all directions. You never can tell with these feudists, the slightest spark may set them off. I also learnt that Mr Verma No. 2 had been a practicing stage magician in his salad days. I used to listen, enthralled, to his tales of the old days.
Our very own desi Mandrake the Magician. He claimed to be a friend of the legendary magician Dr. PC Sorcar, though I took this offhand remark with a pinch of salt. The gentleman died of a heart condition a few years later and the shop shut down. A sad end to a life which had been touched by magic.
A few shops down the corridor, I found another quaint little shop called Piccadilly Book Stall. I was entranced by the name. It evoked images of Wodehousian young men, elegantly clad in top hats and tails insouciantly swinging canes and crinoline clad ladies stepping daintily out of hansom cabs. The outside of the shop had books stacked on rickety tables. A short, bespectacled middle-aged gentleman was sitting outside on a chair, deep in a book of Yoga.
I took a look at the books stacked outside. All of them were on subjects such as Art, Yoga, Theology, Spiritualism, etc. Of all my pet hates, spiritualism and theology were the greatest. I am not a religious person and have a firm distrust of the overtly religious types. Age and experience has since taught me otherwise, but in my reckless youth that was my mindset.
Disgusted, I did not venture further into the shop, but turned my back on it with a lofty disdain. Over the next 29-odd years I paid several visits to Shankar Market but never visited Piccadilly, which was still there, unchanged, with its owner always deep in a book, lost in his own world. A majority of the customers seemed to be foreigners and I even saw some Buddhist monks browsing through the books at the store.
The story behind the 'old stock'
A couple of decades later I got a call from one of my friendly book dealers, Surender Dhawan, who informed me that he had got a bunch of old juvenile hardcover books. 'Would I be interested?' In 30 minutes, I was at his godown that was situated close to my house.
To my delight, he produced around 20 hardcovers, complete with dust jackets, most of them by Enid Blyton and with a few Biggles books thrown in. I was in heaven. 'Where did he obtain these treasures from?' I enquired. I was flabbergasted when he informed me that he had got them from the owner of Piccadilly Book Stall who was getting rid of his old stock.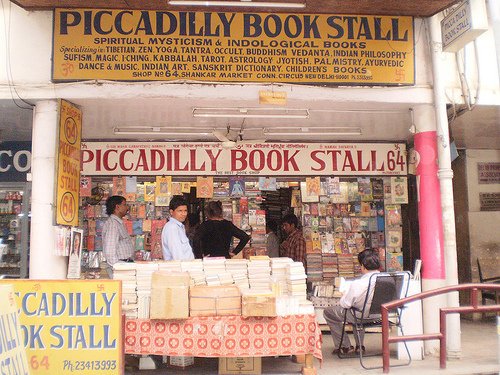 'Piccadilly?' I stammered. 'Didn't he have books only on spirituality and mysticism?' Surinder gave a surprised look. 'Have you ever been inside the shop?' he enquired. He went on to explain that Piccadilly store had all kinds of old books though the major collection is on spirituality. I was beside myself. To think there was this treasure trove at my doorstep and I had ignored it for 20 years.
I made a bee line for Piccadilly the very next evening. The elderly gentleman was ensconced on his throne reading a book the cover of which showed a loin cloth clad gentleman tying himself in knots. This time I boldly asked whether I could see the books inside. He shrugged indifferently as if to say 'Suit yourself'.
Finding the treasure
It seemed like venturing into Ali Baba's cave. You didn't even need an 'Open Sesame' to enter. The bookshop was narrow but spread over two floors. A rickety staircase led to the upper level where there was a narrow catwalk with shelves on one side and a vertigo inducing drop on the other. The ground floor seemed to mostly be books on, you guessed it, spirituality.
I gingerly climbed the staircase and crept along the walkway. In front of my nose were two hardcover copies of Joy Adamson's 'Living Free' and 'Forever Free'. I grabbed them, almost fell over and righted myself. A little further on I found a hardcover copy of a Leslie Charteris 'Saint' novel.
Pressing eagerly onward I remember I found a hardcover copy of one of my favourite books 'The Scarlet Pimpernel' and then a couple of old hardcover mystery books and a hardcover western by Charles Hecklemann. All of them were over 50 years old but in good condition.
Clutching my treasure, I made my way downstairs. The gentleman finally looked up, saw the books I was clutching, and told me there were some Gerald Durrell books and some old Penguin paperbacks in the corner. I turned around grabbed up the books and asked him how much they cost. He sized up my stack of roughly 15 books with a professional eye and told me I could have the lot for Rs 200.
Scarcely believing my luck I asked him if he had any juvenile books. 'Oh, several of them', he replied in an offhand tone. 'I am getting rid of that old stock of books and I have a few boxes at home,' he added. 'A few boxes'? Trying to keep the excitement out of my voice I asked him if I could see them.
'Can you come this Sunday?' he enquired. 'The market is closed but I will bring the boxes. Be here at 11:00 a.m.' I could hardly wait till Sunday.
Rediscovering the store
Sunday was also the day I visited the Daryaganj book market and I usually spent about 6 hours, from 7 a.m. to 1:00 p.m., there. That Sunday I raced through the market and by 10.30 a.m. I was in an autorickshaw bound for Shankar Market. When I arrived, the place was deserted. I paced around the corridor like a hungry tiger awaiting a plump goat he had invited to breakfast.
Finally the gentleman arrived followed by a minion carrying three boxes. I reverently opened the boxes. Inside, neatly stacked was a king's ransom worth of hardcover juvenile books published by Collins and the Children's Press. More Biggles, a couple of Williams, Percy Westerman , John Westerman, Monica Dickens, Stephen Mogridge, Jane Shaw, Tom Thompson and a plethora of other gems.
Read: In Search of the Book Thief by Vineeth Abraham
I went through the three boxes, trying to restrain my excitement, and told the gent I'd take the lot if he offered me a fair price. He pursed his lips and then said I could have them for Rs. 15 each. I stopped myself from cheering and doing a somersault in the corridor. It was one of the biggest bonanzas I had come across in a lifetime of book hunting. The gentleman got the boxes firmly tied with twine and had his minion carry it across to the main road where I piled the boxes in an autorickshaw and headed for home with my booty.
I became a regular at the shop after that and got several more vintage books, always at reasonable prices. Mr NK Chowdhary, for that was the owner's name, soon became a good friend and I discovered that behind his taciturn exterior was a wealth of knowledge about books.
A missed opportunity?
I regretted the years I had wasted when I could have conversed with him about books. He told me that he had literally hundreds of books, like the titles I had bought, which had been gobbled up by discerning buyers over the years. I was mortified. Here was this treasure trove which I walked past every week for the last 20 years and I had never, even once, ventured inside. I had been fooled by the preponderance of titles on spirituality. Like the old saying goes, you cannot judge a book by its cover.
I left Delhi in 2017. I later came to know that Mr. Chowdhary had a fatal heart attack in 2018. The book stall is still around, now managed by his wife. If you love books and are ever in Delhi, make sure to visit this wonderful shop. Most of all, disregard your fear of heights and climb the staircase onto the walkway. You never know what treasures you will find.
Write to us at [email protected]