Padma Vibhushan Dr Prabha Atre is everything molded into one. She is a singer, a music critic, a guru, and has penned books on music. Today is her 90th birthday. 
A person can be either a singer, a music critic, a guru, or an author on music. But, Padma Vibhushan Dr. Prabha Atre is everything molded into one to occupy a rare place among artists who do well in all the facades of music.
She has performed all over the world, penned books on music, composed over 550 songs in classical, semi-classical, and light music, and initiated many disciples into the world of music at her gurukul. 
 Prabha Atre was trained under Kirana Gharana giant Pandit Sureshbabu Mane. About this she said, "At our home, there was no music. However, one of my father's friends told us about Sureshbabu Maneji."
" After listening to me, he (Maneji) decided to teach me. For nearly two years, I learned only raga Yaman. Then I learned raga Bhairav. Most gurus would insist on repeating what they sing, but my guru was different. He would sing one Avartan (rhythmic cycle) and would tell me to improvise, based on what he sang in the next Avartan."
"Sureshbabu died very early due to heart failure. I was so close to him that I could not accept anyone else as my guru." Later, Prabha trained herself by listening to Ustad Amir Khan, Ustad Bade Gulam Ali Khan, among others.
"To become a good artist, one must become a good listener. A lot of Sadhana is required to become a good artist, but to be a good listener requires twice that Sadhana."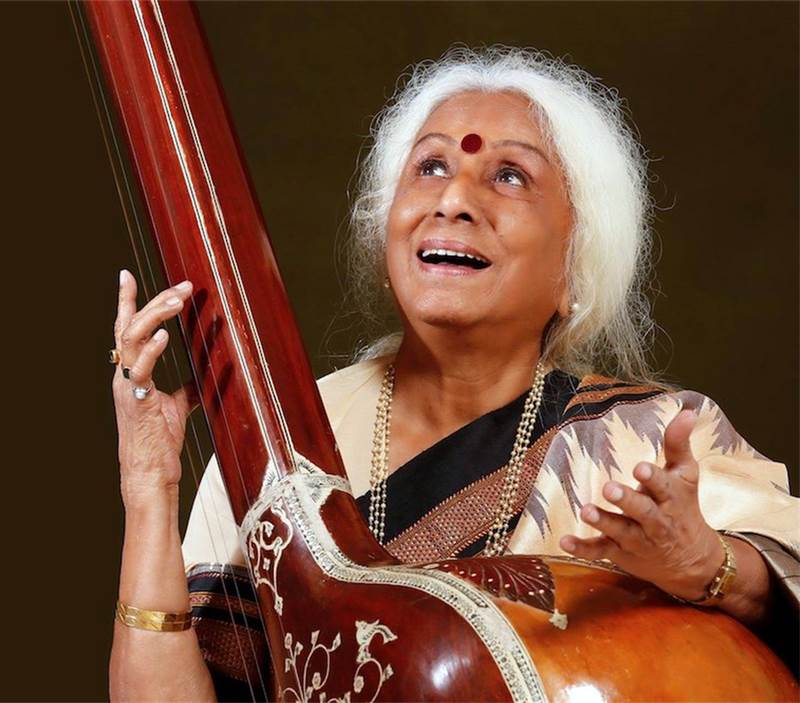 "One should be able to listen to anyone without any prejudice. One should be able to understand the intricacies of how an artist develops a raga. One should be able to pay attention to the minutest movements of notes, or the most subtle Layakari. Even though the notes of the raga are the same, every artist's perspective towards a Raga differs, due to his temperament, his own imagination, his style of rendition, and the speed of the raga rendition."
" Every raga has some prominent notes, there is a certain way to develop a raga, but these are all safety measures. What an artist feels within these safety measures, decides his caliber."
"Next part is to analyze what you have listened, and decide what new additions can be made to your own thoughts/music. I heard many great artists and developed my own perspective on ragas."
Prabha Atre heard not just Hindustani classical music, but also borrowed from other forms of music. The impact of Carnatic music can be seen when she sings phrases in ragas like Yaman with typical Carnatic oscillations on the notes Ga and Re. 
According to her, "When someone borrows something, it should be merged into one's music. The listener should not feel its separate existence." "I listen not only to Hindustani and Carnatic music, but other forms of music like Arabian music, film music, light music, etc. I have borrowed a lot from all these forms, but the listener will not know what I borrowed from where, as they are merged into my own music."
Unique way of approaching a raga
Prabha rose to fame through her record of ragas Marubihag and Kalavati. She removed the shuddhaMadhyam in Marubihag because it is used sparingly. Her another contribution to raga rendition (especially in Maharashtra) is the invention of her own style of Sargam.
This is how she puts it: "I was highly influenced by Sargam of Ustad Amir Khan. I would keep on singing Sargam whole day. For some reasons, Sargam was not that much accepted in Maharashtra. But I developed my own style of rendering the same, which was highly influenced by Ustadji, yet different from him. Sargam has musical meaning, but no poetic meaning. So, an artist can show various emotions like love, playfulness, and aggressiveness through it."
Prabha later secured a doctorate in Sargam. Prabha says, "In Raga Shyam Kalyan, I sing phrases, which reflect Kalyan Ang as Raga name is Kalyan. Similarly, in Jogkauns phrases which reflect Jog, and Kauns should be rendered and phrases like Pa Dha NI (Ni being Komal) should not be used. There are some Raga names that should be changed."
"Since Gorakh Kalyan does not show any Kalyan Ang, Kalyan should be removed from its name. The same is the case with Basant Mukhari. It can be named as Mukhari Bhairav as it reflects Bhairav Ang. At present, there are many forms of the same Raga, which are in vogue."
"Efforts should be made to standardize the raga format, and if there is disagreement among artists, various formats should be numbered as format 1, format 2, etc. This will avoid student's confusion, as to the authenticity of the raga format."
As a composer
Prabha Atre composed Khayals, Bandishes, and Taranas in 90-odd ragas. Her foray into composing came when she composed an opera while working for All India Radio in Ranchi. Her first classical composition was Jaagun Main Sari Raina in Marubihag with which she rose to fame. 
Prabha did various experiments in her compositions. Normally, Bandishes in Ektal start from the 1st or the 7th beat, but the above mentioned Marubihag Bandish, or the Bandish in Gaud MalharChaayeBadara, starts from the 8th beat. Her LalatBandish Mana Sumirat starts from the 9th bit, while another of her famous Bandish Tan Man Dhan (Raga Kalavati) begins with the 12th beat of the Tala.
The same can be said about her Bandishes in Rupak Tala. Rupak has a rhythmic structure of 3+2+2.
However, Prabha's Bandishes like He Man Tore Sharana (Raga Durga), He Shiva Shankar (raga Shankara), Devo Mohe Daras (Raga Malkauns) start from the 4th beat, and so have the structure of 2+2+3. Her composition Sundar Shyam (raga Bhimpalas, Tal Jhaptal) starts between 8th, and 9th bit of the Tala.
Prabha Atre was also conscious about what subjects  should be taken-up in which Raga. For example, in Bhairav, and its various types, or in raga Shankara, she composed poetry on Lord Shiva. In Durga, she composed on Goddess Durga. Because Shuddha Sarang is an afternoon raga, she composed the Khayal Tapan Lagi Chahu Aur which describes the afternoon atmosphere. 
Some of her compositions express a non-traditional shade of a raga. Normally, compositions in Madhuvanti have there Sam on Re but Prabha's Khayal Manmohana Shyam has its Sam on Ni.
Inspired by the form RagamTanam Pallavi of Carnatic music, she produced a one line composition: Om Namo Shivaya (raga Bhairav, Tal Jhaptal), which is rendered as both Asthayi and Antara. Her Taranas showed the impact of Swarams rendered in Carnatic music.
Prabha believed that there should be separate compositions for male and female singers. She says, "I do not like when a man sings compositions like Jhan Jhan Payal Baje, or Sas Nanand Mohe Degi Gali. So, I made separate compositions for males. For example, if the composition has the word Piya Ghar Nahi, then the male singer should sing it as Sakhi Gharnahi."
About composing Bandishes, she says, "To compose Bandish in a raga, one should be well-versed with it. If you want to know a person, you have to spend a lot of time with him. Just like that, mastering a raga takes many years."
"Raga is an abstract format, and is very difficult to learn/appreciate. However, when we compose Bandish in it, this abstract format becomes easier to understand. To compose a good Bandish, along with the raga knowledge, one must have good command over language."
"The words should have musicality, and should be easily understood by one and all. When the composition is pronounced with a correct accent, and emotively presented, the meaning of the words and the raga Bhava merges, and enhances the performance."
"People often ask me as to why the same subjects like love, devotion, longing, or seasonal descriptions are taken over and over for composing. I feel that, some things remain constant, and the above emotions will always remain the same."
"Moreover, an ordinary person can easily relate to these subjects, and once he gets the composition, his focus can again shift on the raga rendition. The purpose of any classical composition is to bring out the raga to the fore-front, and not its poetic content. Another important thing is to have good knowledge of Laya."
"The composer should be able to use cross-bits in a subtle manner. Each word need not fall on the bit itself. My compositions are short, because in my opinion, too many words drag the listener's attention, away from raga rendition. In earlier days, there was Prabandh singing, which contains many stanzas. It was necessary because since there was no recording technology, people could remember raga through the composition."
"Now we have recordings, so there is no need for long compositions. People often criticize me for not singing Antara of Khayal. But I feel that, if the Asthayi of the composition is such that, I can show complete raga development through it, there is no need to sing Antara."
Thoughts on music, and music education
Prabha Atre believed that new books should be written on music to reflect the current way of rendition. "Just because Indian classical music is traditional, we should not stick to mere tradition itself. We should refine it, as time changes. For example, things like Waadi Samwaadi or Pakad of a raga is not needed. Instead, students should be told as to what notes in raga are prominent in ascent, and what notes are prominent in descent."
"I have opened my own Gurukul, which tries to combine the strengths of both Gurukul and college education. In universities, there should be special courses for classical music, film music, folk music, light music, music composing, recording, as each of the above requires different types of training."
She is also against the concept of raga Samay, and raga rasa. "When raga Samay concept was formed, people used to live more in natural environment. Now we live in closed homes, so there is no way we can understand, whether there is morning, or afternoon, or evening. The only criteria for a performance should be, whether an artist's raga rendition has had the desired impact or not. Every raga has its own Laya, and its own temperament, but it has no particular rasa or mood. The mood of the artist, and the listener's mood decide the raga rasa for that point in time. Often words of the composition also decide the raga rasa."
Prabha Atre has created many new ragas like Shivkali, Shivani, Madhurkauns, etc. According to her, "While practicing, some new phrase comes to my mind, which is not in the raga that I am practicing. This results in creation of new ragas."
With her gifted voice and brilliance, open-minded attitude, esthetic approach, and objective way to look at music, Prabha Atre has made a great contribution in Indian classical music.