Ghatam player Tripunithura N Radhakrishnan recently won the prestigious Kerala Sangeetha Nataka Akademi fellowship. The Carnatic percussionist is the first artist to receive the honour for the clay-pot drum from the state's apex cultural institution.
Tripunithura N Radhakrishnan was 19 when his percussionist-father took him to their nearest city of Ernakulam amid a festival. That trip happened to give the teenager a break. "This is my son. He plays the ghatam pretty well," G Narayanaswamy introduced the youth to mridangam maestro Mavelikara Krishnankutty Nair at Valanjambalam Devi temple. The response was warm. Nair, shortly, was on the dais as an accompanist for a Carnatic concert. The vocalist was the famed K J Yesudas.
A couple of months later, Radhakrishnan was on the stage where Yesudas was giving a classical recital. At a church in Fort Kochi. On March 31, 1976. From then, the ghatam player has been a regular for Yesudas. Together they have performed in 2,000 venues till date. Across the country and abroad.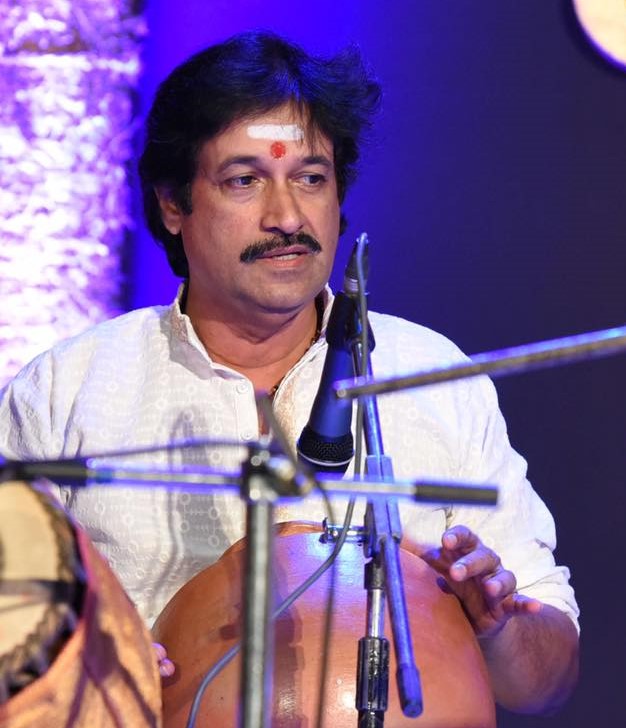 Yesudas, however, wasn't the first celebrity Radhakrishnan accompanied. Two years before that concert at the percussionist supported Chembai Vaidyanatha Bhagavathar, incidentally Yesudas's promoter. It was in 1974, months before Chembai died.
Radhakrishnan, across his teenage, found benefactors in Carnatic circles. Among them were violinist Nedumangad Sivanandan and vocalist Neyyattinkara Vasudevan. Radhakrishnan had debuted at the age of 10. That was after three years of training in mridangam and ganjira under his father at their home in Tripunithura, 10 km east of Kochi in central Kerala.
"In fact, I had my arangettam with the ganjira," recalls Radhakrishnan, 63. "I accompanied a relative named Rajan Iyer at a rather informal vocal concert that had harmonium in place of the violin."
From then, the percussionist built a steady profile — though with the ghatam. From icons of the 20th century to up-and-coming musicians of the present times, Radhakrishnan has played the ghatam across generations.
Government honour
Earlier this month, the Kerala Sangeetha Nataka Akademi announced its honours for 2020. Among them was Radhakrishnan, winning a fellowship from the apex cultural institution of the state government. "I'd say it is a recognition for the ghatam," he says. "I have had my long struggles with the instrument which always wooed my attraction with its looks and timbre."
As a toddler, Radhakrishnan used to practice on the mud-pots his mother Alamelu Ammal kept in the kitchen. "The hobby continued. My two brothers, too, would join," he trails back. "They too became percussionists in their capacity." N Gopalakrishnan would play the ganjira, while the younger Mohan specialised in the tabla.
The radio was a major source of cultural enrichment for the family. Radhakrishnan, as a boy, would listen to Akashvani concerts. "Simultaneously, I would take out my father's mridangam and play. He noticed it. Apparently impressed, he began to teach me."

A more formal education in Carnatic percussion awaited Radhakrishnan past his teens. Enrolled with the RLV College of Music and Fine Arts in his home-town on the advice of its principal Parassala B Ponnammal, the mridangam student completed his Ganabhushanam in 1982. Three years later, he earned a Ganapraveena degree from the Swathi Thirunal College of Music in Thiruvananthapuram. He went on to do an MA from MG University, Kottayam.
The penchant for specialising in the ghatam remained strong all the while. "When I was a child, we didn't have a ghatam at home. I'd go to my cousin Tripunithura Mahadevan. He had one. I tried my ways on it," reveals Radhakrishnan. "Occasionally, I'd play before my father. Briefly. He'd say, 'Sounds fine'. I was happy."
Besides Parassala Ravi of the pivotal Palakkad Mani Iyer school as the guru, Radhakrishnan went on to receive classes under his paternal uncle T V Gopalakrishnan, a multifaceted genius.
Playing style
While on the ghatam, Radhakrishnan prefers to follow the mridangam — in tune with the vocalist. "I avoid playing for the opening pallavi passage. I do it only with certain compositions of reasonable pace," he says. "You should know where not to play too. And avoid filling up all spells of silence."
It requires some talent and experience for a ghatam player to sense the spots the instrument produces the apt pitch, according to Radhakrishnan. "It isn't possible to increase the shruti of a ghatam, but you can do the inverse by applying patches of clay at some places," he points out. "The Manamadurai variety is weighty. In Chennai from where I buy, I help the ghatam-makers mark the shruti on the instrument."
Now a grandfather, Radhakrishnan has passed on his legacy to the younger members. His son R K Ranjith is a vocalist, while daughter Ramya Krishnan plays the violin. He has disciples — some moulded during a decade's stint at RLV, where his grandfather Gopalakrishna Bhagavathar too was a tutor. Radhakrishnan occasionally associates with Malayalam movies.
Four decades ago, seeing Radhakrishnan's passion for the art, senior percussionist Alappuzha Gopinatha Prabhu gifted him with a ghatam. "I keep that piece in my room. It's a prized possession," he says.