Mohiniyattam or a similar dance form was mentioned in 16th-century literature Vyavaharamala and the historical records of the Travancore rulers.
Vyavaharamala written by Mazhamangalam Narayanan Nambūthiri assigned to the 16th century mentions that the rules to be observed while sharing the remuneration or earnings among the artists of performing arts like
Mohiniyattam was the same as that followed in the case of architects.
"Narttakanamesa eava dharmassadbhirudahritha:
Talajno labhatehyarddham gayakastu samamsina:"
The main architect should be given more than half of the remuneration when a group of craftsmen construct a building. The same applies to the Narthakar (dancers) also. Accordingly, the person with the knowledge of musical rhythm (The Guru /Nattuvan/Teacher) can claim more than half of the money they receive as remuneration and the singers and the other performers should divide the rest of the money equally among themselves. Poet Ullur S. Parameswara Iyer opines in the preface of the commentary of Vyavahāramāla, that the 'original might be about 500 years old and the commentary 200 years.'
In Mohiniyattam, 'the one with the knowledge of musical rhythm' is assumed to be the guru or the dance master because the Nattuvan or Guru controls the rhythm with his cymbals or Nattuvankam. In Kerala, Mohiniyattam and Tiruvatirakkali were taught by gurus. Then there could be a question 'Why not Nangyar Koothu?'. It is different in the case of Nangiarkoothu; the elder Nangiarammas of the Nangiar family taught Nagiarkuttu to the girls of their family. This tradition underwent a drastic change later when conscious efforts were made at Natanakairali, and also by Guru Ammannur Madhava Chakyar – who taught at Ammannur Gurukula opened up the gates of this art form to the members of other communities as well.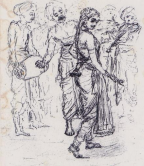 Earlier mentions of Mohiniyattam
So, whenever the mention of dancers was made it must be the Mohiniyattam dancers who were alluded to. From this, we can very well assume that a dance style similar to the present day Mohiniyattam was prevalent in the 15th century itself.
Historical records showing the patronage of the erstwhile rulers of Thiruvithamcoore to Mohiniyattam were found in the Trivandrum Public Library. It is mentioned that the dancers were trained with proper costumes (kachaketti), and the description is very similar to that which is given in the Vyavaharamala.'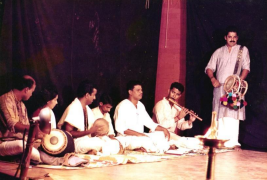 Mohiniyattam is described as a dance form like 'Kaikottikali' for which the Guru keeps the rhythm and sings the song from behind the danseuse on the stage. In the case of Mohiniyattam, this practice continued until it reached Kerala Kalamandalam. There Mahakavi Vallathol Narayana Menon assigned the position of the master and the accompanists to the right side of the dancer where they sat down and played on the accompaniments. And this practice is followed since then. Considering all these we can conclude that the reference we find in Vyavaharamala must be about Mohiniyattam or an earlier dance form that is very similar to Mohiniyattam
(Assisted by Sreekanth Janardhanan)
.