Known for his plays that address a wide range of issues with deep political overtones, Abhishek Majumdar is busy with a line-up of no less than nine productions
Midway his conversation, Abhishek Majumdar suddenly quips: "I'm a theatre labourer." And none can doubt the Bangalore-based artiste on that self-decription. Such is the load of work that he has lined up even in today's pandemic-hit world. For now, nine productions! All slated to be done in different parts of the world — through this year and the coming one. There are more to come, he kind of cautions.
"It's just that all the work got halted last year, owing to Covid-19," Majumdar explains. But this very act of coming up with a long list of work, actual work, in a world of no work, actually brings a huge sigh of relief for most of those who have been staring at blank calendar columns for the past one year. As the buff would think, things are at last beginning to move. It is heartening, reassuring.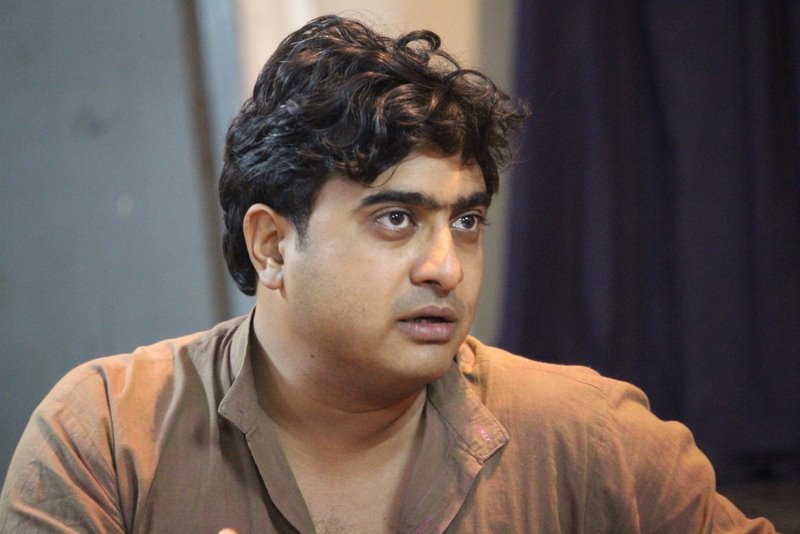 Of course, Majumdar has always been a prolific 'theatre labourer,' working
across languages and borders as a playwright, theatre director, pedagogue and actor. His plays have been translated into English, Hindi, Bangla, Marathi, Czech, Kannada, Gujarati, Tibetan, Spanish and French. And he works for theatre companies in London, New York and Abu Dhabi. As an educator, Majumdar has taught theatre programmes at the National School of Drama in Delhi, Ranga Shankara and Indian Institute of Management at Bangalore besides FTII, Pune. He is also an associate professor at New York University Abu Dhabi.
Known for plays with politically charged topics such as 'Eidgah ki Jinnat,' that speaks of the ground realities of Kashmir and 'Pah-la,' which deals with the Tibetan situation, Majumdar has met with stiff resistance and even attacks from many quarters. 'Eidgah ki Jinnat,' one of his Kashmir Trilogy including 'Rizwaan,' and 'Gasha,' was pulled out of Jaipur's Navras Festival in 2019 following right wing protestors ransacking the venue at Jawahar Kala Kendra.
Wide, intense exposures
Majumdar's interests are not confined to theatre, rather they're quite varied. He had started out by learning Physics and Mathematics at Delhi University. Then he studied Rural Management at the Xavier Institute of Management in Bhubaneswar, followed by a management degree from National Institute of Technology in Tiruchirappalli. But the love for theatre that was sparked off at his young age by watching a huge diversity of plays in and around Jawaharlal Nehru University where his parents were working as administrative staff claimed his whole career.
After moving to Bangalore at the age of 23, Majumdar worked in a software firm for some time, while theatre filled his evenings. Soon, he enrolled in the London International School of Performing Arts with a Charles Wallace Scholarship.
After returning from London in 2009, he set up the group, Indian Ensemble with Sandeep Sikhar, the Bangalore-based writer and actor. Later, in 2011, he also attended an International Playwright's Workshop at Royal Court Theatre, London supported by another grant from Charles Wallace Trust.
No wonder his plays also address a wide range of issues with deep political overtones. And the background in Science and Management certainly informs the meticulous research he conducts for each play.
However, Majumdar had not been sitting idle through the lockdown. Along with a couple of friends, he was actively involved in running a supply of ration and food among the migrant workers of Bangalore. The play, 'Salt,' (Namak in Hindi) was born out of the experiences of those days. 'Salt' is a touching tale of a mother and two daughters who face the ravages of hunger as life drew to a grinding halt. It was performed by MD Pallavi, the fabulous actor-singer who made it into a digital play using the Zoom platform. Pallavi herself played the roles of the Mother and the two daughters, shot herself using a mobile camera and edited it all by herself. 'Salt' has already been translated into a number of languages, getting performed internationally.
Majumdar believes that theatre can happen anywhere. "If somebody tells me come and do this on my terrace, I'd do that," he says.
These are plays Abhishek Majumdar has lined up for now:
Arrow (English): March 2021, North Western University in Ohio. 'The Arrow' is a short play that Majumdar had written some years ago, for Climate Change Theatre Action, a global initiative to present short play readings and performances Climate Change conferences. It was A Kannada production of The Arrow, translated as Baana, was staged at Rangashankara, Bangalore as part of an anthology of three plays by Majumdar recently.
'Arrow' also performs at Festival of International Students Theatre at the Faculty of Dramatic Arts, Belgrade, Serbia (May 21-25)
Desdemona Rupakam, a multilingual play to be made in Kannada, Tamil and English, is a Rangashankara production premiers at Ranga Shankara on April 10 & 11. It will be staged at Prithvi, Mumbai in May. The play which has a cast of the noted singer-actor M.D. Pallavi, the singer Bindhumalini and Irawati Karnik, theatreperson and screenplay writer. The play was scheduled for October, 2020 but that did not happen as the lead actors went down with Covid 19.
An Untitled New Monologue that Majumdar will write for Tara Arts, London for the next season. It will, hopefully, open in April, 2021, of course considering the Covid 19 situation in the UK.
One on One – Unblocked, a digital theatre play including ten monologues written by nine eminent playwrights including Majumdar, from Rage Productions: Mumbai, has already been running online since August, 2020 on PayTm Insider's theatre initiative, Front & Centre. This month (February), One on One – Unblocked will have its first show in Prithvi Theatre, Mumbai.
Afterlife of Birds, a 2012 play written and directed by Majumdar based on Sri Lankan Civil War will be presented as a rehearsed play reading for the online event of Playwrights Week, Mexico to be held in July, 2021. A Spanish translation of the play will be presented at the reading.
'Des,' a Hindi play Majumdar is directing, for his own group, Indian Ensemble, will be premiered in June-July 2021 at Rangashankara, Bangalore and Prithvi Theatre, Mumbai. Irawati Karnik is acting in this one also.
A new Marathi monologue written by Irawati Karnik is another one of Majumdar's own productions, slated for a Bangalore – Mumbai premiering in June – July. Karnik will be the actor of this monologue too.
Another project in the pipeline is the Japanese playwright Ota Shoga's 'Water Station,' which is essentially a movement piece, for New York University Abu Dhabi. The production will tentatively open in November, 2021, but it's not yet sure if it will be an online work.
A Tibetan production of Pah-la, Majumdar's play about the Tibet uprising of 2008, will be made by Tibet Theatre, founded by Lhakpa Tsering. It will start in mid-2021 running through 2022. The Tibetan 'Pah-la' will have two directors, including Tsering and Harold Fuhrmann, a German director from Berlin. The play will be produced in India as an Indo-German co-production.
9 kinds of Silence, Majumdar's play in English based on Paul Goodman's nine kinds of silence, was supposed to open in 2021 by Playco, a New York-based company. But Covid pushed the production off and now it is expected to open by 2022 January.
Jinhe Naaz Hai (Hindi): Namak and Rashaan – March 26, Attakkalari and April 14 – Ranga Shankara.
Eidgah ke Jinnat – March 13, Jaipur, directed by Abhishek Mudgal
There are other performances too: 'Kaumudi', 'Bibhuti Rachnavali,' a new play to be directed by Srinivas Beesety for Kahe Vidhushak, the Bengaluru-based theatre company, a production of Majumdar's 2017 play, ''Muktidham,' in the US), and the productions of 'Salt' and 'Namak' (Hindi) in Dubai and India. He is also working on a new play for the Royal Court Theatre, London.