Photo Courtesy: Ram Kashyap Varma
Kalamandalam Vasu Pisharody's six-decade-old Kathakali career earned new sheen recently when the maestro won the Kerala Sangeetha Nataka Akademi fellowship.
Twelve summers ago, Kalamandalam Vasu Pisharody returned to the Kathakali stage after a knee damage forced a couple of seasons' break. Four months after that May 2009 show in the pilgrim town of Guruvayur, the actor spoke at a venue closer home. This time in civil dress and with no dramatics integral to his mythological personalities. There, the maestro reminisced matter-of-factly about his late guru's unique style of moulding a generation of eminent practitioners of the classical dance-theatre.
"When it came to higher studies, my teacher would train pupils in ways that constantly reminded us of the mindset of the character. This was a hallmark of his pedagogy," Pisharody tells a gathering at Karalmanna, 25 km west of his residence in Kongad of Palakkad district. The reference goes to Vazhenkada Kunchu Nair, a 20th-century titan known for his restrained approach to histrionics that revealed the many layers of a situation.
"My guru used to take us into that phase of rigour only after he was convinced that our fundamentals are intact. And that the gestures and choreographic details would come to us effortlessly," he adds at the occasion: the centenary celebrations of Kunchu Nair. "Our ashan had the prudence to take in worthwhile ideas and reject opinions or criticisms he thought held no value."
An amused smirk lights up Pisharody's face when he recalls that the guru would sometimes be present in the morning classroom even before the students reached. "Much of the advanced grooming had the spirit borrowed from Koodiyattam," he notes, referring to the ancient Sanskrit theatre. "The build-up of it will happen across sessions for days together."
Cut to 2021. On February 4, Pisharody won a prestigious honour from the Kerala government. The state's Sangeetha Nataka Akademi announced a fellowship for him in the Kathakali section.
One's own signature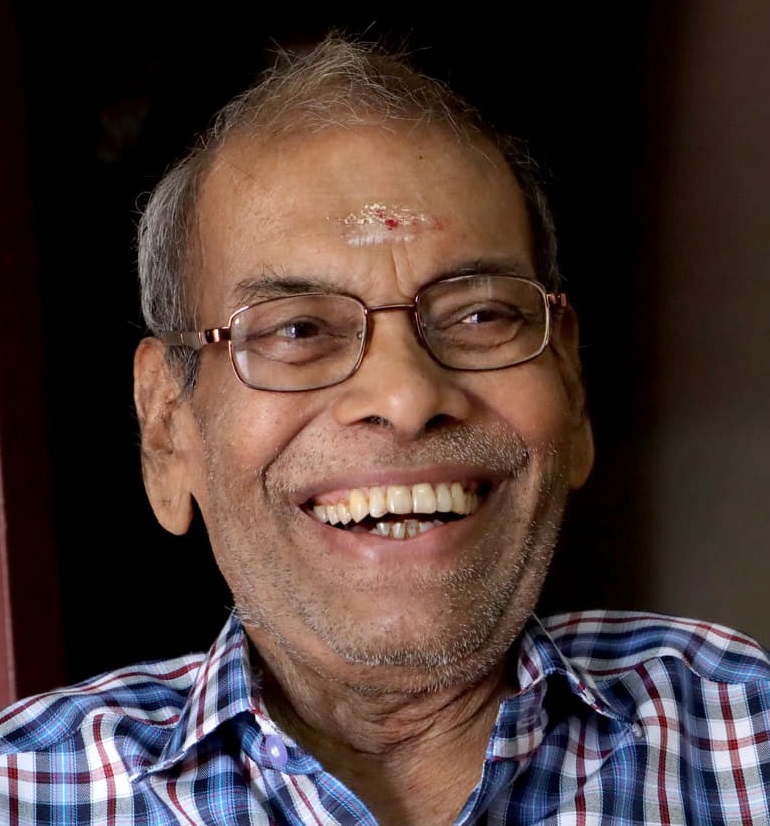 Pisharody's comeback trail does continue, but not with the vigour he showed in the initial lap of the last decade. At 78 today, age-related ill-health, too, has led the master to go increasingly off the Kathakali circuit. The problems with movement of the legs linger.
That apart, Pisharody hasn't lost his passion for the art with which he has had a tryst from childhood. First as a viewer, then as a student, and subsequently as a performer-tutor. Amid a social media bloom, the maestro closely follows the developments in Kathakali far and near. Be it lectures, demonstrations, seminars or live shows on stage, he follows the video links and allied write-ups. Even calls up colleagues and disciples to give feedback.
"In any case, I keep reading books. In what little ways I can. Something or the other related to the arts in general and Kathakali in particular," says Pisharody, at his house which is 40 km northeast of his alma mater in Cheruthuruthy of Thrissur district.
At this, Pisharody again retreats to his guru's trait. Kunchu Nair would repeatedly encourage his students to be bibliophiles as well. "He used to ensure that we mustered bookish knowledge as well alongside the thorough practical lessons. 'If you come across something enjoyable, imagine how the core idea can be applied on the Kathakali stage. If you believe it can come out well, do proceed. The presentation, eventually, should have your signature,' my guru would advise us," he adds.
For any guru, the disciples earned in one's evening of life could be stronger vis-à-vis in the salad days, says Pisharody — alluding to not just Kunchu Nair, but oneself.
Thoughtful characterization, disciples
Not surprisingly, Pisharody's characters invariably toe orthodox routes even as they conjure up ideas that can be novel to Kathakali audiences. This innovative approach applies to his virtuous protagonists, antiheroes, villains and even the occasional roles that bear streaks of comedy, critics note.
Pisharody was a mid-teenager when he was taken to Ottapalam, where Balakrishnan Nair initiated him into Kathakali. The subsequent year, in 1959, he began learning under Kunchu Nair — first at PSV Natyasangham in upstate Kottakkal and later at Kalamandalam, to where the guru moved. Pisharody went to receive training under veterans Ramankutty Nair and Padmanabhan Nair as well.
After heading Kathakali classes at Guruvayur in the end-1960s, he taught at Kalamandalam for three decades — the permanent recruitment happening in 1979. Even subsequently, Pisharody continues to be a mentor for several practitioners. His Kongad home finds visitors who are keen learners of the art. They may also be enthusiasts, eager to clarify doubts as well as grasp the subtleties of certain technicalities.
"It's refreshing to be with guests. And chat for long," he nods, with a broad smile. The expression tends to hide Pisharody's grief owing to a prolonged absence from the stage. More so in the past year marked by the outbreak of Covid-19. "Amid that, this fellowship from the Akademi. I feel good."