Behind all that glitter and fame in Circus, lies the hardships, ailments and adding salt to the wounds is the government's apathy, discovers the author.
My interest in circus shows was piqued again after watching the remarkable show put up by Argentine troupe De La Guarda. Thus the enthusiasm to explore such shows and visits to similar performances continued during my stay in London.
Much like De La Guarda's Periodo Villa Villa, I attended another set of shows while studying in London – performances by a Montreal-based live entertainment group known as Cirque Du Soleil. The group performed their signature and popular show Mystère combining the powerful athleticism, high-energy acrobatics, colorful costumes and inspiring imagery that has become the company's hallmark.
The viewer runs out of superlatives while trying to describe this show based on nature and universe. It is funny, weird, trippy, even sometimes creepy. Great audience interaction, amazing gymnastics and acrobats – it is surprising to see what feats the human body can perform, and the intricate precision with which 40 performers pull off those feats.
The comedy enacted by the circus clowns at the beginning and throughout the performance was excellent and had the audience in splits. The acts during the show were amazing, especially the two men doing the lifts. In between the acts, they also had a clown dressed like a baby for comic relief, and act as a filler.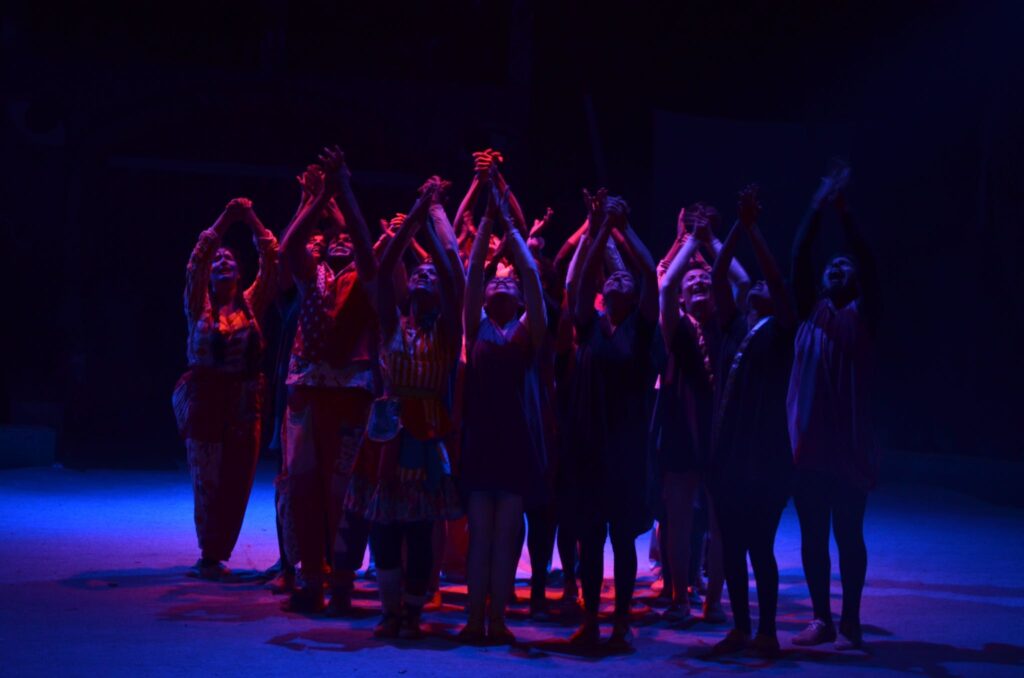 De La Guarda and Cirque were the two groups whose shows drew me towards my approach to the Indian circus once again. I began to think that circus could be one of the best examples of Indian urban performance forms. I was certain I would try and do some sort of experiment with circus once I returned to India.
The perils of the ring
Once I returned to India, I began my career in theatre as an art director at the Abhinaya Theatre and Research Centre, at Thiruvananthapuram. I worked here from 1999 to 2001 and later moved to Delhi to work as an Assistant Professor at National School of Drama.
While directing C.N. Sreekantan Nair's Saketham in 1999, I shared this idea of synthesizing circus with theatre to my students at Thrissur School of Drama. And that's how my search for circus companies started. My search stopped temporarily since I had to be in Delhi with the NSD.
In 2009, while travelling in a train in Kerala, I met an individual who was semi-paralyzed and was lying down in the berth. I interacted with his family members and realized that the paralysed person was a former circus artiste and had a fall in the circus ring.
This was a life-changing event for me. It helped me empathise with the circus artistes and their hardships they go through during their working years. After this encounter, I started travelling to the interiors of northern part of Kerala to meet different injured and disabled circus artistes. With their help, I started meeting different circus workers, their unions, their proprietors, etc. Most of them were depressed and were very negative and pessimistic in their attitude towards life and therefore my idea of putting theatre and circus together was kept in the cold storageThe circus veterans and contemporary artistes were in deep agony and skeptical about the policies of the State and Central governments. They complained about the lack of a focused welfare fund or any sort of insurance coverage for their survival. In fact, even today, the government is still not clear whether circus come under Sports Ministry, Information & Broadcasting Ministry or Culture Ministry.
Circus and Theatre: Will it ever work?
Despite my conversations with the artistes, I persisted through various channels to find out if there is any possibility of blending theatre with circus. One of my theatre friends, V. Sasi Kumar introduced me to several circus owners. Most of them were not even interested to meet us because they felt that there was no meaning in bringing theatre and circus together. In fact, most of the owners were averse to the idea of bringing in a new aspect or collaborate with theatre as they were exploiting the circus artistes by paying paltry sums as wages. Still, it was commendable that despite all the hurdles these circus owners, in their own way, were keeping the Indian circus is alive and are saving it from total extinction.
Click here for more on the series
Write to us at [email protected]
Cover image courtesy: www.cirquedusoleil.com