GN Balasubramaniam, known for his strong foundation in raga alapanas, was respected widely for his creative approach and innovation within the boundaries of classical music.
Recently an enlightening discussion between vocalists Padma Bhushan Trichur V Ramachandran and Bhushany Kalyanaraman on the raga alapana paddhathi (grammar and guidelines of ragas) of GN Balasubramaniam (1910-1965), popularly known as GNB, threw lights on the maestro's distinct style and creative approach in manodharma.
The talk was arranged by SciArt Services, and Chethas (Centre for Holistic Enrichment Through Arts) and curated by Vishnu Vijayaraghavan. While discussing the style of rendition of GNB, Ramachandran also mentioned how the brilliance and prodigy of the maestro fits all the requirements of a 'Uthama Raga Alapana' exposition
Strong foundation
He always relied on Aakar and Nakara sounds to sing phrases, with minimum use of syllables. GNB gave due importance to practising plain notes, just like Hindustani artists. He used to say, "If you practice plain notes, you can sing for a lifetime, otherwise your voice would start shaking." This plain note practice also helped him in rendition of phrases involving notes resulting in irakka jaru and etra jaru(ascending and descending slides), which are indispensable of the Dasavidha Gamaka scheme. He was particular about the swara and sthana value of a note in a raga. He also knew instinctively which note to oscillate and which one to be delivered plain. For instance, the Devamanohari raga does not permit any oscillation on Ri, whereas, there has to be an oscillation on the Ri of Madhyamavati Raga.

These aspects were seamlessly woven into his alapanas. In some ragas such as the Kambodhi, he would use both the plain and oscillating Daivatams to bring out different moods of the raga. This reveals the fact that his music had a 'rakthi' (desire) that gave prominence to the swaroopa (form) of a raga rather than a conventional approach to plain notes and gamakas. Another feature of GNB's music was that he could effectively sing not only common ragas such as Todi, Kalyani and Shanmukhapriya, but also rare ragas such as Abhogi, Andolika, Yadukulakambhoji, Malavi and Narayani, which could be both extensive or concise per mood and requirement.
Extensive, yet Proportionate
GNB believed that the essence of Carnatic music was manodharmam (extempore music). He always established the raga in the opening phrase. He could show the impact of a raga in a minute or for even an hour. He would do a moderate alapana for a kriti, while for ragam-tanam-pallavi, his alapana would be extensive. To illustrate raga alapana, Ramachandran sang Todi raga.
GNB's alapana for pallavi would consist of four stages. In the first stage, he would sing the outline of the raga, traversing its entire scale – summing up the whole raga. The next stage would consist of building the raga step-by-step – 'Sopana' or the 'staircase' method (not to be confused with the 'Sopana' music of Kerala) from Shadjam to Pancham, wherein GNB would build the raga by taking a small phrase and sing around it, thus highlighting the important notes and the Gamakas in the raga. There would be a profusion of on-the-spot ideas of the raga with the audience being thrilled with the excitement of new and unusual vistas being unveiled on the stage.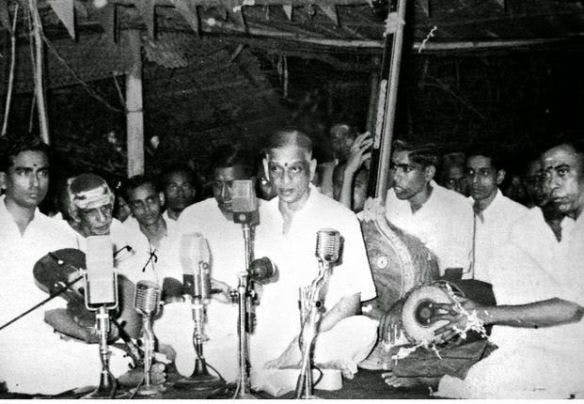 Here, Bhushany Kalyanaraman attracted the attention of students towards how GNB would use various forms of Ga and Dha in Todi. The third and fourth stages would have the alapana from pancham to the higher octaves and round-up of the raga, respectively. In all the renditions, GNB would mix the ultra-slow, slow, medium, fast and ultra-fast phrases. His transition from one tempo to the next would be extremely smooth. Another thing to be noticed is his effective use of Vibrato or pitch modulation. Since GNB was an expert in rendering all kinds of gamakas, his voice would sound very smooth, while rendering them and not painfully contorted. In view of his creativity and the approach to innovate within the boundaries of classicism/tradition, the same raga would not be a repetitive rendering but be different every time. This unique approach towards a raga is seen in his compositions as well. Another example of GNB's creativity is his development on Ni in Kalyani – so far, no one has done this to the extent that he did. Ramachandran also explained how even in an extensive alapana, GNB had a great sense of proportion, as he never overdid anything. Even when he did Grahabhedam, he made it a point, to not spoil the mood of the main raga but to briefly and delectably suggest another raga, and very soon get back as if like lightning. Here again, his massive intellect was tempered by refined aesthetics.
Importance of words
While singing Shlokam/Virutam; GNB would sing the raga phrases only at the places, where the words would occur. They would not be compromised in any way. He would always keep in mind as to which syllable would help the raga rasa come out better. He never sang to the gallery, irrespective of the nature of the occasion, be it a scholarly Sabha or a wedding engagement with diverse audiences. Although he was known for his ultrafast speed, there were no gimmicks in his rendition. His zest for learning rare ragas and songs lead him to compose songs in ragas such as Amrutabehag.
The session was extremely enlightening to both accomplished Vidwans and upcoming students of the art.
The next upcoming sessions celebrating the genius – GNB is arranged by SciArt Services and CHETHAS, conceptualised and curated by Vishnu Vijayaraghavan. Here are the details: Vidushi Dr S Sowmya on November 13th(today) and 14th, and Vidwan Shri Chitravina N. Ravikiran on December 17 and 18.

Click here to register. Write to us at [email protected]