Personal and professional reasons prompt Kalanilayam Gopalakrishnan to stay out of Kathakali — his passion for 55 years. Two heart-attacks, barely a decade after ouster as teacher from his alma mater, have made the 72-year-old widower indifferent to the art.
The neighbourhood temple where Kalanilayam Gopalakrishnan learned the fundamentals of Kathakali six decades ago continues to hold an annual show of the dance-theatre. The septuagenarian maestro shows up on the occasion, but that is for a brief greenroom chat with his former colleagues.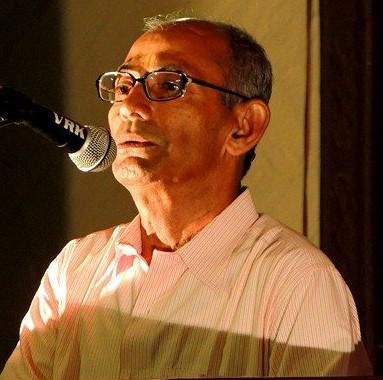 "I don't watch the performance. Nowhere. It has been so for six-and-a-half years," says Gopalakrishnan, leading a reclusive life following a string of sour experiences on the stage and off it.
The artiste suffered a heart attack in summer 2014. That was while presenting Kathakali at a Bhagavati shrine not far from his village near Kottayam in south-central Kerala. It was the repeat of an identical medical emergency in 2011. "That time, at least I wasn't on the stage," he recalls.
Gopalakrishnan, now 72, has also had a history of sores refusing to heal in three places down his waist in the past decade. But physical fitness isn't the focal reason for his decision to quit the classical form that gifted him a glorious career spanning 55 years.
For all his specialisation in female roles and stellar performances in solo or opposite stalwarts from across the state, Gopalakrishnan is almost a forgotten Kathakali man today. A handful of Kathakali buffs and fellow professionals have tried their bit to bring him back to the circuit, but to no avail.
Rise and slide
TG Gopalakrishnan was 11 when elders in his family took him to a local Kathakali master. At the vintage Narasimhaswamy temple a furlong away from his house in Manganam, Rama Pisharody taught him the fundamentals at daytime classes with a same-age cousin as co-student. Within months, Gopalakrishnan debuted. At the same spot. As Arjunan, in just the opening 30-minute scene of traditional Santanagoplam play based on a story from the Mahabharata epic.
That marked the start of Gopalakrishnan's career in small ways. As bullock-carts and wheelbarrows carried the Kathakali paraphernalia to venues around, the boy did minor roles backed by sketchy guidance. Then, in 1963, the graph took a decisive turn. Gopalakrishnan got enrolled as a student in an up-and-coming Kathakali institution, 120 km north of his birthplace.
The training at the 1955-founded Unnayi Warrier Smaraka Kalanilayam in Irinjalakuda was led by more reputed gurus such as Pallipuram Gopalan Nair, Kalamandalam Kuttan and Kalanilayam Raghavan. Busy titan performers such as Kottakal Sivaraman and Sadanam Krishnankutty, too, taught him briefly during the stipulated six years.
Soon, Kalanilayam recruited Gopalakrishnan as a junior teacher. Subsequently, in 1972, the institution facilitated his advanced Kathakali for another couple of years. Just as it got over, Gopalakrishnan was forced to return to his Manganam home — to nurse his unwell mother.
Five years thence, she died. Without delay, Kalanilayalam re-inducted Gopalakrishnan in 1979. That teaching stint lasted a little over 23 years. The end phase was far from pleasant: Gopalakrishnan was served with a suspension and, four months later, dismissed in September 2003. This, when he, incidentally, lost wife CK Maya (owing to diabetes).
"The reasons for my exit from Kalanilayam and Kathakali are layered. And a culmination of quite a few sour episodes. Let's not get into all that," shrugs Gopalakrishnan, with a resigned smile. Stuck this year at his Manganam home to undergo a cataract surgery that is getting delayed owing to Covid-19 restrictions, the master otherwise stays in Irinjalakuda with his only daughter Anima Manikantan and her family.
Colleagues, Kathakali fans lament
A general apathy apart, close friends and Kathakali enthusiasts are anguished with Gopalakrishnan's hibernation. After all, his co-actors include all-time greats such as Kalamandalam Krishnan Nair, Chengannur Raman Pillai, Mankulam Vishnu Namboothiri, Keezhpadam Kumaran Nair, Ramankutty Nair, Kalamandalam Gopi, Kudamaloor Karunakaran Nair, Madavoor Vasudevan Nair and Oyoor Kochugonvinda Pillai.
Maestro Kottakkal Nandakumaran, also 72, recalls his performances along with Gopalakrishnan in their youthful days and well into middle age. "Life doesn't always serve you with luck on a silver platter. Often you need to fight to earn your space," Nandakumaran says. "One can understand Gopalakrishnan's disinterest. Yet I wonder how any artiste can remain idle for so long when the field is only flourishing."
Multifaceted Sadanam K Harikumaran has had Gopalakrishnan cast in his new Kathakali projects. "He has willingness to grasp novel choreography and essay them well," says Harikumaran, whose Sadanam Kathakali Akademi east of Ottapalam conferred the artiste with the prestigious Pattikkamthodi Puraskaram in 2013. "His gestures and movements have a mix of grammatical thoroughness and individual grace."
Pazhoor Damodaran, who learned under Gopalakrishnan in the 1990s, remembers the guru's strictness capped with affection. "Be it the pre-dawn eye exercises or post-sunset mudra sessions, he was prompt. Punishments, yes, but never an abusive word," adds Damodaran, also a Sanskrit teacher.
Writer-percussionist Manoj Kuroor observes that Gopalakrishnan performed well in male roles as well. "They may have been occasional, but never with a feminine hangover."
Aficionados wish Gopalakrishnan made a re-entry. Sooner than later.