The recent Kerala Sangeetha Nataka Akademi Award for Mohiniyattam danseuse Kalamandalam Kavitha Krishnakumar comes as a late recognition.
Often, state laurels reach deserving artistes after a long delay. A variety of reasons can be attributed to this predicament. At times, the 'left out' would voice their disenchantment loud and clear, but there is a minority that bears with this ignominy in silence.
So, when Mohiniyattam danseuse Kalamandalam Kavitha Krishnakumar's name figured in the list of awardees announced by Kerala Sangeetha Nataka Akademi last week, many among the dance fraternity doubted whether she was being awarded for a second time! For, she is one among the very senior artistes and her disciples including teachers are a legion. But Kavitha, recipient of many awards including the much-coveted one from her alma mater, is nonchalant: "Yes, an Akademi award is really welcome, though much belated".
It was the insatiable zeal for dance that took this native of Alappuzha to Kalamandalam in 1985. Fortunately for her, that was the time when the dance faculty was rich with renowned gurus such as Kalamandalam Sathyabhama, the protagonist of the Kalamandalam style of Mohiniyattam. Groomed under them, she completed the diploma course with a first-class. Soon, she was selected for a senior scholarship from the Ministry of Culture, Delhi, in 1989. Guided by Kalamandalam Sugandhi, Kavitha could hone her skills further. She completed her post graduation in Mohiniyattam from Kalamandalam.
Teacher, choreographer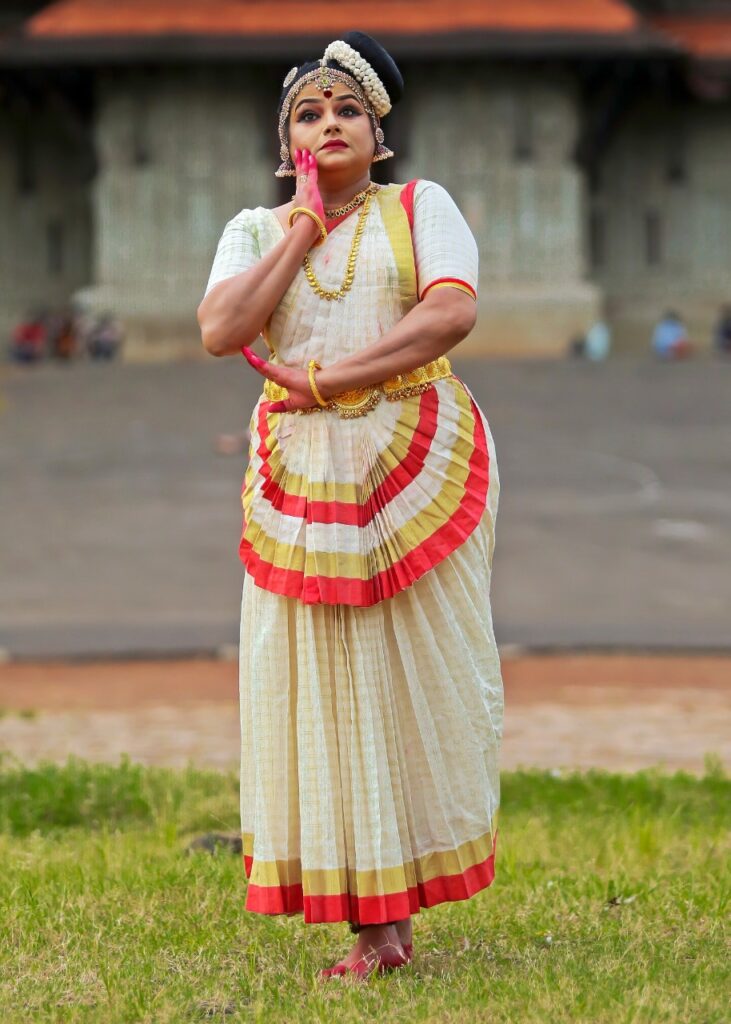 Later, Kavitha opened the institution Savidam Natyagruha in Alappuzha that attracted students in large numbers. The teaching experience was an inspiration for choreography. And till today, the number of cholkettu, jathiswaram, varnams, padams, tillanas, ashtapadis and keerthanams she has to her credit is innumerable. Also, she could do some productions which were based on legendary characters.
After her marriage in 1996, to Thrissur Krishnakumar, a well-known edakka artiste and musician, her dance institution had to be shifted to Thrissur. "Those days were really hectic as I was invited for many performances and also since the number of students swelled," Kavitha recalls her Alappuzha days. The week-long workshop on Mohiniyattam organised by Kerala Sangeetha Nataka Akademi in 1990 which she could participate in was a morale booster, she adds.
Meanwhile, she was invited for performances in Soorya Festival, Chidambaram Natyanjali, Nishagandhi, Thunchan Parambu festival in Tirur, to mention only a few. She also became a graded artiste of Doordarshan.
Rising to fame
For Kavitha, 2007 was a year of recognition. She was nominated by the government to the first syndicate of the Kalamandalam Deemed to be University. In the company of maestros such as Kalamandaam Gopi and Mattannur Sankarankutty in the administrative body, Kavitha was the lone member representing dance. In this capacity, she could contribute considerably to elevate the institution to the university level. Also during this tenure, she represented Kalamandalam in the General Council of Kerala Sangeetha Nataka Akademi.
In 2013, Kavitha was awarded the Senior Fellowship by the Ministry of Culture, Delhi. The topic she chose was 'Chaturvidha abhinaya in Mohiniyattam, Nangiarkoothu and Kathakali Sthree vesham'. Interestingly it was in the same year that she was honoured by the Kalamandalam award. 'Natya Kalanidhi', 'Lasya Mohini', Krishnankutty Smaraka award from Thiruvambadi Devaswom etc. are some other encomiums she had received.
A dedicated teacher, Kavitha says there is a perceptible change in the outlook of the students during these days of the pandemic. Whereas they preferred only a few items for the sake of competitions in the past, all of them nowadays insist on a full kacheri to be taught, of course online. This necessitates training in a systematic way, beginning with adavus. "I am sure this augurs well for the dance form," Kavitha beams.