Hailing from Tokyo, Japan, Keiko Okano has been practising and performing Mohiniyattam in Kerala for more than a decade now, shuttling between Kerala and Tokyo. This is a brief story of her journey to Kerala, to becoming a Mohiniyattam dancer.
I have always had an interest in the arts from childhood. I learned classical ballet and piano at an early age. My parents used to take us to museums and I would be thrilled to see the beautiful masterpieces on display. I was enthusiastic about drawing, painting and photography and loved watching performing arts and films. Somewhere inside, I knew I wanted to be an artiste.
I moved to Oregon, USA, at the age of 17 for higher studies. There I started off by exploring western art and culture but gradually shifted to Asian culture. It was in the US that I got my first glimpse of Indian culture; the fragrant spiced Indian cuisine, the enchanting sound of the sitar, the colourful sarees, the elephant-headed God and the Hindu rituals at Indian weddings, which were similar to my family's in Buddhist temples. All of it seemed fascinating to me. I became more curious about India and started wondering what the dance forms of India would be like. They would be more philosophical and mythical, perhaps barefoot rhythmic steps on earth? I wanted to try them out.
The turning point
After returning to Japan, I started working in an office but was desperately seeking something else. In 2004, I happened to come across a Mohiniyattam dance class by Hiromi Maruhashi, near my house. I casually joined the class but soon started performing with Hiromi. Three years later, she took me along on a performance tour to Kerala and Chennai. In Kerala, we visited the Kalamandalam and met her gurus, Guru Margi Sathi and Guru Kalamandalam Leelamma. I was thrilled to see students practising Mohiniyattam and Koodiyattam in class under Kalamandalam gurus. I did not understand abhinaya but found it enchanting. One day I wanted to be able to perform like them, I decided. We practised a few eye exercises and mudras which were a surprise for me.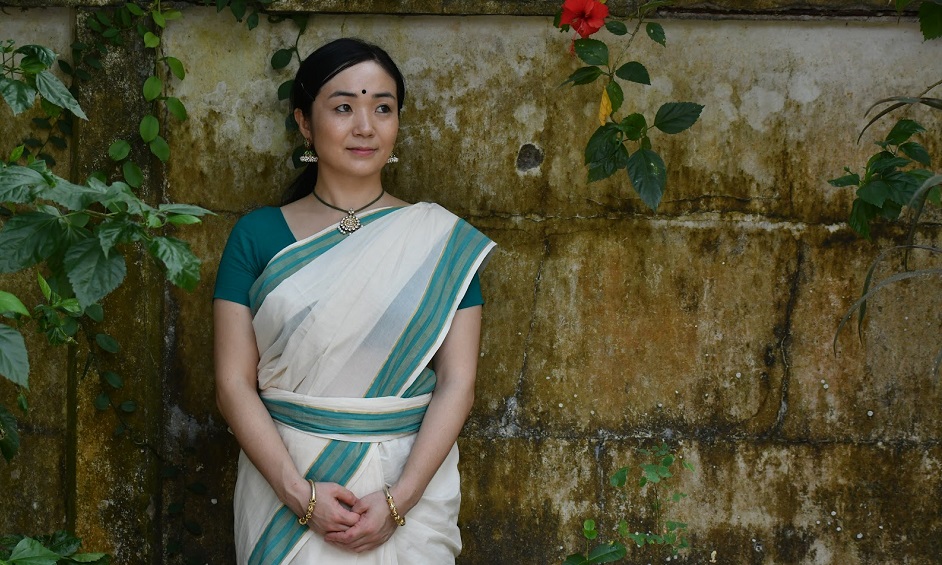 During the visit, I got to see both the greenery of Kerala and the dusty city of Chennai. The performance at the Ayyappa Temple in Chennai was one of the most beautiful experiences of the tour. I was moved by the depth of people's faith and felt a connection between Hindu culture and my Buddhist background. But it was Kerala that I fell in love with; its land, nature, art, culture and people. I felt strangely comfortable in the State where time passes slowly and felt a strong desire to come back and discover more about Kerala and Mohiniyattam.
In search of the right guru
After returning to Japan, I thought about the possibility of studying Mohiniyattam in Kerala. I needed finances but was soon promoted at work. So I worked for the next few years and prepared myself. The next question on my mind was, from whom should I learn Mohiniyattam in Kerala?
I was already a fan of Kapila Venu's Nangiarkoothu and Natanakairali's Koodiyattam performances in Japan. I had met Guru Nirmala Paniker, for the first time, when I joined her workshops in Japan in 2008. She had taught us the item Cholkettu so methodologically that I still cannot forget her grace. So after four months, I visited Natanakairali and watched her disciples' perform. I could see the deeply rooted traditions and years of rigorous training and practice. I was mesmerised by her Mohiniyattam style, the soft, beautiful swaying movements, strong yet subtle expressions and eye techniques all of which stole my heart. Her choreographies were attractive and so was the stage. What I saw was genuine and divine. Somewhere she broke and gave me a different idea about Mohiniyattam. I practised for several days with guru Nirmala Paniker and returned home, my mind made up. I want to learn from her.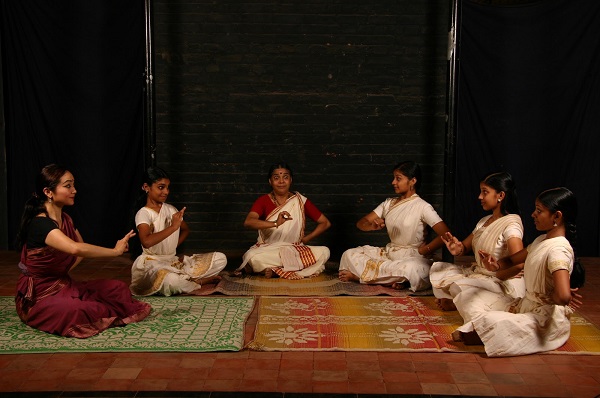 I had been working for two years and I asked myself if I was ready to give up this financially secure life and focus on dance. But I knew the answer, I should follow my intuition and do what I felt right. I would regret it if I didn't. The circumstances were ready for me to move on. It was a big decision and I started my new life.
Joining Natanakairali
In May 2010, I started full-fledged training under Guru Nirmala Paniker. I stayed at Natanakairali Gurukulam and practised every day with my guru and other disciples like Sandra Pisharody. My young classmates helped me a lot and I tried to learn as much as possible from them. I was blessed to get years of intense and strict practice with them. It took years to get the dance form into my body but I still have more to acquire. After some years, I started enjoying mudras and abhinaya, the acting part. I feel ever grateful to my guru and my classmates for those days.

I was also blessed to stay in the gurukulam and be close to the great artistes and gurus of the Natanakairali family. They had dedicated their lives to art and there were no compromises. They were the ones who taught me that it requires dedication, time and patience for art.
Whatever the difficulties I faced in the path, I continued to practice and follow their teachings. It was a beautiful experience to practice before a guru. I feel there is a lot of mutual communication while dancing together. Seeing Guru Nirmala's graceful abhinaya in class is another treat. Her strength and passion motivate me.
The joy of performing
Nowadays I enjoy performing on stage more. Koodiyattam exponent Guru G. Venu's Navarasa Sadhana helped me with developing the Bhava and transformation as a performer. I have started to enjoying acting also. He helped me explore within and gave me confidence. Kapila Venu also gave me a special abhinaya training before my Arangettam.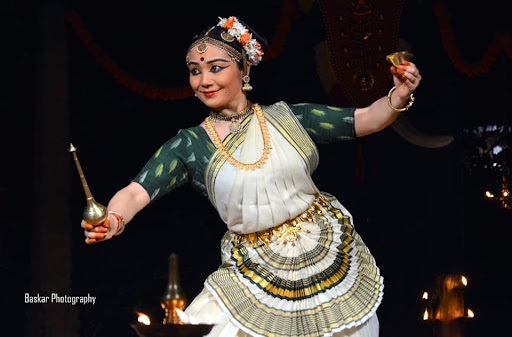 I have been performing as a solo performer and with Mohiniyatam ensembles of Natanakaisiki for quite a few years now. I had my first solo performance Ranga Parichaya in 2011 and my Arangettam in 2018 at Natanakairali. I have performed at the India International Center (Delhi), Bharatiya Vidya Bhavan (Chennai), Soorya Festival (Trivandrum), Swaralaya Festival (Palakkad), Navaneetham Thouryathrikam Festival (Thrissur), Kerala Sangeetha Nataka Akademi and more. I also got a rare opportunity to perform at the Bunvat Festival in Karachi, Pakistan where I received great feedback and appreciation from the audience. The art that my guru taught me communicates to the audience and reaches beyond cultures.
Performing in Covid times
After Covid began, I started performing on online platforms, including mAlyadA – A garland of offerings curated by Dr Pranamya Suri. I attempted my first choreography on Tamil saint-poet and goddess, Andal's Thiruppavai Pasuram with the support of my gurus. I also had a great opportunity to perform live in Navaneetham Cultural Trust's Thouryathrikam festival at the Sangeetha Natanaka Akademi (Thrissur) and the Tantrosav Festival at Karaligram (Pondicherry) in 2021.
In Japan, I conducted a solo performance where I also shared my experiences in Kerala and explained abhinaya and the stories. I want it to reach a variety of audiences and plan to teach in the future and share my dance experience.
Mohiniyattam has become part of my life and it is time for me to study further and move to the next level. I want to become a better performer and also want to try choreography, acting, fine art etc.
Dance balances my body and mind and unites them. While dancing I feel indescribable happiness from within and feel energised. I feel fulfilled when all the elements — dance, music, audience and stage — come together. I'm yet to get fully involved and need to improve the techniques better. There is so much more to learn and explore. I appreciate my gurus, my families and all the people who've been supporting my dance journey.