Sculptor and architect Sanul Kuttan's artwork displays organic aesthetics .
Get inspired, but mark your uniqueness, is the mantra adopted by architect and sculptor Sanul Kuttan. His works take source from ancient texts, political scenarios, and nature, and are served to the spectators metaphorically. Mother stomach, Echoing the questions, Beings and belongings are some of his creations carved.
A graduate in sculpture from Visvabharati University, Santiniketan, Kuttan's work bears the stamp of Bengal School of art and has an element of realism. Mother Stomach is his recent camp work in collaboration with the Parivartan Group in Patna. "It is renowned for its organic aesthetics and biophilia concept", he said.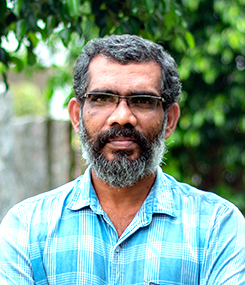 This work is sculpted in Veslana black marble stone. A vertical old woman figure without a head carries a tree form and body which is depicted with small insects like bees. It is a symbolic representation of the inseparable relation and affinity between humans and nature. "It also represents fertility and the concept of the mother goddess, which I got inspired from the traditional values nurtured by the Parivartan group and the inclusion of agriculture as a subject in school. This idea struck me while drawing farmers in the field of Patna", he added. 
Several raw materials like stone, granite, marble, iron, wood, etc. can be used for sculpting. He uses them depending on the theme he works on.
Blending tradition and modernity
 His works reflect the combination of traditional artistic skills like goldsmith designing proficiency, wood carving, and welding, that he had learnt and acquired. 'Seeking for undefinable thirst' is a work intended to create a dichotomic vision. He chose iron to create the feathers with the notion that even the flexible feathers seem like sharp objects when the birds become violent.
Kuttan was born and brought up in an artistic family in Thrissur, Kerala. Started his career as a craft worker, he experimented on traditional designs and patterns.
"I observed the works of artist K.P Soman and artist Rajan and noticed that all of their works spoke the language of abstraction. Contradictory to that, I began my career carving stone in a figurative style, in which, I lay the stone in an abstract form, trying to transform it into a semi-realistic style", he continued. Later Kuttan learned techniques of wood carvings from traditional carpenters. " I stayed with them and learned different carving methods, to make individual freestanding wood sculpture," he said. 
Some of his works like 'Invisible Woman', 'Satyavan and Savitri' and 'Vettuva Goddess' reflect this style.  Having marked his name through some awe-inspiring sculptures, Kuttan is on his toes for his next collaboration with Kerala Lalitha Kala Akademi in Udumbanchola Higher Sec. School. Fewer investments in art by the public in Kerala, do pose a challenge for artists like Kuttan. However, he aims to move forward with unruffled confidence.