Amit and Kalyani presented an inspiring Mohiniyattam recital choreographed by guru Nirmala Paniker.
For the dancer, the body is the raw material. Moulding that raw material, the dancer (and the dancer's Master), creates the artiste body or the performer body. When it comes to the classical dance forms of India, tradition prescribes the definition of the artist's body, the raw material. The perfect dancer should have the prescribed qualities, said the treatises – "Tanvi roopamati…' et al.  
But all these lakshanas match only a young woman of perfect physical proportion.  One who can clearly entice the male eye.  So, what about men?  Is dance only about women, about the female body?  What is the space for a male body, for a transgender body, in classical dance? 
And that is exactly the realm that Amit K, a young Mohiniyattam dancer who had his arangettam recently, attempts to explore. Amit breaks every conventional notion about the Mohiniyattam dancer. His lean, muscular and well-toned frame is a far cry from the average Mohiniyattam dancer's body, be it male or female. Of course, he is not the first male Mohiniyattam dancer. But, he could be the first dancer, again, male or female, who approach the dance form critically questioning its embedded gender roles.
In Amit's body, lasya becomes just another body movement. It gets itself disconnected from sringara, supposedly flowing from a female dancer towards a male viewer. "I was never trying to copy an existing body movement, but rather I was trying to internalise that body movement," says Amit. "I was trying to understand how that movement was communicating with me, or to find out how it related to me."
And, interestingly, the topic around which his Ph.D research is revolving is related to the notion of Friendship – The Philosophy of Friendships in Kerala Society, its evolution and transformation across eras. Amit has been pursuing his research at the Department of Malayalam at Sree Sankaracharya University of Sanskrit, Kalady after completing his M Phil at Madras University.
A disciple of Guru Nirmala Paniker, Amit is a fairly new entrant into the world of dance. He had absolutely no experience in dancing when he became Nirmala Paniker's disciple two years ago. His arangettam held at Irinjalakuda was his first ever stage performance too. Beginning with a Ganapati stuti, he moved onto the Saptam, 'Chitra.' An adaptation of the famed one act play of Tagore, 'Chitra,' explore the Mahabharata character, Chitrangada, the princess of Manipur who was bought up as a boy by her father who had no sons. Growing up as a fierce warrior, Chitra falls in love with Arjuna but gets turned down due to his vows of twelve year-long celibacy.
Amit portrayed brilliantly the nuances of Chitra's conflicts, moving from the male to the female bhavas with flowing ease. The lyrics were written by Dr. Sampreeta Kesavan, composed in Ragaalika and Talamalika. He had started the evening's recital with the Ganapati stuti, 'Ganapati varanamukhathone vananguvom,' in raga Rugmambari and Adi Tala, and wound up with a Devi stuti. support was provided by Neelamperoor Suresh Kumar with Kalanilayam Prakasan on maddalam, Kalanilyam Ramakrishnan on idakka and Murali Krishnan on veena. Nattuvangam was by Ameena Shanavas.
Odiyan with a tinge of lasya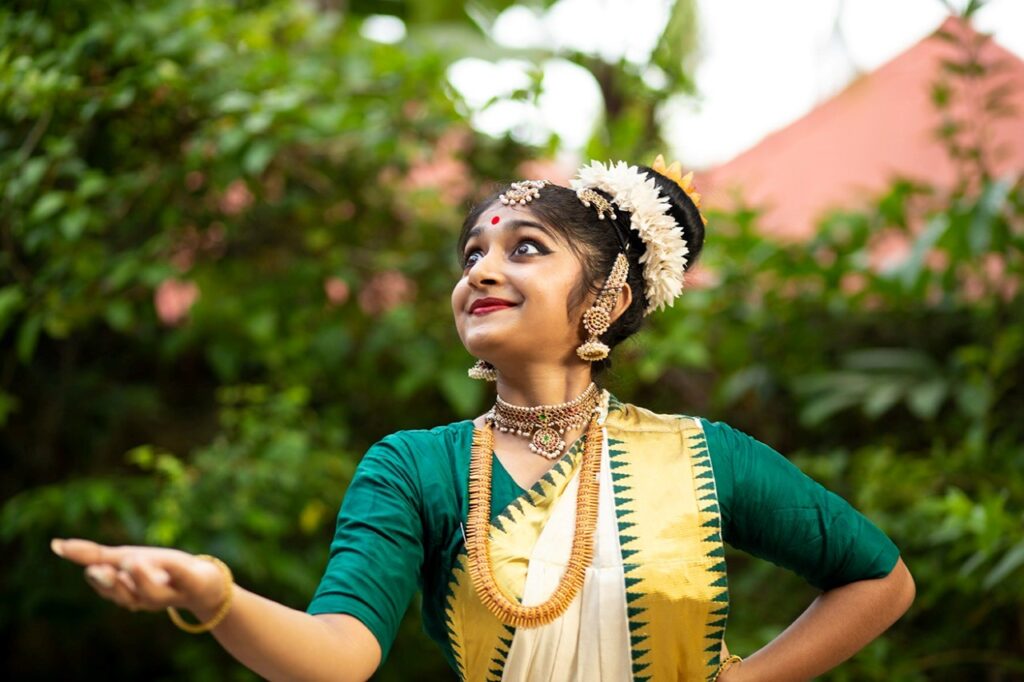 Lasya and nritta components of Mohiniyattam make the most of the performance and the upcoming artist in Kalyani Menon seemed to have found all the right steps and bhava for her arangettam (debut performance) held at Irinjalakuda.
A student of the Natanakaisiki gurukulam, Kalyani showcased the traditional style of performance and went on to perform cholkettu in Ragamalalika followed by the energetic varnam in Reetigowla set to Adi talam. Kalyani performed a Bhagavathi stuti choreographed in desi style set in Madhyamavati ragam. specially choreographed by her guru exploring the indigenous flavour of Kerala. In the next item Kurathi, one who is seen in many of Kerala's folk and ritualistic art form, explores the story of Kerala's legendary character Odiyan, who terrorise people to death by appearing in animal forms called odi veykkuka at night. Kurathi is an icon embedded in the psyche of the Malayali as a Dravidian figure. The vaytharis invariably carried an indigenous fragrance as Kalyani fluently danced in tune with the shifting tempos.
Vocal support was provided by Neelamperoor Suresh Kumar with Kalanilayam Prakasan on mandala, Kalanilyam Ramakrishnan on idakka and Murali Krishnan on veena. Nattuvangam was by Kala Parameswaran