With his open mind keenness to learn, Kalamandalam Hyderali emerged not just an eminent Kathakali musician, but a scholar of several arts.
Fifteen years have passed since the unexpected demise of Kalamandalam Hyderali. Even today, I shudder at the thought of my dear friend's fatal car crash — on a spot not far from our alma mater. He was to sing that night in my neighbourhood in central Kerala. We were to perform at a Kathakali show till dawn at the Dhanwantari temple in Nelluvaya near Wadakanchery.
Hyderali would have turned 75 this year. He was my age. We studied together in Kalamandalam, our state's premier performing-arts institution. He learned music under Neelakantan Nambisan in the late 1950s, while another maestro, Appukutty Poduval, was training me in maddalam percussion.
Coming from a non-Hindu family, Hyderali initially had absolutely no idea about Kathakali as a dance-theatre themed primarily around the Puranas. But sheer talent won him early recognition as a promising student.
I remember the rehearsals ahead of Hyderali's stage debut in 1960. He would be the anchor musician for the invocatory Purappad-Melappadam segment. We all used to enjoy that month-long preparatory sessions where Hyderali would be accompanied by classmate Sankaran Embranthiri. A concluding alapanam in Madhyamavati raga used to be particularly appealing to my guru. So much so, Poduval would call Hyderali to our maddalam classroom and make him sing yet again that verse beginning with Vihita Padmavati from the GitaGovindam.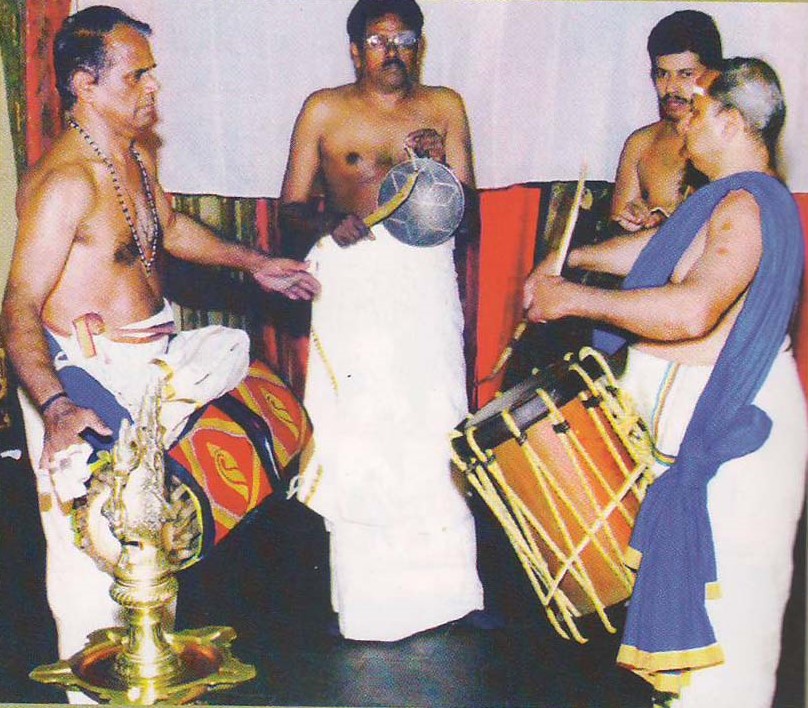 For all his introversion, Hyderali once participated in a fancy-dress item at Kalamandalam. That was at the anniversary celebrations in 1957, soon after his joining the institution. Dressed up as a rustic woman selling mud-pots, Hyderali's gait and talk triggered loud laughter among us in the audience.
Cinema was his craze those days. Movies featuring Sivaji Ganesan, Sathyan, Padmini, Miss Kumari and P Leela used to enthrall him. Film songs by KJ Yesudas mesmerized the boy like anything.
Deep knowledge, wide interests
Hyderali's prime aim was to learn music when he joined Kalamandalam. That attitude served him with an openness towards any genre of the arts. He imbibed the spirit of light music, learned more about the intricacies of Carnatic and had good knowledge about Hindustani classical too. He even composed a couple of varnam, and also sang for Mohiniyattam. In fact, he used to be the chief vocal accompanist for the dance programmes staged by the troupe led by my wife, Ottanthullal artiste Kalamandalam Devaki.
Also to be highlighted is Hyderali's scholarship in the labyrinthine tala system of Indian performing arts. What's more, he used to sketch and paint pictures. He also had his trysts with literature, by penning a short story. None of these works was bad. He never boasted of them and always remained unassuming.

In 2002, Kathakali buffs organised an event to honour me. It featured protégés of Hyderali, but my friend chose to render the opening prayer.
I specially remember a 2005 journey we had across the United States as part of a Kathakali troupe led by maestro Sadanam Krishnankutty and Kalamandalam Satheesan as our make-up man. We were 12 in number, and took our trans-Atlantic flight from Chennai. Hyderali, by now famous, shared a close tie with Yesudas, who divides his time between India and America. They were to meet in the US, but midway our trip Yesudas was back in his homeland. They exchanged several messages down that foreign tour. Indeed, all along that two-month trip, Hyderali had friends and fans greeting him at several stopovers.
Such an unfortunate end
A Kathakali stage in Kochi in early 2006 turned out to be my last with Hyderali. The venue at downtown Ernakulam hosted the classical Kalyanasougandhikam play. Ahead of the show, Hyderali suddenly expressed the wish to gift his autobiography to eminent jurist VR Krishna Iyer. His resourcefulness facilitated the musician to fulfil his desire.
Two days later, Hyderali died. Even the previous night, he had sung—to accompany star performer Kalamandalam Gopi in Nalacharitam.
The evening of the day he died, Nelluvaya temple was to hold a night-long Kathakali. Hours before the stage lamp was to be lit, we got the shocking news. My colleagues and friends from far and near had reached the venue, but I found it extremely inappropriate to go ahead with the schedule. My decision prevailed, and the night's Kathakali was cancelled.
I had earlier lost an elder similarly — in a road accident in Tamil Nadu, where his car collided with a lorry. Hyderali, too, was like a sibling for me.