February 4 is World Cancer Day. We recall the career of classical instrumentalist-vocalist Geetha Bennett (1950-2018) who lost her life to the dreaded disease.
Geetha Bennett was 44 when she was diagnosed with cancer. The disease looked set to upset her flourishing career as a classical musician. Not to be cowed down easily, the veena player continued with her sprightly ways. She went on to live another quarter century, contributing to the Carnatic system in her unique ways.
Two-and-a-half years have passed since Geetha breathed her last — in California. The end came in August 2018 when she was three months short of turning 68. Geetha's tryst with the United States dates back to her youthful days, when her vocalist father Dr. S Ramanathan found a teaching job at a famed institution in Connecticut. Known for his scholarly approach to the arts, he was a professor with Wesleyan University at Middletown. That was from where he earlier got a PhD in ethnomusicology.
Between the two America stints (among the many abroad), Ramanathan was in India. Tirukoilur in what is today northwest Tamil Nadu was where he was brought up learning music under a couple of local masters. From that heritage town 35 km west of Villupuram, Ramanathan moved to the temple city of Chidambaram to pursue higher Carnatic studies from Annamalai University. A decade later and as a married man in Madras, Ramanathan (1917-88) was blessed with Geetha.
Geetha was raised in the metropolis, but shifted to Madurai in her teens. For, her father got a job at Satguru Sangita Vidyalaya in the heart of the state. The youngster, like Ramanathan, played the veena even while being a vocalist. She literally followed her father down the years too, by migrating to the US when Ramanathan re-joined Wesleyan.
Strong marital bond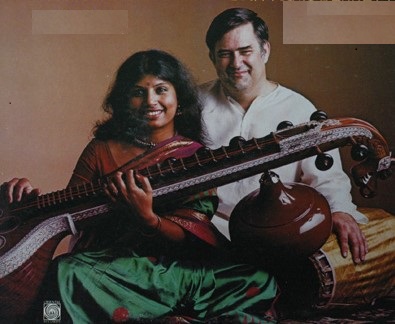 Geetha and Frank developed a liking for each other. It also pleased Ramanathan, who had found the American brilliant. After marriage, Geetha and Frank began performing veena duets. For years, their concerts won the appreciation of audiences in the US and beyond: Europe, East Asia and Australia. Eventually, Frank began accompanying Geetha on the mridangam. That appended a new chapter to their globe-trotting profile amid four decades of life together.
The university campus gifted Geetha with her future husband. Music enthusiast Frank Bennett approached Ramanathan to learn the veena, having received the initial lessons under Kalyanakrishna Bhagavatar. Frank wasn't just an instrumentalist: he learned Carnatic percussion at Wesleyan, mastering in tavil and kanjira. The university was also from where he mastered in a slew of global instruments.
That also implies that Geetha being detected with cancer could not curtail her artistic career. Culture enthusiast Thiruvaiyaru Krishnan describes Geetha as "a fighter and a karma yogi who lived cheerfully" till her death. "Even when conventional and experimental medical treatments were failing, she accepted IFAA's invitation for a music appreciation talk in San Diego for their 11th annual festival in March 2018," he notes. That is five months ahead of her death.
In fact, Geetha also attended a few music concerts until a month before her hospitalization, according to Krishnan. "She reiterated in her lectures on music and in her classes to her students the famous maxim from her father — "A good musician is one who has the heart to spend valuable time attending the concerts of others and who is willing to learn from those stage appearances like a good student."
Adulations and tributes
Geetha's farewell year almost overlapped with the birth centenary of her father. Despite the ill-health, she travelled to Chennai to be a part of the celebrations and paid a "wonderful tribute concert", recalls music researcher Lalitharam. "Despite going over 50 chemo sessions, here she was, on a mission on YouTube to record and document at least 100 songs that she had learnt from S Ramanathan," he writes. "The videos are a treasure trove bearing the indelible stamp of her father. In spite of her frailty, the music had a rejuvenating effect on her."
Music writer Geetha Venkatarmanan says the artiste's husband and son, besides her sisters and brothers always supported her. "But it was in Frank that she found a real blessing. 'My Valentine,' she said," according to a tribute. "He helped her find her feet in a new country and did everything possible to promote her talent. Son Anand, she said, gave her a morale booster, whenever she was down."
Niche magazine Sruti notes that Geetha by the mid-1990s started to experiment with a blend of Indian classical and western styles. "Her other fusion projects have included a major tour of Europe and the US with percussionist Trilok Gurtu's world music ensemble 'The Glimpse'," it adds.
Geetha's only regret, according to Krishnan, was that she could not complete a self-imposed deadline of posting 100 songs of Ramanathan on YouTube in her own voice and veena. She did upload a dozen of them.