Jamini Roy's Kolkata home to become country's first private artist-museum.
The 75-year-old building structure in Ballygunge, a posh South Kolkata neighbourhood in West Bengal where one of the most significant Indian painters Jamini Roy painted at leisure under a mango tree is now being turned into India's first private single-artist museum. Roy, one of the most significant painters in the history of Indian art was instrumental in reviving the traditional Bengal pat style. His legacy continues to inspire artists and art lovers around the world, and his paintings remain an important part of India's cultural heritage.
Born in Beliatore, a small village in the Bankura district of Bengal on April 11, 1887 he was trained in European academic art traditions before eventually turning to folk art and indigenous forms of expression. His art reflects the diversity of India's cultural heritage, combining elements of tribal art, traditional Bengali pat styles, and the influence of the Kalighat school of painting.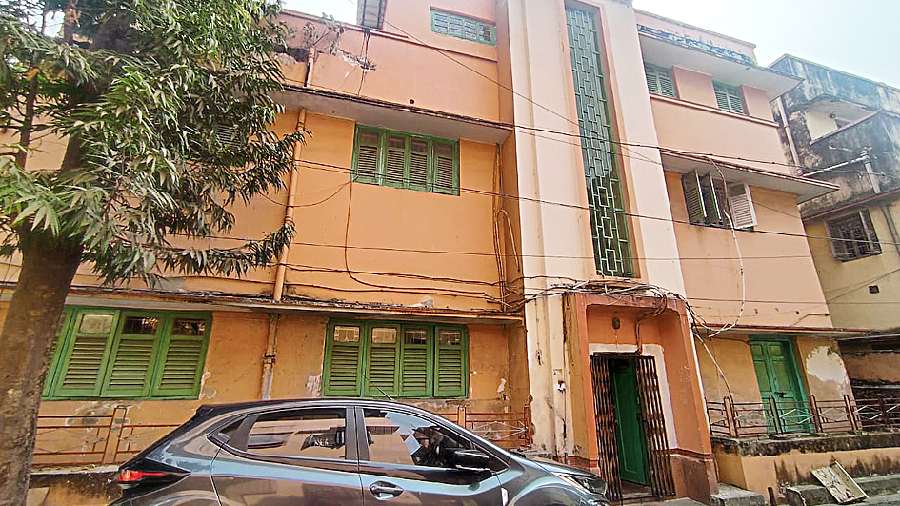 Jamini Roy got his Diploma in Fine Art in 1908 from the Government College of Art, Kolkata. He was taught to paint the prevailing Western academic styles and painting in oil. However, from 1920s he started painting using more of tempera and natural colours to create his artworks.  He was majorly inspired by Kalighat paintings of Bengal and the patuas who made them. He preferred himself to be also called a patua. 'Patuas' are the traditional artists of Bengal who made paintings called a 'pat' on local subjects. The 'Patuas' had come to Kolkata during the city's initial growth phase and had settled in Kalighat area. Their subjects in their paintings very much reflected this transition.
Roy and his work
Jamini Roy painted in Western style and then for a long time as per the idiom of the Bengal School. But he was unhappy with his work and yearned for his traditional roots. He reached out to the folk-tradition and his stance can be seen as a 'personal-aesthetic-pictorial belief'. He loved the direct appeal of the folk style. He evolved his own idiom which is seen in his later paintings, inspired by the roots of the folksy culture of the villages of Bengal.
Jamini Roy's work has a signature style and one can easily identify a 'Jamini Roy' painting though there are many imitators. Initially he did make impressionist landscapes in Western style as already mentioned as a commissioned painter but from 1921 to 1924 he got very impressed with the 'Santhal' tribal culture, an important folk culture of Bengal and his painting style took a new turn.
A quest for an Indian identity had begun. With his art began a trend not only in the area of fine art but illustration, design and applied art as well. Author Amit Mukhopadhyay notes about the artist "He had the vision to reconsider the values of folk art and incorporate it in contemporary art". In 1934, he received a Viceroy's Gold Medal in an All-India exhibition for one of his works. His work has been exhibited in Kolkata (1938), London (1946) and New York (1953). There have been many exhibitions of his work even after his death which continues to this day. He received the Padma Bhushan in 1954 and also became a Fellow of the Lalit Kala Akademi of the Government of India. His magnum opus is a work on 'Ramayana' on 17 canvases. It is kept in 'Rossogolla Bhavan', Sarada Charan Das' residence who had commissioned the masterpiece in 1946. His legendary work included Gods and goddesses from mythology, Krishna and his 'gopinis' or cowherd maidens, middle class men and women among others. He has left behind a plethora of around 20,000 paintings now kept in museums, galleries and private collections. The National Gallery of Modern Art at New Delhi has his paintings, also the Victoria and Albert Museum, London. The Government of India has declared his work as art treasures. He has painted images from the life of Christ as well. Ananda Coomaraswamy, famous art historian muses "the work of modern school of Indian painters in Calcutta is a phase of national awakening." The subjects chosen by Indian painters are taken from the history of India, epics and romances, mythology and legends and their day-to-day life.
Different strokes
Jamini Roy preferred tempera in place of expensive oil. He gave up on using European paints and even canvases to replace them with natural alternatives. He used to make his canvases from home-spun cloth, coated with alluvial soil and cow dung finally followed by white-wash. The colours were made from natural sources. Amit Mukhopadhyay notes that "In his paintings, a figure or an animal or any ornamental motif cannot be understood at its face value. He transforms his objects and figures with the intention of experiences shared by the community".
Jamini Roy is well remembered and revered for his meaningful expressions of different subjects with heavy outlines. His choice of themes would have dancing, reflections of singing and music, animal motifs as well. He depicted everyday events with decorativeness and skill. Sometimes his paintings are plain with lines only, almost calligraphic, with a 3-D effect, while some are very colourful made with natural colours.  Pranabranjan Roy notes "Jamini Roy's works and un-planimetric compositions on flat two dimensional surfaces, motif are linear without volume. Motifs of men, women, animals and plants are either whole or an agglomeration of shapes delineated by definitional lines". There seemed to have been geometry in many of his later paintings; Roy further notes that 'in his finished painting, the picture space is treated as if it is a compound of two definite dimensions with two axes". Jamini Roy's art was widely accepted which inspired younger artists. . His originals are still sold through auction houses and command a price much higher than what he charged during his lifetime for his work
Let's take a look at his legacy of a few unique portrayal of subjects close to his heart and his rebel-like affiliation to his roots."
Dual cats with one crayfish – A rare subject where we see two cats holding to a lobster/crayfish, probably as a bounty. This might be to depict the conflict which exists in the animals regarding prey for food, since both are holding the lobster by their mouth. The tails of the cats are upright. The image has some decoration against a red background.
Untitled (Cat) – This cat seems to be in his element with prominent eyes and an upturned tail which may be conveying surprise. He seems to be a 'cool cat' seated neatly. The left corner top has a simple decoration. An animal motif of the artist.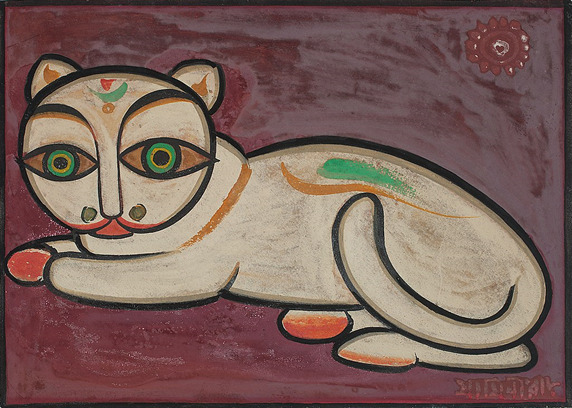 Yashoda and Krishna – This painting has influences of the Bengal school and shows Yashoda with child Krishna while milking a cow. The cow has friendly unique expression, almost affectionate like she is a member of the family, which is very well captured by the artist. The mother and son are also depicted in a serene stance.
Sita's trial by fire – An important event from the epic Ramayana in which Sita, Lord Rama's wife is asked to prove her purity by being surrounded with flames. The event is called Agnipariksha, meaning a trial by fire. Sita is shown amidst flames while the others are around her, seemingly paying reverence.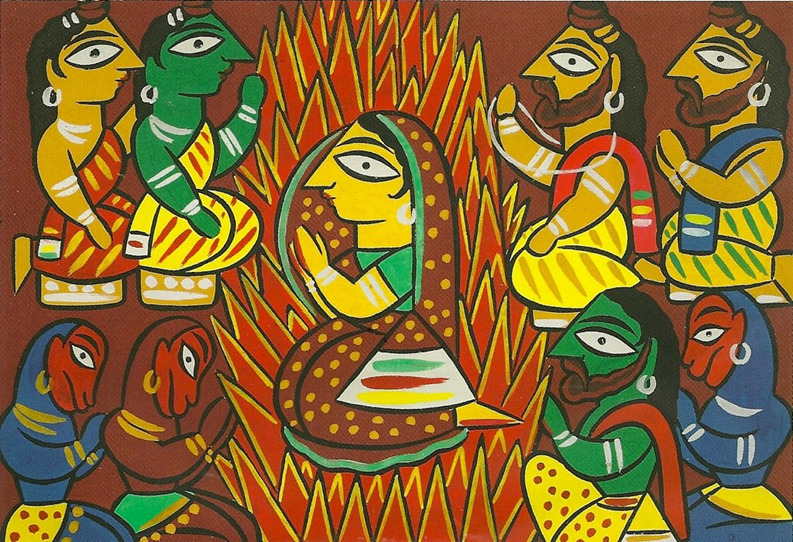 Worshipper – a lady who is a worshipper holding a bowl of offering. She seems to be prayerful. An everyday scene which has decorative elements.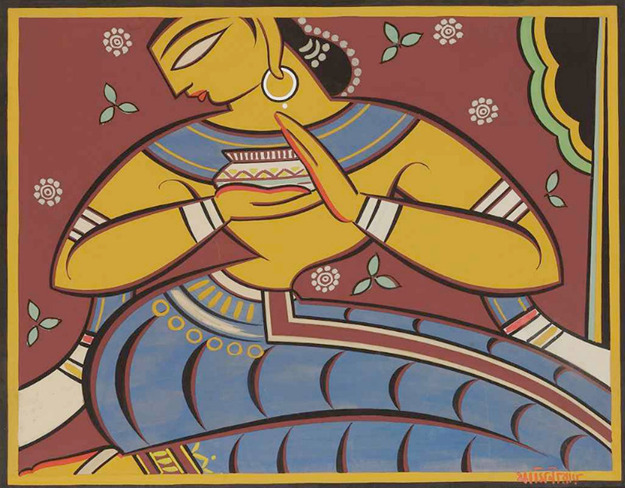 Boating – There are many water bodies across Bengal and this artwork depicts three women going across a river filled with fish; two boatmen are steering the boat. The image is full of decorative elements and is pulsating with life. The women are in colourful sarees and their hands are placed on pots. This is a scene from day-to-day life.