In his seven-decade-old stage performance, Kalamandalam Gopi loomed as an incomparable artist and a complete actor. Happy 84th birthday Gopi Ashan!
It all happened in the summer of 1995 at Karalmanna — a small village near Cherpulasseri in Palakkad district — during a ten-day Kathakali workshop organized by Vazhenkada Kunju Nair Memorial Trust. The stage was set for a historical performance of Subhadraharanam. As soft lights glowed and newly structured percussion resounded on the stage, the curtain was slowly lowered to reveal a handsome Arjuna standing in the centre holding a bow and arrow. As Krishna and Indra looked on from the two flanks, a demurely looking Subhadra put a floral garland on Arjuna and he stepped forward to clasp her soft hands.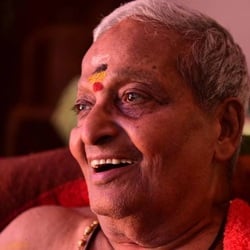 This was the wedding scene of Arjuna and Subhadra in the story penned by Manthredathu Namboodiri which had gone out of vogue in central Kerala. The man who led the historic revival of the first three scenes of the play as the handsome Arjuna was none other than the stalwart of Kathakali, Kalamandalam Gopi. Gopi Ashan, as he is fondly called, turns 84 today.
It was the first time that Gopi Ashan was performing this role. Much planning and preparations under the guidance of his guru Kalamandalam Padmanabhan Nair preceded the performance. Thus was born the classical, stylish, and perhaps the most visually beautiful presentation of a wedding scene in Kathakali.
Historic performances
The 20-minute first scene, marked by some elegant acting and perfectly rhythmic slow movements, became a new visual treat for the Kathakali enthusiasts. Perhaps no one realised that day that this scene will get repeated across many a Kathakali stages across Kerala in the years to come.
After the first scene, Gopi Ashan presented the padam 'Kashtam Njan Kapatam Kondu…' that showcased the classic Kalluvazhi chitta combined with some excellent displays of facial expressions. Kathakali enthusiasts still recall Gopi Ashan's face expressing guilt for cheating the people living in Dwaraka, then shame at disguising himself as an ascetic and finally gratitude towards Krishna.
But this scene was only a harbinger for what was to follow. In the very next scene while performing the famous romantic padam 'Kanjadala Lochane..', Ashan displayed his mastery in performing stylized slow tempo scenes (pathinja padam). After the performance, many art lovers and connoisseurs went up to him to convey their joy and excitement. This is an indelible memory for me as a kathakali enthusiast.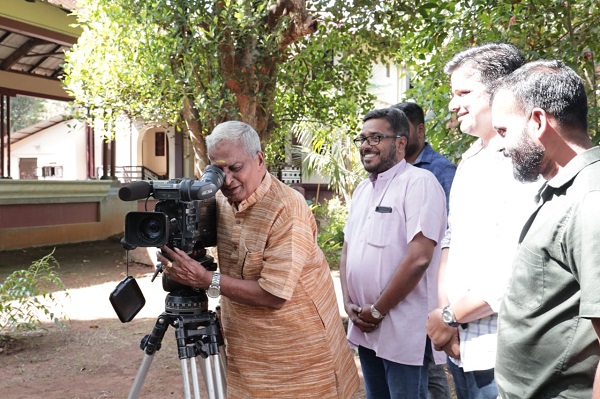 Another notable performance in my early days was the pathinja padam 'Kuvalaya vilochane Bale Bhaimee…' in Nalacharitham Second Day that I had witnessed at a temple near Karalmanna in the late 80's. I remember Gopi Ashan essaying this structurally rigid padam with ease. His well-delineated mudras and his mastery in sustaining the mood left a deep imprint on me. In the subsequent padam "Dayithe', he looked relaxed and enjoyed the freedom to act out his new ideas and interpretations that were highly appreciated by the audience.
A style by himself
These two performances can be said to distill the essence of Kalamandalam Gopi's life on stage. What makes him an outstanding artist is the strict discipline and form that he adheres to in the stylized roles while at the same time exploiting the freedom that the popular plays offer him. Another factor that makes Gopi the favourite of many is his charismatic facial beauty and depth in expressions. His skill to improvise during a play and the spontaneity with which he reacts through emotions and body language attest to his popularity as an actor.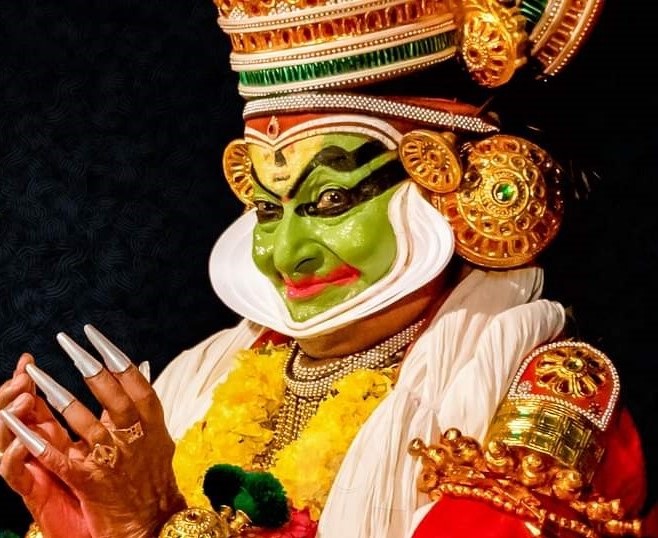 His famous roles are as Nala and Bahuka in Nalacharitham, all the lead characters in the four plays of Kottayam Thampuran, as Rugmangatha, Arjuna in Santhanagopalam and Subhadraharanam, and of course as Karna in Karnasapatham. Blessed with immense talent to essay human emotions, Gopi Ashan likes to perform tragic characters suffering grief and sorrow. In the earlier days, his presentation of Roudrabheema was a crowd-puller. Those days he used to perform two roles in a night, the lead role in the first story and as Roudrabheema early the next morning.
Another success in Gopi Ashan's artistic career is that he clearly knows his strengths and limitations. That's why he had focused on the noble and heroic Pacha roles. Earlier in his career, he had performed some of the villainous Kathi roles such as Keechaka, Ravana and occasionally Duryodhana. He had also performed as Hanuman in Kalyanasougandhikam and as Bali in Balivadham at the request of his fans.
Kalamandalam Gopi is an incomparable artist and a complete actor with almost seven decades of stage experience. One thing is certain — whatever roles he chooses to perform, there will be a "Gopi touch" to it.