Filmmaker and screenwriter KG George explores the different layers of the society and characteristic traits of people in his films Swapnadanam, Mannu and Ulkadal.

In the 1970s, art-house cinema was well and truly entrenched in Malayalam. It was completely different from the melodramas that were the staple fodder for the common man. There were a few comedies and thrillers that didn't exactly fall into either of the two lanes, but those were exceptions. Towards the later part of the decade directors came out who didn't want to play according to these rules. Kulakkattil Geevarghese George was one of the most acclaimed of them.
During my childhood, George was familiar. But his was not the kind of movies you would go to watch as an outing with your family. By the time I was old enough to go on my own his heydays were behind him. The 21st century saw his fame grow as the internet brought his movies to a wider audience who had the means to champion a master filmmaker who experimented without becoming completely inaccessible to the common man.
Beauty and the Beard

My personal connection with KG George is hilariously childish. Ever since I could remember, I wanted a beard. As a child, I detested goatees, or 'French beard', as we called it. I felt it was a shortcut and not a real beard. And the personification of that easy shortcut was KG George. Now that I wear a goatee, I wonder what my young self would have thought of me! More importantly, as I go through the psychological minefield that is KG George's filmography, I wonder what the director would have made of my strange aversion.
Film: Swapnadanam (Journey through a dream) 1976
Cast: Dr Mohandas, Rani Chandra, MG Soman, PK Abraham
There are debuts that spectacularly announce the arrival of a unique talent. And then there is Swapnadanam.
The human mind is a complicated and multi-layered amazement. It is also incredibly fragile. It is this brittleness, its causes and effects, that KG George tried to explore in his movies. In Swapnadanam, he approaches it head-on and not in the context of a larger story.

The movie begins with a simple blurb. A man disappears suddenly from a town in Kerala. After a few weeks he turns up in Madras. What happened to him in that period, we don't know. One settles into a crime drama that one knows George is very familiar with. Only to be rudely awakened. There is no crime and he is not interested in the missing weeks.
Parameshwaran (Mohandas) ends up in a mental institution in Madras with no memory of who he was or how he reached there. Using narco analysis Dr Venugopal (Abraham) and his mentor try to find out more. Through multiple flashbacks we get to see how Gopi, a well-educated young man, finds his fragile mind disintegrating through a series of ordinary events.
The performances are top-class. Dr Mohandas (a real doctor) makes an unforgettable debut. With a calculatedly restrained performance and an almost-childlike speech (dubbed by George himself) Mohandas immediately brings all the attention to the character. There is no flicker of recognition and no distraction for the audience. They easily sympathise with the real man they are seeing. Mohandas only acted in a handful of movies, but it is easy to see why art-house directors wanted to work with him.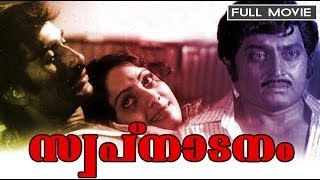 Rani Chandra acts as Sumithra, his wife. It is easy to dismiss her performance as a bit exaggerated, until you realise the child-woman that George is making her play. This was among the last roles she would enact as she passed away in an airline accident a few months later.
Mallika Sukumaran and MG Soman are memorable as the siblings in whose house the leading pair stays. PK Abraham was one of those actors who you recognise by face in small roles. He has a critical part. Another important background character is Kalyani the maid, played by Prema Menon. Prema was the mother of actress Sobha who we will encounter in other films in this series.
The story was by a well-known psychologist Dr Mohammed, who used the pseudonym Psycho. George adapted the story along with novelist Pamman. Both George and Pamman were famous for exploring sexuality through their works. There is sex in Swapnadanam, but it is understated and calculated.
Sumithra takes birth control pills, almost a sin in those days. Mallika's character is the supportive friend for most of the movie, until a drunken episode. The maid Kamalam is a sad, suffering woman. There is no romantic angle to her relationship with Gopi, but the tight blouses she is made to wear and the lighting around her brings a very sexual presence to her character. All of which might have added to the hero's downward spiral.
For a movie called Swapnadanam, it does have three very impressive dream sequences. These have been dissected by many. But they all add to the adage that a dream is but a visualisation of a person's state of mind. It is in the dream sequences that the black and white tones of the movie become most stark. There are no greys there. Only light and darkness.
It says a lot about the educated Malayali audience of the 1970s that a dense movie like Swapnadanam made waves in the box office. KG George comes to break conventions and create a new kind of cinema. He became an iconoclast. But it is hard to discount the contribution the audience made to that persona.
Film: Mannu (The soil) 1978
Cast: MG Soman, Sharada, PK Abraham, Adoor Bhasi, Kuthiravattom Pappu, Sukumaran
After the tornado that was Swapnadanam, KG George became a sought-after director. The year 1978 was a watershed year for him – he brought out five movies that year. Annus prolificis, if you may! There are not many details about the first four and it is not known if there are any dusty prints lying in some warehouse. They are not called out whenever George's movies are discussed. It could either mean they were not very good or hardly anyone saw them.
Mannu is his fifth film of the year. Written by screen and songwriter Dr Pavithran, Mannu is the tale of the sons of the soil and the hardships they face. Damu (Soman) lives with his wife Paru (Sharada) and young son in a hut with a little land around. Damu works hard and tries to squeeze the last drop of fertility from his land. One person who is not happy with the situation is Krishnan Nair (Abraham), a rich landowner.
The land on which Damu lives is a gift from Nair's father gifts to Damu's father. Damu does not have documents of his house, but in the Kerala of those days it was very difficult to kick someone out of their house solely because of lack of papers, especially if the person has stayed there all his life.
Nair teams up with the high-caste Thirumeni (Bhasi) and the servile Keshu (Pappu) to devise different ways to drive Damu away. But to no avail. Damu is attached to the land and is intent on protecting it till his last breath. The socialist politicians favour Damu and this makes it difficult for Nair and his cohorts to achieve their objective. Until they finally decide on the one thing that would change the tide – religion.
For more than half its running time, Mannu is a run-of-the-mill drama. It insists that it is concerned with a man's relationship with his land by repeatedly showing us the soil, either someone ploughing it or looking at it or feeling it!
Subtlety is well and truly unknown. And then, it suddenly changes tracks. An act of wilful mischief has its intended consequences, and we see the dangers of religious fervour. The movie becomes so much more than the man-and-land battle we have seen so far. Instead, it becomes a study of society and how gullible it is to manipulation. I find it easy to believe that a movie like Mannu would not be made under the present political climate in this country.
Soman has the best role here in this movie compared to his roles in other movies I have seen him in and he really revels in it. Same with Kuthiravattom Pappu, who has been the slapstick comic relief throughout his career. This role is exactly that, until it becomes much more. PK Abraham has a strong role. Adoor Bhasi cannot hide his glee at getting a role with no redeeming aspects at all.
Other than a brief period post-interval, one wonders why someone with the calibre of Sharada needed to do the wife's role. Sukumaran is a late entry to the story and acts against type.
While the reasons for doing five films in a year may be varied, KG George wanted to make movies with a difference. Mannu showcases that, even with all commercial elements like songs and stunts. There is an act of sabotage in a mode of transport that is stunning. George shoots the sequence with innovative camera positions. There are quick cuts that keep up with the rising tempo in the background music. There is a genuine thrill that I didn't expect in a 1970s film dealing with social issues.
Mannu doesn't get its act together completely. The ending is rather rushed and some of the editing is sloppy in continuity. But it genuinely surprised me, 45 years after it was made. That is saying something. It may not be in George's top drawer, but it does shine a light into the man's psyche.
Film: Ulkadal (The sea within) 1979
Cast: Venu Nagavally, Sobha, Jalaja, Suchitra, Ratheesh, Jagathy Sreekumar, Thilakan
Being typecast is one of the biggest fears of any actor. As an artiste, it prevents him from showcasing his abilities. As a performer, the audience refuses to accept him in different types of roles, thereby limiting his opportunities.
Venu Nagavally and Jalaja have the unfortunate epithets of Tragedy King and Queen of Malayalam cinema. If either of them are on screen, sadness and suffering are not far behind. If both appeared in the same movie, people went to the theatres with an extra handkerchief. I had often wondered how they ended being typecast thus. Well, it turns out KG George played a big part!
Rahulan (Venu Nagavally) is coming home from college. He is a quiet young man with a gloomy disposition, who writes poetry. Through short flashbacks we see an adolescent Venu and his friendship with Thulasi (Anuradha). From there, we move to his college days where he befriends Davis (Ratheesh) and his sister Reena (Sobha). A few years on, Venu is a college professor who embarks on a troublesome relationship with his student Meera (Suchitra).
Based on a novel by George Onakkoor, who also wrote the screenplay, Ulkadal wears a heavy heart on its sleeve. Even though the movie deals with three romantic relations in a man's life, it is pain, not pleasure that is the overarching emotion. The affairs of the heart are all hurtful, but one cannot keep away. And it is not just Venu's love story that needs to surmount the obstacles life puts in front.
Venu is good looking in his debut film. Unfortunately, that does not seem to come through as he always looking like he has the weight of the world on his shoulders. Even when he realises he loves a girl who cares for him, there is no joy. Just the apprehension of how they would make their inter-religious future work. He is made to keep a despondent visage right through. I tried to catch one glimpse of a smile, but to no avail. Ulkadal saw the birth of Venu the actor, and also the sentencing of Venu the tragedy king.
Sobha, that wonderful actress who was lost to the world by the time she turned 18, is the only bright spot. Reena, like Rahulan, is faced with challenges, but doesn't let that define her, until it is too late. Sobha makes us care for her. Suchitra tries to bring the effervescent young college girl. But the social acceptance her family and others give to a student-teacher relationship gives a bad taste to the whole affair. Ratheesh, another familiar face from the 1980s makes an impact. Jalaja has another tryst with tears.
I was struck by the similarities between Ulkadal and Premam (Love), a 2015 blockbuster. The latter also showed three women the hero was connected with at various points in life, one of whom was his teacher in college. Maybe it was because too many people had not seen Ulkadal or the fact that Premam was completely engrossed with the joyous aspect of love, I had not heard of this comparison before this.

Ulkadal was said to be a trendsetter in that most of the action is set within a college campus. Some of the characters would have connected with the youth of those days. But it is hard to believe that it connected with everyone with such a bleak mood. Like in Premam, one of Ulkadal's relationships is complicated and due credit needs to be given to the writer and director for bringing that out. Unfortunately, in neither case, did that storyline take centre stage. A pity.
I felt a sense of incompleteness after seeing the movie. Almost as if there was more to say, but time ran out. I haven't read the novel, so I can't comment if a lot was left out. But, after Ulkadal, there was only one instance when KG George directed someone else's script. Every other movie, and all his masterpieces were written by himself.
You can read other part of the series here
Write to us at [email protected]