Vineeth Abraham calls himself a "complete, utter and unapologetic bibliophile". He loves books "not just for their content, but for their appearance, the font, the page quality, the smell, the edition, and most of all, the cover". The owner of arguably one of the largest personal libraries in the country, Abraham hails from Irinjalakuda, Kerala. He worked with the Central Secretariat, New Delhi, during 1989-2017. In Shelf Life, Abraham writes about reading, books, and beyond.
The third library I was a member of in Thiruvananthapuram was the Kerala University Library in Palayam, which stood next to the Thiruvananthapuram Public Library. Any student of Kerala University could apply for a membership here and I lost no time in becoming a member, along with my book-loving friends. This was another huge library, spread over two floors like the Public Library though not quite as large. The stack rooms were quite dark and the lighting was inadequate giving the shelves a mysterious, brooding air. I would not have been surprised if the Hunchback of Notre Dame, the Phantom of the Opera, Frankenstein's Monster or even the infamous Count from Transylvania appeared suddenly in those eerie environs. Moreover, the fiction section, the area I was really interested in, was quite limited as the majority of books were subject-oriented.
The books were not as well maintained as in the British Council but they were not ruthlessly torn apart and rebound either, like in the Thiruvananthapuram Public Library. I did discover some excellent authors here though, including the American humorist Thorne Smith, author of Topper, The Jovial Ghosts and numerous other comic masterpieces. The other notable book I first read here was Brian Garfield's flawed but compelling masterpiece of western fiction Wild Times. I was so enamoured of the book that I searched far and wide for a copy before getting a tattered copy in Sakchi Market, Jamshedpur of all places. I lovingly restored that copy and stored it in my library until I got a near-mint, pristine paperback from Daryaganj. All good things come to he who waits. The librarian there was a bespectacled unfriendly lady with the snarl of a Dobermann whenever you made any enquiry. I decided to keep away from her as I didn't want to find out first hand if her bite was as fearsome as her bark.
Reading in Delhi
In 1989 I shifted to Delhi when I got a job in the Central Secretariat. My first posting was in the Ministry of HRD, Department of Education in Shastri Bhawan on Rafi Marg, a stone's throw from Parliament House, North and South Blocks and Rashtrapati Bhawan. I paid no heed to the fact that I was so close to buildings steeped in history. My first enquiry after I joined duty was the address of the British Council Library in Delhi. To my delight, I found that the library was situated just across the road on the first floor of the AIFACS building.
This was the answer to a book lover's dream. I immediately became a member and for the remainder of my ten-year tenure in Shastri Bhawan, I used to visit the library every lunch hour without fail. The AIFACS building also had two big halls on the ground floor which were often rented out for exhibitions and book sales. Book fairs used to be held here very often where I would get hold of wonderful books, many of them remaindered books from libraries in Britain and the USA, for as little as Rs 5 each for hardcovers complete with plastic-encased dust jackets. These books are now an intrinsic part of my collection and I love to look at the library stickers which indicate the various libraries they were once a part of.
The British Council library in Delhi was the main library of the British Council in India, but what I found surprising was that there were very few members compared to the membership in the British Council Library, Thiruvananthapuram. Delhiites obviously had more important things to spend their time on than on a pile of musty books. The library itself was beautifully appointed and furnished like the one in Thiruvananthapuram and it was a real pleasure to spend hours there, lost in the world of books. Around about the end of the millennium, the library shifted to its own spanking new building on Kasturba Gandhi Marg near Connaught Place. This meant that my daily library visit had to be curtailed and I began to visit every Saturday instead. The new premises were very comfortable and even better furnished than the earlier one. A new addition was the DVD library of video and audio discs which could be borrowed by members.
After the shift to the new place which was more centrally located, I noticed a sudden rise in visitors to the library. Most of these were students who did not become members but would come as visitors and spend hours in the library consulting books and taking notes. The numerous tables and chairs for members used to be filled up by students from 10 am onwards until the library was forced to install 'Reserved for Members' signs on the tables, chairs and sofas.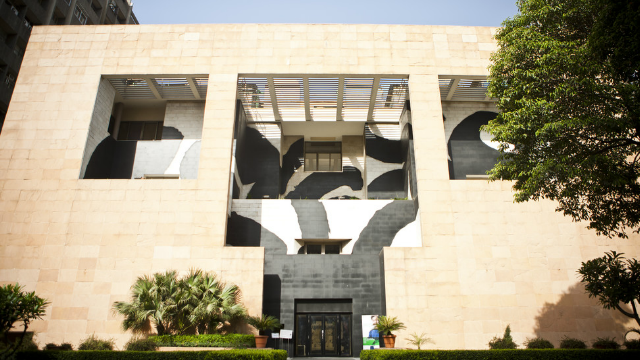 I also became a member of the American Centre Library, located almost directly opposite the British Council Library on Kasturba Gandhi Marg. Another huge library, this had a limited fiction collection but extensive collections on films, music and history and a huge Reference Section where you could find books on all aspects of American culture. It also had a collection of almost 70 years of popular American newspapers on microfiche which could be read on computer screens. It was an experience reading the newspaper reports on world-changing events like the attack on Pearl Harbour, the death of Hitler and the end of World War II, the assassinations of Martin Luther King, John F. Kennedy and John Lennon, just to cite a few examples.
The drawback about this library was the extraordinary amount of security and the atmosphere almost of paranoia you had to negotiate before you would be grudgingly allowed entry. Every visitor was viewed as a potential suicide bomber or close associate of Osama Bin Laden by the numerous security guards, and the metal detectors, patdowns and examination of personal baggage would sometimes get on your nerves until you wondered whether it was worth going to all this trouble to read a book. But of course, it was worth it, so one grit one's teeth and grinned and bore it.
Yet another library I was a member of was the Central Secretariat Library which was situated in the Annexe of Shastri Bhawan, which also housed my office. This was again a library with quite a large number of books but, typical of a government library, the books were in abysmal condition, the shelving haphazard and the whole place smelt of mould, mothballs and the dust of ancient times, probably like the Tomb of Tutankhamun had smelt when first opened after centuries.
The librarians appeared to know nothing whatsoever about books and you were left to fend for yourself in a sea of books that did not follow any conceivable pattern of shelving. Cookery books could be found in the Biology Section, books on physics in the fiction section and on one memorable occasion I found a copy of a book on Florence Nightingale perched in between the works of Omar Khayyam. 'A swathe of bandage, a jug of morphine and thou' is what Khayyam would have written after this close association with the Angel of the Crimea and the poetry of romance would have turned out very differently.
These were the major libraries that played a huge part in my life. There were several smaller libraries, of course; like the Das Lending Library and Bhagya Lending Library in Thiruvananthapuram and Ram Gopal Varma and Sons Library in Karol Bagh, Delhi and its branch in Shankar Market. In fact, there were two Ram Gopal Sharma and Sons second-hand book shops in Shankar Market, both run by feuding cousins each of whom would speak disparagingly of the other. One of these was an ex-stage magician and I used to be fascinated by his stories and secrets of his profession. These were the tiny ponds interspersed in between the mighty oceans of books that the big libraries held. A good thing I was a good swimmer.
Me, the librarian
Now, of course, after almost four decades of book hunting, primarily in Daryaganj but also in second-hand book markets all over India which I had occasion to visit in pursuance of my official duties, I have a pretty decent library of my own, and I am my own librarian, thus realizing my childhood dream. Bombay, Bangalore, Kolkata, Chennai and Hyderabad have proved to be rich hunting grounds and even smaller towns like Dehradun, Mussoorie, Nagpur, Jamshedpur, Raipur and Panjim have contributed towards building up my library.
This obsessive book collection does have its drawbacks. In Kerala, a huge collection of books in people's houses is commonplace. In Delhi, it used to raise eyebrows and have people rolling their eyes and mouthing 'paagal hai', sotto voce. Guests at my home in Delhi would stare at my room full of books and nod knowingly, 'Acchha, so you buy books second hand and sell them. Good idea. There is a good profit to be had'. On being indignantly informed that I did not sell books they would look quizzically at the stash of books and say 'OK. So you want to start a lending library, do you?'. Again I would deny any intention of lending my precious books to anyone. They would look astonished and query 'Then why do you have so many books? What will you do with them?'.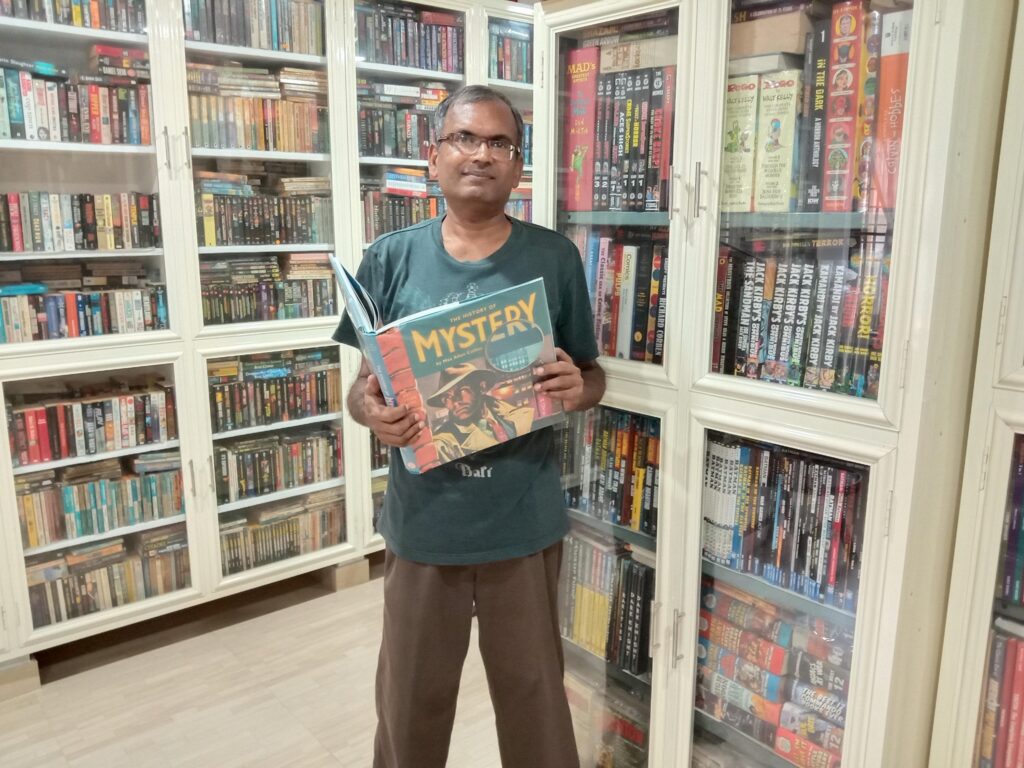 I will read them of course, would be my reply. By now they would be totally flabbergasted. 'Read them' they would chorus, taking a couple of steps back, nervously. Whoever heard of buying books to read them. 'And once you've read them you'll sell them', they'd say, comprehension dawning. 'No. Once I've read them I'll store them to read again later'. By now they would be convinced that I was mad as a hatter and would leave hurriedly, without waiting to say goodbye. Come to think of it, this was a blessing in disguise as my books would remain safe without people wanting to borrow them.
Libraries have thus played a major role in my life. They have been a haven, a refuge, a sanctuary from the daily grind of existence. 'I have always imagined that Paradise will be a kind of library ', said Jorge Luis Borges'. Marcus Tullius Cicero once said 'If you have a garden and a library, you have everything you need'. Both of them hit the nail on the head. I couldn't have put it better myself.
(To be continued. Read Part 1 of Shelf Life here)