A contemporary dance production, Margam – Lineage, is a new attempt for innovation, adaptation, collaboration archiving and preservation.
Margam – Lineage was a live production curated and staged at MPavilion, Melbourne, Australia, on January 24, 2021 to celebrate and honour the creative legacy of guru Tara Rajkumar. What made it praiseworthy were the innovations, adaptations and collaboration, just as much as it was of archiving and preservation.
Two archival footages of Tara Rajkumar's production, were screened prior to the presentation of the choreography – Krishna, the Celestial Dancer (1994) and Temple Dreaming (1996).
Krishna, the Celestial Dancer, adapted the folklore of the intensely devotional and literature-rich Narayaneeyam to present an accessible dance-drama that leveraged dialogue and story line to accompany virtuoso dance performances. It enabled a shift away from a traditional repertoire of discrete dance pieces and allowed for a seamless blending of Mohiniyattam and Kathakali solo and group choreographies. Australian audiences were provided with a glimpse into the experiential impact of theatre traditions like Kathakali, with live music that featured Kalamandalam Unnikrishnan on edakka and chenda, who had travelled from India during this season.
Temple Dreaming was a dance theatre production about the exceptional life and vision of a pioneer Australian, Louise Lightfoot, as seen through the eyes of Tara Rajkumar. Louise Lightfoot was a celebrated Australian architect and ballerina who spent five decades promoting Temple Dances of South and South East Asia, bringing them to Australia and the rest of the world. Temple Dreaming was indeed an ahead-of-the-time production using traditional and contemporary dance, spoken word, theatre, and puppetry to deconstruct and reconstruct performance practices that ultimately presented an extraordinary journey of discovery for the audience. It had toured India at the invitation of the Government of India during India's Golden Jubilee of Independence celebrations.
Lineage
Lineage used the vocabulary of traditional Indian movement practices to explore issues top of mind today and in a way that could be related to non-Indian audiences. Lineage, collectively choreographed by Nithya Gopu Solomon, Shyama Sasidharan (Prakalpa Samskruthi) and Meghala Bhat Hirsave (Art of Vinyasa)paid respect to the female energy that is there in all of us, regardless of gender but most importantly manifested in nature itself. We showed creation and nurturing, strength and resilience, and connectedness and cohesion using interpretations of practices that are specifically constructed to cultivate these energies, namely the yoga (Surya namaskaram), Kalari vandanam and folk dance. In an era where climate change and racial discrimination stands out as the biggest issues for younger generations, it has never been more critical to nurture these qualities in our communities. Lineage featured original live music by Ananya Chari (student of Sundari Saripalle), Ganesha Sarma Raghavan and Vivek Bannirchelvam (students of Sridhar Chari) as well as an original spoken-word piece by Bindu Rajendren (Natya Sudha Dance Company), with soundscape by Bhadra Rajendren Pandalai produced via virtual collaboration.
Creating a future from the past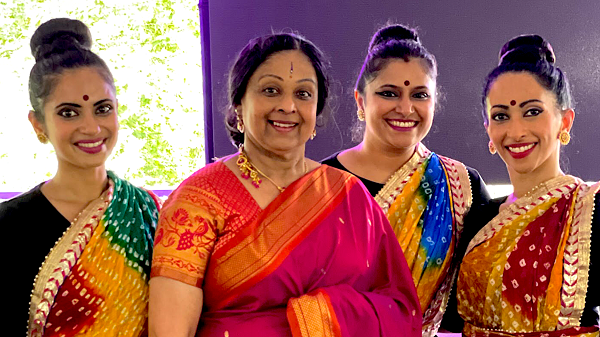 Margam-Lineage concluded with a panel discussion featuring three prominent Australian artists; Emma Peel (PBS FM radio announcer and Artistic Director of the Reservoir Stomp Festival), Caroline Bowditch (CEO Arts Access Victoria) and Ria Soemardjo, a multiform international artist. Each artist shared unique and distinct perspectives of how they too are exploring the question of how to create the future by drawing on the past.
Important themes of intentional inclusion, structural and remunerated support for diverse arts were highlighted. So too were silver lining opportunities arising during the pandemic, such as communities readily adapting to bring virtual festivals to life and disabled artists producing work from opposite parts of the world thanks to new norms around virtual collaboration.
Tara Rajkumar is a distinguished performer, choreographer, artistic director and guru of Mohiniyattam and Kathakali. She arrived in Australia in 1983 and established Natya Sudha Dance School and Dance Company in Melbourne in 1986. All her endeavours were in collaboration with other Australian artists and dance companies of Indian, Anglo-Saxon and Aboriginal /Indigenous origin. The Australian government recognised her creative contributions to the Australian Arts sector by awarding her the prestigious Order of Australia Medal (OAM) in 2009.