Leading a rare dual career in two classical performing arts of Kerala, Kalamandalam Satheesan is busy in the greenrooms of Kathakali and Koodiyattam
Kalamandalam Satheesan cherishes the memory of working on the face of Koodiyattam icon Mani Madhava Chakyar during a trip upcountry four decades ago. The stylized make-up was of Ravana in the ancient Sanskrit theatre, which featured in the 1982 programmes of the annual Kalidas Samaroh in Madhya Pradesh.
Back in his home-state of Kerala, Satheesan was soon assigned to deck up another Koodiyattam maestro. That was Ammannur Madhava Chakyar, at Irinjalakuda on the southern side of Thrissur district that houses Satheesan's alma mater. "True, I used to work in the Koodiyattam greenroom and its storehouse in Kalamandalam during the early 1980s while doing my Kathakali chutti course. Yet, I never thought my trysts with Koodiyattam would sustain this long. I do it till date," says the artiste, 63.
Today, despite Kathakali make-up being his mainstay, Satheesan works with a leading Koodiyattam institution. Nepathya in Moozhikulam crucially got its entire costume redone in 2018 after massive floods destroyed the depository of the art institution by the Chalakudy river. "It was a major assignment Satheesan did single-handedly," recalls Sudha Gopalakrishnan, who heads Sahapedia, an open online resources on heritages.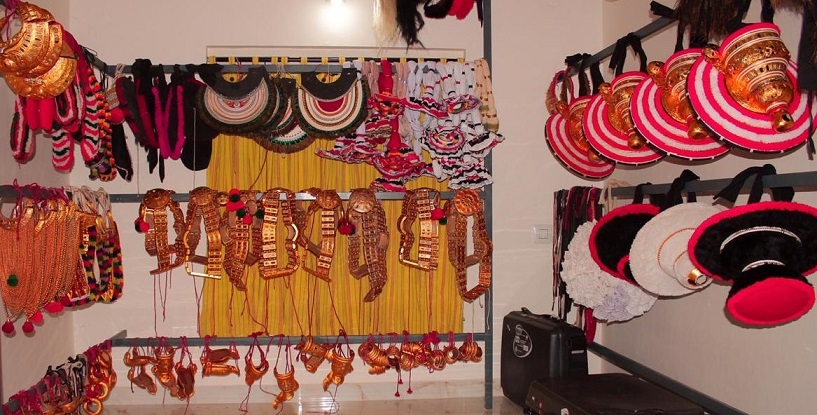 Conventionally, a chutti artist learns to work on not just faces, but to repair and do the ornamentation of the entire paraphernalia of the performing art. Kalamandalam in Cheruthuruty —the institution currently celebrating 90th anniversary—started a Koodiyattam wing in 1965. Then help for the make-up of characters and maintenance of its greenroom came from chutti masters and students of Kathakali . It isn't common for a Kathakali chutti artiste to draw a parallel career in Koodiyattam, right from acolyte days.
Varied visages
Satheesan had just completed the two-year basic course in chutti when he got an invitation to join the Koodiyattam troupe at the 1982 Kalidas festival in Ujjain. That journey helped him gain an indelible impression of the humility of one of Koodiyattam's all-time great. Mani Madhava Chakyar came across as not only a warm personality; the octogenarian's facial features reminded the chutti artiste of the more familiar Kathakali genius Kalamandalam Krishnan Nair. "Chakyar's cheeks had begun to shrink, yet the looks bore a sparkle that only doubled on stage," he recounts.
Ammannur's face, comparatively, was less fleshy — and tougher to work on. "But he too would give me tension. Minor mistakes I did commit, but both the Madhava-s remained cool," says Satheesan, who learned chutti under N Gopala Pillai and koppupani (costume maintenance) under the guidance of Kalamandalam Ramamohan and Vazhenkada Govinda Warrier.
Satheesan's assignments for Ammannur began at Irinjalakuda-based Natanakairali, where the maestro was the master for the students of Koodiyattam and its offshoot Nangiarkoothu, the solo woman's theatre. Soon, at the vintage Vadakkunnathan temple in Thrissur, the youngster did chutti for Ammannur. "For him, once I did the rare arichutti, where rice-paste — and not paper — will form the raised border on the face."
Frontline Nangiarkoothu artiste Usha Nangiar remembers Satheesan's keen assistance to Ammannur at the Vadakkunnathan. "These shows at the shrine's Koothambalam are of high ritualist value as well," she points out.
Glittering array
The other Koodiyattam practitioners who have had Satheesan's chutti form a long row across generations. Mani Damodara Chakyar, Kalamandalam Sivan Namboodiri, Rama Chakyar, Ammannur Parameswaran (Kuttan) Chakyar, Painkulam Narayana Chakyar, Margi Sajeev Narayanan, Madhu Chakyar, Rajaneesh Chakyar, Nepathya Sreehari, to name some. Satheesan, besides with Kalamandalam's Koodiyattam department, has worked for Ammannur Chachu Chakyar Smaraka Gurukulam in Irinjalakuda.
Satheesan's Kathakali-chutti profile presents an even more impressive list (including for the very rare male roles by Kottakkal Sivaraman). That has largely been owing to his 27-year stint as tutor at Sadanam Kathakali Akademi and regular invitations to man the greenrooms of programmes by the Vazhenkada Kunchu Nair Memorial Trust. "They gave me busy summer nights. Mostly, Kayyandam Neelakandan was my fellow artist," he recalls. He thanks the koppupani mentorship of Ramamohan in his scholarship years (1984-86) in Kalamandalam and Warrier later that decade at the art-patronising Poomully mansion not far from Satheesan's house in Arangottukara.
Late Kathakali artiste Pariyanampatta Divakaran of a nearby village had been a close friend of Satheesan. "I particularly loved the chutti on his face for the red-beard characters — as I do now with Ramachandran Unnithan and Kavungal Divakaran," says Satheesan.
Back in Nepathya, the Satheesan-redone Koodiyattam costume keep appearing on stage this year at frequent virtual shows amid Covid-19. Valuing Satheesan's contributions especially, Madhu Chakyar, who heads the 2004-established institution, says: "He joined our post-deluge reconstruction so professionally and sincerely."