With her graceful and subtle raga alapana and strong grip on RTPs, M. L.Vasanthakumari aka MLV smashed the male supremacy in Carnatic music during her time and became part of the female trinity. Today(July 3rd) is her birth anniversary.
In the early 20th century, when it was taboo for a woman to perform Carnatic music, Padma Bhushan Dr Madras Lalithangi Vasanthakumari, fondly known as MLV, along with Padma Vibhushan D K Pattammal, and Bharat Ratna M S Subbulakshmi, not only facilitated the entry of future generation of women artists but also changed society's perception towards women performers. Even after so many years of her demise, MLV serves as an inspiration and a role model of dynamism and courage for today's musicians.
MLV carried on her guru G N Balasubramanyam's tradition of extensive elaboration of ragas. She modified the GNB style of singing with high speed, to suit her own voice. Like GNB, MLV also would take up a single phrase and build on it with various subtle embellishments. This method of elaboration helped her in the extensive development of the so-called small ragas like Pushpalatika, Mohana Kalyani, Devakriya, etc.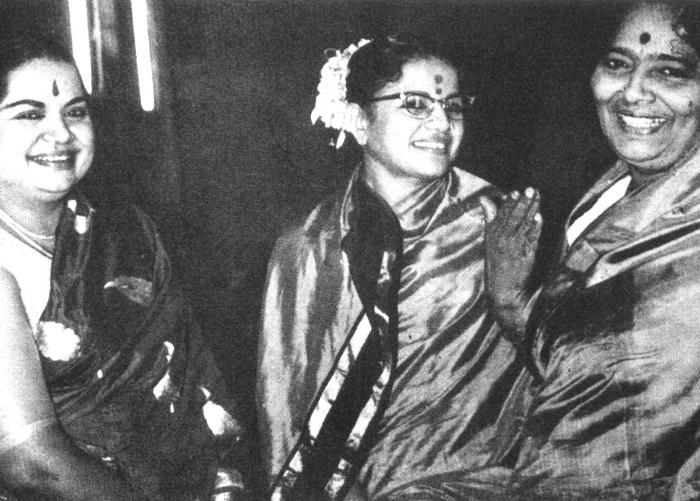 Another feature of her alapana was her effective use of raga murchanas or graha bhedam, which is prominent in her renditions of ragas like Todi, Kharaharapriya etc. She believed that 'Aa,' followed by 'Ii' are the best musical sounds, while 'Uu' and 'Ee' are not so good. So it is important that musicians should refrain from using these non-musical sounds. (Many musicians, while singing bhrigas, move from 'Aa' to 'Ee' sound, but it did not happen with MLV). Another of her beliefs was that, if an artist cuts short the raga alapana, the manodharma or imagination part of music gets affected, so one should give equal importance to kritis, as well as manodharma.
Raagam thaanam pallavi
Before the emergence of the female trinity, it was thought that women should not sing raagam thaanam pallavi or RTP, as it required a lot of concentration and expertise in laya. But MLV carried forward the tradition set by D K Pattammal and carved her own special niche in this format. Along with the extensive raga alapana, her thaanam also would illustrate the full scope of the raga. She could render simple pallavis like 'Sankata Harana Tirupati Vyankata Ramana' (set to mishra chapu tala) to extremely complex ones like 'Kamalasani Sundari Chandra Vadani Karuna Rasa Vilochani' (aadi tala 4 kalai), with equal expertise.
She has also explored Pallavi singing in various non-traditional talas like khanda triputa thisra nadai with 2 kalais, or aadi tala mishra nadai etc. along with different talas, she would also render RTP in various non-popular ragas like Manirangu, Harikambodi, Natabhairavi, Abhogi, etc. (GNB has also rendered RTPs in ragas like Ananda Bhairavi, Devamanohari and so on).
On-stage composing
Along with pallavis on Hindu gods, she composed a pallavi on Purandara Dasa — Shri Purandaram Gurum Vande Dasa Shreshtha Daya Nidhe (aadi tala mishra nadai). She would compose a pallavi a few minutes before a concert, or sometimes on the stage itself. Her Pallavi renditions would end with ragamalika, consisting of ragas like Sahana, Behag, Kathanakutuhalam, Sindhu Bhairavi (which she had learned from Ustad Bade Gulam Ali Khan), Revati and so on. She believed that RTP was an important part of Manodharma and that it should form part of any concert, even in a short duration concert or in a wedding concert.
MLV often emphasised Shruti Shuddham, and spent long hours in her childhood days, doing Swara Sadhana. She has instilled the same in her students as well.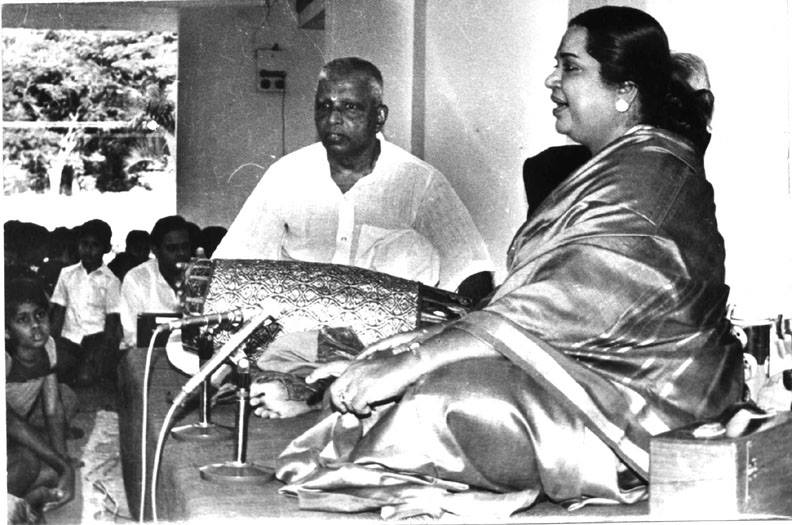 She was a professional musician to her core. She says, "I do not take even wedding assignments lightly. I totally focus on my music, irrespective of whether people are listening attentively or not." Even when she suffered financial setbacks, everything would be forgotten as soon as she went on the stage. Throughout her life, she worked towards a single mission of popularising Purandara Dasa, Haridasa Kritis, and her guru's compositions, by singing them in her concerts at various stages.
Promoting youngsters
MLV would always encourage young musicians, and was appreciative of various challenges faced by them. "In our times, we could get away by rendering the same songs time and again, but today, if someone does that, then he is criticised for not having a big repertoire. When an artist is criticised, it should be constructive criticism, and not vengeful. Just because the writer does not like a particular Bani, he should not destroy an artist's morale, through downright bad criticism, as it may destroy that person's career." Having said this, she also taught that youngsters should not disrespect their seniors, but should take their suggestions in stride, and with a positive attitude.
Among the next generation, MLV admired the music of Padmasri U Srinivas, and my Guru Sangit Samrat Chitravina N Ravikiran, among the Carnatic musicians, and Padmashri Ustad Rashid Khan in Hindustani. Today many of her own students, like Padmabhushan Sudha Raghunathan, Trichur V Ramachandran and Charumati Ramachandran, A Kanyakumari etc. carry her legacy forward.
MLV's path-breaking dynamism, her courage to think out of the box, and her total devotion to her art, made her a legend of Carnatic music. Her immense service to music would be cherished by musicians and music lovers alike, for years to come.