Musicophilia, an All-India piano competition and festival by Chetana Music Academy
In a unique initiative, the Chetana Music Academy will be hosting "Musicophilia," an all-India Piano competition and Piano festival, scheduled for September 2 and 3 at the Regional Theatre in Thrissur. The event, named "La Classique," will feature competitors divided into junior and senior categories. The preliminary contest, occurring on the morning of September 2, will serve as a screening process for participants. Notably, entrants are restricted to performing exclusively piano classics. The victors will receive Digital Pianos courtesy of Yamaha. Additionally, they will partake in the "Piano Upkeep" Seminar and Workshop, set to transpire later on the same day. Renowned musician Jerry Amaldev will inaugurate the proceedings, with Fr. Jose Mundani, Devamatha Councilor for Education, presiding.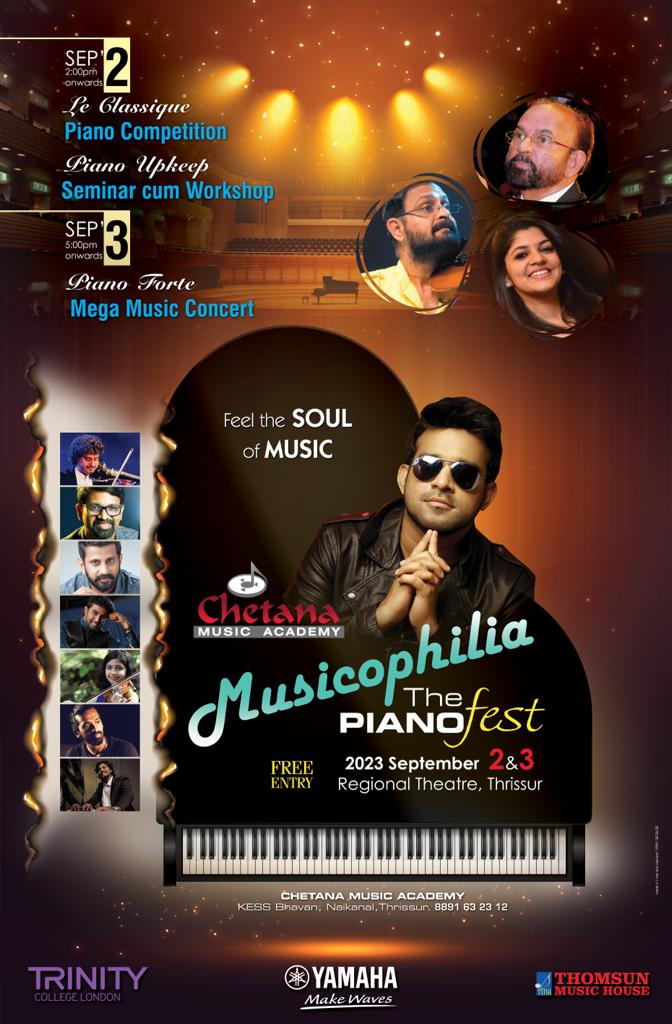 On the evening of September 3, a ceremony will take place wherein the Yamaha C7 Grand Piano will be dedicated to Chetana Academy's students. The function will commence with an inauguration by music director Ousephachan, under the chairmanship of Fr. Thomas Chakkalamattathu, the director of the Academy. Artiste Aparna Balamurali will grace the event as the chief guest. Winners from the previous day's competitions will have the esteemed privilege of performing for the first time on this meticulously crafted and advanced instrument.
Moreover, a "Mega music Concert" led by musician Stephen Devassy will feature a Piano Forte performance. Accompanying him will be musicians including Grammy Award winner Manoj George, music director Alphonse, singer Job Kurian, and piano artistes Vivek, Ralphin, Frijo, along with the young violin prodigy Martena Charles.