A handful of school stories that take you back to those carefree days of childhood abound.
Astaple and much-loved sub-genre in the juvenile books that were popular in the early and middle half of the 20th century was the school story. These were stories set in residential schools (or boarding schools as they are known in India) and were almost exclusively written by British authors. The most influential school story, one that influenced generations of authors of similar tales, was Thomas Hughes' Tom Brown's Schooldays.
This was a semi-autobiographical tale set in Rugby School, one of the famous Public Schools in England. This book was the inspiration for and the precursor to hundreds of school stories published primarily between 1910 and 1960. Some of the most famous of these series included Frank Richards' immortal tales of Greyfriars and St. Jim's schools, Anthony Buckeridge's Jennings books set in Linbury Court Preparatory School, Elinor M. Brent Dyer's Chalet School stories set in a girls school in the Austrian Tyrol, Angela Brazil's school stories set in various different schools, Enid Blyton's stories of Malory Towers and St.Clare's, right down to JK Rowling's Harry Potter tales set in Hogwarts school.
Far and away, my favourite of all these books is the school stories set in Greyfriars school written by the great Charles Hamilton under the pseudonym Frank Richards. Hamilton is one of my two all-time favourite authors, vying for first place with that other great English humorist, Sir Pelham Grenville Wodehouse. These are two authors I have read and reread for almost 50 years now and will hopefully continue to do so for another fifty (I'm an eternal optimist). While Hamilton is not quite in Wodehouse's league as a wordsmith, he has created a universe that is as compelling as that created by Wodehouse. His stories of Greyfriars school and the numerous pupils, masters and secondary characters have never been equalled in the annals of juvenile fiction.
Billy Bunter
Hamilton's most famous character is the ubiquitous William George Bunter known as Billy Bunter. Bunter is obese, gluttonous, totally untrustworthy, a habitual fibber and a craven coward. A bully when he comes up against someone he thinks is weaker than him, he is the possessor of low cunning that sees him cook up machiavellian schemes that always seem to backfire. He did, very occasionally and against his normal character, perform acts of goodness and even bravery. These were more the exception than the norm. Not a very savoury character you would think, but one that became the firm favourite of schoolboys from the 1920s to World War II and beyond, and still has a cult following. The heroes of Hamilton's stories were actually the original 'Famous Five' of literature.
These students of the Remove form in Greyfriars School were Harry Wharton, Frank Nugent, Johnny Bull, Bob Cherry and Hurree Jamset Ram Singh, the Nabob of Bhanipur. Typical English schoolboy characters of the day, the nominal leader of the band was courageous, moody but upright Harry Wharton and his best friend the good-tempered, loyal Frank Nugent. Johnny Bull, the dour, bullheaded boy from Yorkshire but one whose heart was in the right place, and the extrovert, cheerful, always smiling Bob Cherry, mighty cricketer and footballer were also part of the Five.
Last but certainly not the least was Hurree Jamset Ram Singh, lethal left-winger in football, the best spin bowler in the school and one whose command (or otherwise) of the English language, taught to him by a venerable Munshi in his native land, is the wonder of everyone he meets.
Other characters include the Form Master of the Remove, the thin and sharp-tongued Henry Samuel Quelch ('A beast, but a just beast'), Paul Pontifex Prout the portly, vain and garrulous Master of the Fifth Form, Henry Hacker the acidic, short-tempered Master of the Fourth and the Headmaster, the venerable Dr Locke. Horace Coker the extremely rich and equally dumb Fifth Former, Herbert Vernon Smith 'The Bounder', the scapegrace of the Form, Lord Mauleverer the aristocratic, mild-mannered, amiable and vacuous schoolboy Earl, Skinner, Snoop and Stott the shady characters of the Form were some of the other schoolboy characters. Gosling, the crusty, bad-tempered school porter, who firmly believes 'all boys should be drown'ded at birth', Sir Hylton Popper the acerbic school Governor and numerous others were characters who, once encountered, will never be forgotten.
Bunter started off as a secondary character, usually to provide comic relief with his endless schemes to pilfer other people's food hampers and to borrow money against a Postal Order he is expectantly waiting for but one which never seems to arrive. Soon his popularity grew and grew among readers, like Frankenstein's Monster, and he soon became the main character who was featured on the covers of The Magnet, the Boys Paper in which the Greyfriars stories were featured from 1908 to the start of World War II in 1940.
After the war, Bunter made a comeback in hardcover books from Cassell, Annuals and paperback reprints from Merlin and Armada. In the early 1970s, publisher William Howard Baker, a huge Hamilton fan began publishing facsimile reprints of the original Magnet magazines, with each volume containing between 7 to 14 issues, usually comprising one story arc. These had a limited print run and now are extremely scarce and much sought after by Bunter aficionados.
I first bumped into Bunter when I borrowed a Howard Baker Volume The Schemer of the Removefrom the British Council Library in Thiruvananthapuram when I was 13. The cover shows Bunter suspended by his trousers from a wall hook in the Study of Harry Wharton and Co, punishment for trying to pilfer their tea hamper. The scrumptious tea and snacks are spread on the table just out of reach and the blurb on the cover says it all, 'So Near and Yet So Far'. Hamilton also started a series featuring Billy's sister Bessie Bunter with 'Bessie Bunter of Cliff House School'. The later stories in the Bessie Bunter series are by other authors based on the same character, all published under the pseudonym Hilda Richards.
I fell in love with Hamilton's characters and writing style and have continued to read him with unabated relish over the years. Hamilton's prose is a thing of beauty, erudite yet excruciatingly funny and certainly not dumbed down for children. I used to initially read him with a dictionary close at hand. 'Don't prevaricate, Bunter', Henry Samuel Quelch the Form Master would growl at Bunter when he tried one of his usual fibs to try and get out of a tight spot. I would immediately dive for the dictionary to find out what prevaricate meant, though I had a fair idea keeping the context in mind.
The next time I wanted to call someone a liar I'd drawl 'Prevaricator' and leave the listeners scratching their heads. I am absolutely certain that my voracious consumption of Hamilton and Wodehouse did more to improve my vocabulary than 20 odd years of school and college.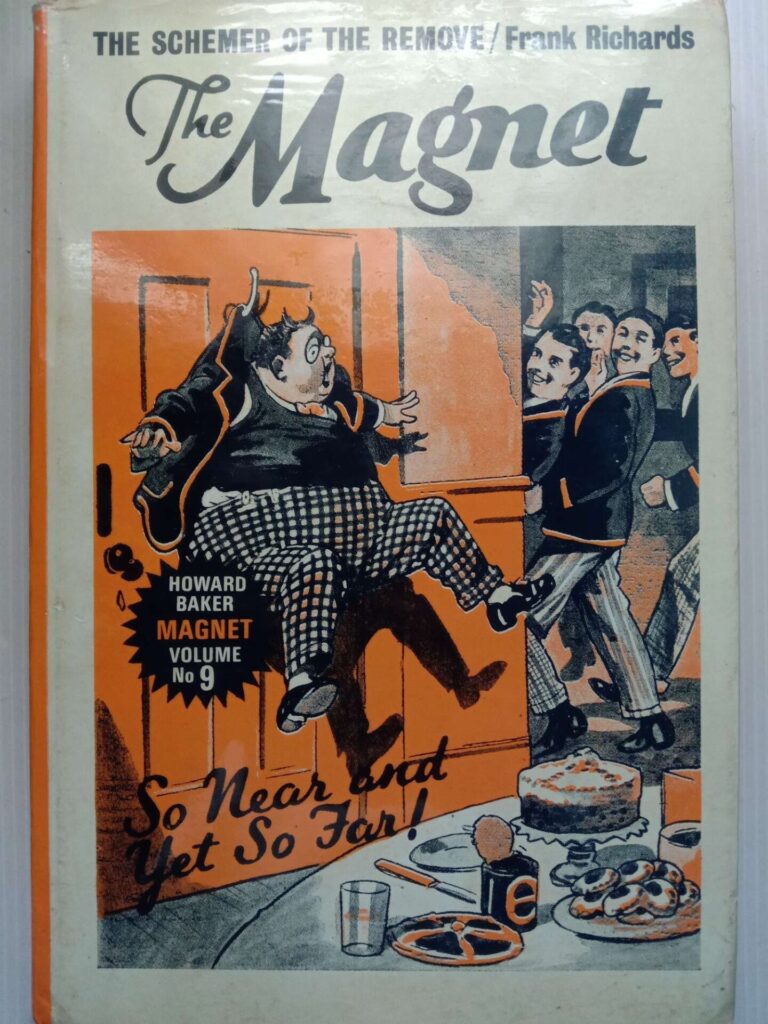 One episode that stays in the memory and causes me to snort with laughter at the most inappropriate moments, a solemn and long-drawn-out funeral being one, went as follows. Bunter has tried for the umpteenth time to borrow a quid from Harry Wharton against his legendary Postal Order that is always expected but never arrives. Upon being brusquely refused Bunter moans 'You're an utter cad, Wharton. After all the things I've done for you including shaving your wife.' 'What' Wharton exclaims. Bunter hurriedly explains 'I mean all the times I've saved your life. Selfish and thankless, that's what you lot are. As the Bard of Devon said 'How sharper than a thankless serpent is a toothless child'. Bob Cherry gasped 'Don't you mean the Bard of Avon you priceless ass.
And the quote is 'How sharper than a serpent's tooth it is to have a thankless child'. Bunter looked down his plump nose. 'No. I meant what I said. I fancy my knowledge of the classics is way better than yours'.
Hamilton wrote about many other schools including stories of Tom Merry and Co or St. Jim's School (as Martin Clifford), Jimmy Silver and Co of Rookwood School (as Owen Conquest), the boys of Cedar Creek School in the wilds of Canada (as Frank Richards) and many, many others. The Guinness Book of Records has named him the most prolific author of all time. Despite his prodigious output the quality of his wondrous prose never declined and if you have never read him, it's time to do so. Be warned though, he is extremely addictive.
Speaking of Jennings
My other favourite, among the innumerable school stories published in the period from the forties to the seventies, is Anthony Buckeridge's series featuring a 12-year-old schoolboy called Jennings. The school in question is Linbury Court Preparatory School. Jennings, accompanied by his best friend the bespectacled, timid but always loyal Darbishire gets into loads of misadventures causing his teacher Mr. Wilkins and the Head Mr. Pemberton Oakes to tear their hair out in anguish. Jennings always means well but all his plans seem to misfire at the most inopportune moments.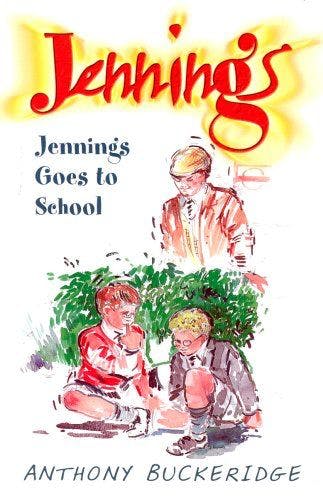 Some of Jenning's favourite phrases ('fossilized fish hooks', 'crystallized cheesecakes', 'wizard idea') have passed into the language. Buckeridge also wrote a series about schoolboy Rex Milligan at Sheldrake Grammar School that are almost as good as the Jennings books. Buckeridge's simple, humorous, easy style make his books very accessible and the books are very collectable.
The original hardcovers with their colourful dust jackets are things of beauty but difficult to get. I was fortunate enough to acquire about seven from a 'raddiwala' in Chor Bazaar behind the Red Fort in Delhi (sadly defunct now) for the princely sum of Rs. 2 each, in 1989. The books have been periodically reprinted in paperback and can still be found if you search hard enough.
Among girls' school stories my favourites were the Malory Towers and St. Clare's stories by Enid Blyton. The Malory Towers series of six books follows the escapades of Darrell Rivers at Malory Towers School in Cornwall, with her best friend Sally Hope and her younger sister Felicity also playing important parts. A further six books in the series were written by Pamela Cox. The St. Clare's stories feature the experiences of twins Pat and Isabel O' Sullivan.
A third series featuring the Naughtiest Girl, Elizabeth Allen, and set in Whyteleafe School, is also worth reading. Anne Digby, author of the 'Trebizon' school stories penned some additional stories of the Naughtiest Girl. All the Blyton books are extremely readable and are wholeheartedly recommended, even if you have to hide them from others while reading them as I had to as a boy since I didn't want anyone to catch me reading girls storybooks, a crime almost as heinous as reading 'Mills and Boon'.
I was able to acquire several vintage hardcover school stories from the early 20th Century from Daryaganj Market in Delhi over the years. These books areby popular authors of the time, like F. Haydn Dimmock, Hylton Cleaver and Anton Lind. The prose may be pedantic at times but they transport you back to a time of fun and laughter. Midnight feasts, booby trapping the beds of unpopular teachers, leaving the school premises at midnight to perform pranks, exciting cricket and football matches with rival schools and all those other incidents that take you back to those carefree days of childhood abound. It's what we all need in these stressful times, a ripe wallow in nostalgia.
Write to us at [email protected]