In the second and final part of this interview excerpt from a Tamil interview with Lalitharam, Carnatic musician Seetha Narayanan speaks about her Journey in Madras – the Mecca of Carnatic Music.
You sing a lot of unfamiliar bhajans. When did you start that?
Perhaps because I came from the North, a lot of acquaintances in the Railway Colony approached me to teach them bhajans. I knew only a few Meera bhajans then. My mother had heard of Shi. Ramamoorthy Rao. He was a leading Bhajan singer then – well versed both Carnatic and Hindustani systems. We invited him to teach us ladies in the colony. He had tuned the entire Saundarya Lahari in 100 hundred ragas. The ragas would alternate between Hindustani and Carnatic. I also learnt to render bhajans in thumri style.
When did you start giving programs exclusively based on Bhajans?
I had written an article on 'Bhajans — Bridging North and South' in a souvenir by a Madurai sabha. On reading it, music and dance scholar TS Parthasarathy asked me if I could do a lecture-demonstration on the topic at the Madras Music Academy. My first entry to the prestigious venue.
Do you believe you would have been like other famous performing artistes if you had been born here in Madras?
To be frank, I don't think I am unlike others, even now. I did not actively seek opportunities to perform. I sing wholeheartedly when invited to sing.
Let's come back to your training. You had trained under Dr. S Ramanathan as well right?
Indeed. I thought it would be beneficial to train under a scholar with concert experience as it would help me understand nuances of kutcheri performance. Ramanathan sir had just then come back from Wesleyan University in the US.
When was it?
In 1981, I suppose. The first time I went to his home, he was teaching upstairs. His room was overflowing with students. I was used to one-on-one sessions. Such group sessions were new to me. After his classes, I met him and requested him to take me as his student. He asked me to sing something and I sang Evarura in Mohanam. He liked it very much and asked me to come from the very next day for classes. I trained under him until he passed away (1988).
What was Ramanathan's methodology?
There were seven or eight students in our batch. Our classes were for an hour from 10 a.m. every day. He will just keep singing, be it ragam or nereval. It's upto us to grasp them. He wouldn't give notations for the songs he taught. You could ask him to teach anything and you can be assured that he would know it. He gave away knowledge without any hesitation. He was treasure trove of knowledge yet remained simple and approachable. I learnt over 100 kritis from him. I also honed my manodharmam under him.
You are nearing 80 – yet you have a rich voice. Your Shruti Sudhdham is impeccable and the clarity of sangatis in your renditions are amazing. Do you do anything special to maintain your voice?
It is just a gift. I had lost my voice totally between 1964 and 1968. I was in Bombay then. We tried approaching ENT specialists and homoeopathy based treatments. It was all in vain. Just as I thought nothing would work, I got my voice back. I resumed singing at 3 kattai shruti then and I could gradually increase the shruti and sing effortlessly in 5 kattai.
I don't do anything special to maintain my voice. I'd day I use my throat well rather than abuse it. I could sing for three hours even after a concert of that much time. But when I speak for just 10 mins, my voice gets tired. Shouting or even laughing aloud would impact the voice. Carnatic music demands singing with a stress to bring out the raga bhava in the right way. It puts a lot of pressure in the voice. In Hindustani, when they sing taan, it is less from the throat, more from the mouth. We can't do so. Vidwan Chengalpet Ranganathan used to say, "If mikes had come to vogue earlier, many of the legends would have managed to live for several more years."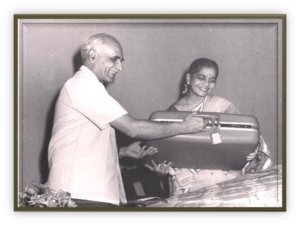 You learned from Ranganathan too, right?
Yes. After Ramanathan sir's demise. A radio concert of Raganathan sir's prompted me to approach him. I wanted to master Pallavi singing from him. He agreed to teach me only after I assured him that I was ready to invest the required efforts without taking shortcuts.
How long did you train under him?
Two decades. From 1988 till 2008. When I look back, I realise I have learnt over 500 kritis from him. He has composed thillanas in all the 35 suladisapta talas. I was fortunate to learn them from him.
When you look back at the path you have come along – What do you feel?
Madras is called the "Mecca of Carnatic Music". I came here when I was thirty. Despite the late start, I feel contended that I am placed on par with my peers and treated with respect in this field. I feel grateful when I look back at my journey.