Photo: S Hemamalini
Classical musician Sangita Kala Acharya Seetha Narayanan rewinds her childhood in an Eastern Indian industrial city where she built her base in Carnatic music in the 1950s. In Bombay after marriage, she went into a 13-year silence. Then, in 1970, she shifted to Chennai, which has remained her home since. An array of gurus lends a unique sparkle to her eclecticism.
How was your childhood?
I was born in 1941 in Jamshedpur, where my father was an engineer. Our family was from Palakkad. We, migrants, yearned for our lush-green native land. Jamshedpur was no city for Carnatic music. Luckily, Kasi Viswanatha Bhagavathar moved here. He was a classical vocalist trained under Semmangudi Srinivasa Iyer at Swati Thirunal College in Thiruvananthapuram as well as in the traditional Gurukul way.
When did you start learning under Bhagavathar?
Around eight years of age. I learned for more than 10 years from him. Before that, I had learnt a bit of Carnatic music. We had a sabha called Madarasi Sammelani, started in 1917. Masters from the south would come and perform. They stayed at my uncle's house. In their free time, the visiting artists would teach a few songs. A few teachers from Andhra used to teach music, but they didn't stay long.
Has anyone in your family been into music?
My mother was interested in Carnatic music. She had a good voice. My uncle, too, was into music. My elder sister also sang well. They never pursued it to reach the level of performing.
Were you interested in music since childhood?
My mother used to say I could faithfully reproduce what I heard. Notating songs came naturally to me. Shankara Jayanti would be celebrated in a grand way in Jamshedpur. Musicians and Harikatha Artists of fame would be invited to perform. One day was allocated to showcase local talent. I was three-and-a-half years old when I rendered a popular film song Abtere Siva kaun mere Krishna Kanhaiya.
I remember singing on occasions such as Thai Pusam, Ramanavami and Navaratri. Some of us kids had sung a patriotic song on the occasion of the flag hoisting on India's first independence day in 1947. A couple of years later, I was formally initiated into Carnatic music by Bhagavathar. He would teach us in batches. His classes started at 4 AM and went on till late evening. There were a dozen of us learning from him in my batch.
My guru noticed that I was a quick learner. I would sing my part and would sit idle when other kids tried to grasp what he was teaching. Bhagavatar offered to teach at home and was kind enough to even waive off the fee if it was a burden to my parents. He taught me big compositions such as Endaro mahanubhavulu and Amba Kamakshi (Swarajati in Bhairavi). I had learnt about 100 compositions before I was 12.
Your debut performance?
An hour's concert. I was 12. Mayavaram Krishnamurthy, a local violinist accompanied me. Kalki magazine had a mention of the programme.
Seetha Narayanan 01 Sri Kantimatim Hemavati D
So music bloomed within you naturally.
Yes. As an early teenager, I even began setting tunes, not knowing the grammar of the raga. My school enrolled me in a bhajan competition without my knowledge. I set some Surdas verses in Desh. (Sings it) and won first prize. I penned a composition for our school prayer and sang it along with my friends. It was received very well. Ten days later, I sang it at a Jain temple behind our house. A monk there, giving discourses, particularly liked the line: Is jivan ki yatra mei tum bano hamari sahayatri. He even dedicated that day's discourse to that line.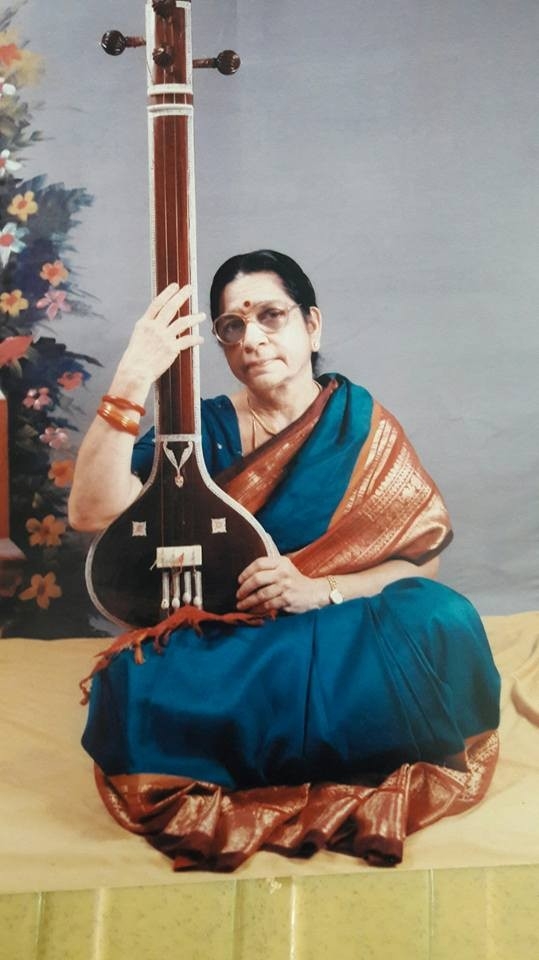 Interesting. Back to Carnatic music, your guru taught only compositions?
No. Manodharma sangeetam too. He also trained me in raga elaboration, neraval and kalpanaswaram besides music theory. He recommended me for local functions such as Tyagaraja Utsavam.
Were there opportunities to listen to the masters and learn from it?
There were not many opportunities to listen to. Occasionally, musicians visiting Calcutta would stop by at Jamshedpur. At the south Indian marriages and other functions, gramophone records were played. I had grasped every nuance of those songs by stalwarts such as MS Subbulakshmi, NC Vasanthakokilam, DK Pattammal and ML Vasanthakumari.
Later, in 1958, I moved to Bombay after my marriage. My husband Narayana Iyer was an engineer with the Railways. At Bombay Shanmukhananda Sabha, I could listen to stalwarts such as Ariyakudi Ramanuja Iyengar, Alathur Brothers etc.
Did you continue training in music in Bombay?
No. But I used to practice every day. I would sing a full concert every day at home!
Was your husband into Carnatic music?
Initially not. But he would encourage me to sing. Over time, he learnt a lot through listening.
Great. The hiatus ended when you shifted to Madras, right?
Yes. In 1970, when my husband got a transfer. I resumed my learning from Nagercoil Harihara Iyer. I could learn the Ariyakudi style from him. He taught me a lot of nuances. Structuring alapanam, setting up a korvai, kuraippu, etc. He fixed some of my singing issues. I learnt about 40 kritis from him and started performing as well. I also cleared the audition and became a graded artist by AIR. In 1974, Harihara Iyer moved out to Singapore.
Whom did you continue to learn from?
A family friend took me to PK Rajagopala Iyer, a disciple of late Tiger Varadachariar. He lived in suburban Ambattur. RajagopalaIyer didn't perform, but he had a deep knowledge of music. He also had a lot of rare books. I have seen a handwritten manuscript of Walajapet Venkataramana Bhagavathar of Tyagaraja kritis at his house. His classes were less formal. He used to talk a lot about the song, about the raga, its history etc.
But weren't you giving concerts too then?
Yes. A few performance opportunities came my way. Offers from sabhas, temples etc. Once I started to sing in AIR, I got invitations to perform outside Madras as well. I had performed in Bangalore, Raichur, Hubli (all Karnataka), Guntakal (Andhra Pradesh) and in several places in Kerala.