Music world grieves the death of TVS, known for his music style that stems from his guru, Madurai Mani Iyer.
On Jan 1, 1960, at the Madras Music Academy's prestigious Sadas, where the yearly Sangita Kalanidhi Award was being conferred, one little boy caught the attention of the audience. 
Veteran musician Madurai Mani Iyer was the recipient of the prestigious award that year and a 15-year-old boy read his Kalanidhi address, as the musician had a problem with his eyesight. 
That boy grew up to become the torch-bearer of Madurai Mani Iyer Bani and 43 years later, in 2003, he received the Sangita Kalanidhi award as well as the central government's Padmabhushan. It was none other than Carnatic music vidwan T V Sankaranarayanan, popularly known as TVS, who passed away on Sept 2 night following a cardiac arrest.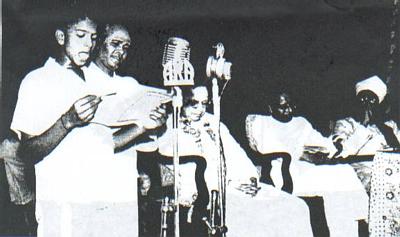 A vocalist famed for his perfect style of singing in the exciting bani of his charismatic uncle Madurai Mani Iyer, T V Sankaranarayanan came with a breath of fresh air to Carnatic concert venues in the '60s when the yesteryear stalwarts were slowly getting off the stage.
Sankaranarayanan was born in Mayiladuthurai, near Tanjavur in 1945. Growing up with his uncle, young Sankaranarayanan was always surrounded by Bhairavi, Sankarabharanam, Shanmukhapriya Thodi, and so on and he naturally displayed a good swara gnajanam at a tender age. 
Recognising her son's talent, his mother, Gomathy(Mani Iyer's sister), started teaching him the basics of music. When he turned eight, Mani Iyer himself started teaching Sankaranarayanan.  By the age of 12, he used to sing most of the songs Mani Iyer sang and accompanied him in concerts.
Cricket's loss, music's gain
Sankaranarayan's family moved to Madras when he was 11 years old. Even though Madras was considered the mecca of Carnatic music, the city triggered his interest in cricket.
The teenager spent all his time playing cricket and music took a second track. But then, once a musician always a musician.
After 10th standard, he decided to take music as his career and put his heart and soul into the music and started providing vocal support for his uncle. Over the years, Sankaranarayanan also took a degree in law, but while choosing his profession, the decision again went in favour of music. Mani Iyer also suggested that his nephew regularly listen to concerts by other musicians.
As Mani Iyer's vocal accompanist on stage, he caught the attention of many senior violinists and mridanga vidwans who encouraged him to give solo concerts. His solo debut was in 1968 and he never looked back. While faithfully following Madurai Mani Iyer's style, Sankaranarayanan also developed his own individualistic approach to music. With innovative RTPs even in minor ragas like Brindavana Saranga, Hamsanandi and Kalyana Vasantham, Sankaranarayanan displayed an archetypal flavour of classicism in his music. His repertoire of rare ragas and rare compositions of the Trinity and other composers like Tanjavur Sankara Iyer could be the envy of any musician.
Like his uncle, Sankaranarayanan also became an expert in Saralaghuswaras and excelled in the compositions his uncle had made famous, including compositions like Kaanakkann kodi, Maa Janaki, Marakatha Vallim and Thukkada pieces, too. His liking for Tamil music earned him the titles of Sivan Isai Chelvar and Tamil Isai Vendar.
Music world grieves
Senior musicians and artists were shocked by the death of the vocalists and took to social media to pay homage to the veteran musician.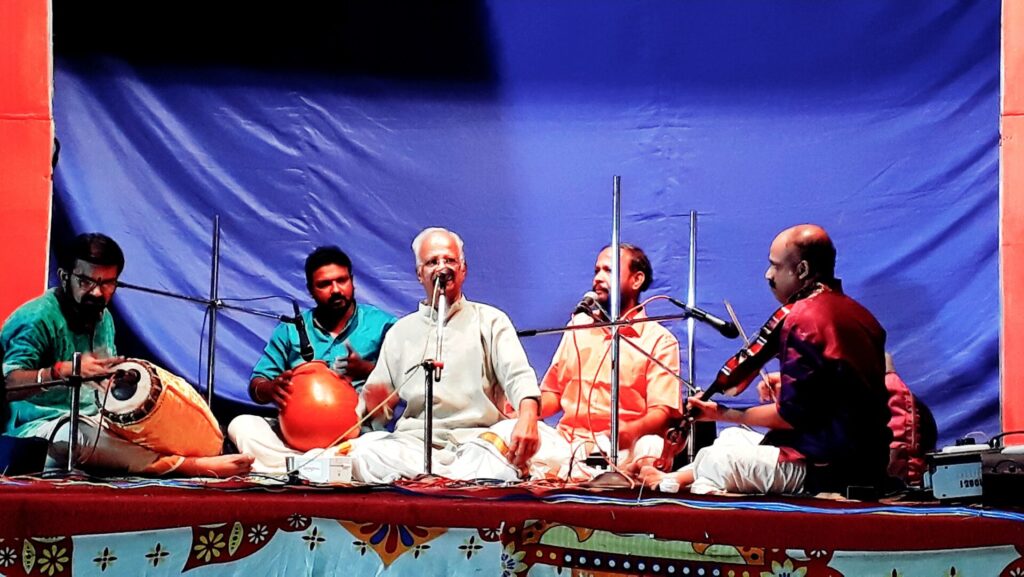 Vocalist Sudha Ragunathan remembers him as an outstanding vocalist who stood tall in the Carnatic music fraternity. "His pristine music – his Kambhoji, Saraswathi and Nalinakanthi and so too Soorya are beyond compare. I heard him in Melbourne when we were there on a trip together and he sang a brilliant Rasali ragam and 'Aparaadhamulanorva' and the swaras were like clay in his hands. He would just literally play with them", she notes.
Noted musician, author and activist T M Krishna recalls that it was Sankaranarayanan's voice that drew him inside the auditorium. "When I began singing, I so wished to sound like you. Your music was filled with passion, romance, flourish and unrestricted flow. You made me fall in love with this music," he remembers.
Recalling his rich shareeram and sruthi sudhasangeetham, Cherthala K.N.Ranganatha Sharma says, " The name TVS is a blazing sun who will never set down from any musician's heart. He will be ever remembered as the 'success formula' of Carnatic music concert pattern!"