Nalini or Deedee Cheriel is a visual artist based in Los Angeles. Her works recognise the urgency and conflict in society's continuing attempt to connect with the world. A musician and a filmmaker, she talks to IAR about her works, the ongoing pandemic and her art mission.
Tell us about your connection with India. How does this influence your art?
My father is an Indian. When I visited India with him in my early years, I was very much fascinated by the artwork, especially the temple imagery and its spiritual contexts. My name 'Nalini' means lotus flower and a lot of temple pillars also have this image carved on them. It blooms in the dirt and touches the sky, is a symbol of spirituality and enlightenment. I was overwhelmed by the beauty and the amount of work done into a lot of such temple imageries.
Can you tell me about your journey as an artist?
As a child, I spent a lot of time drawing and painting. I got influenced by Magical Realism while living in South America. I used to read a lot of Isabel Allende books that influenced what I wanted to make work about and my usage of images in a magical sort of way. I did several shows in restaurants and bars but my first big gallery show happened in 2005 in Los Angeles. While I was exhibiting my paintings and works in ceramics in a warehouse, Shepard Fairey, who is also a famous visual artist came in and offered me a show at his gallery. I put up my works there and it was then that I realised how popular that gallery was. There were hundreds of people coming in and it was overwhelming (smiles). From then on, I went on to do several solos and group shows in Amsterdam, New York, London and many other places.
You were part of a few bands as well, as both vocalist and a drummer. How did you venture into it?
I was part of a DIY group for women in Oregon. We started our band in the 1990s. Named Adickdid, we got our record label and booked our tours. It was the only way a woman could get involved in the music industry at that time. My father gave us money for our first edition of records. It was successful.
How has the Covid-19 pandemic affected your art?
It was hard as I am a mom and my son is at home. I couldn't spend time on my work because I devoted most of my time with my son teaching as he hasn't been at school. I was predominantly focusing on my print shop where I have my prints manufactured and I just did the shipping.
Your paintings have a heavy metaphorical meaning attached, especially the half-man, half-animal kind of figures. Can you elaborate on this and how did you conceive this idea?
One of my works which shows a bear-headed human figure got inspired by the Buddhist concept 'To desire is to suffer. When a person is constantly in a state of desire, they are like a hungry bear. Also, at that time my friend was writing a screenplay about a man who goes to live with bears in Alaska and stays too long there and ends up being eaten by them. This made me think that to search constantly for something outside of oneself unlike spiritual desire, causes detriment in people. I painted the bear as a reminder of this.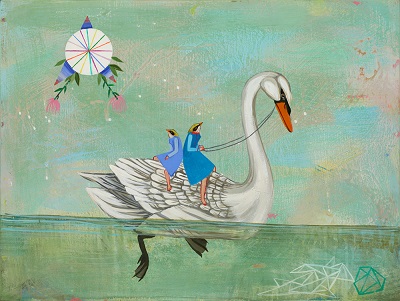 What is your art mission? And what are you looking forward to from now?
I am looking forward to spending some quality time in my studio and paint a new body of work after this pandemic. I'll try to find solutions to the things I find troubling in the world through the narratives in my art. The past four years have been very troublesome and tumultuous in my country. So, I'll be working on the idea of people coming together and finding solutions to the problems in the world. I have a strong inclination to work towards environmental justice. For that, I do a lot of printmaking in donations to environmental justice and racial justice causes. It will continue to be a constant thick theme in my future works.