Indian contemporary artist Vivan Sundaram's art practice was steeped in activism and political consciousness. Sundaram, 79, passed away on Wednesday.
Walter Benjamin, the famous Jewish philosopher once said "just as the entire mode of existence of human collectives changes over long historical periods, so too does their mode of perception." This stands true for Vivan Sundaram, a rare pioneer who perfected that mode of perception through a deep sense of political will that remains undiluted and striking in all its intensity .
Sundaram's art installations spoke not just about the world we live in but most importantly talked about a world that is constantly busy in creating an 'other' discourse. In other words, through his installations that definitely spans boundaries he provoked the general consciousness of the viewers of his art installations by making them see a world of and lived for and by 'others'.   For that Sundaram used memory and archives as his tools along with his deep seated sense of history that reproduced art installations that continues to create major undercurrents across the globe. Such a transformation of using an act into action by using objects as subjects is not an easy task.
Born in 1943 in Shimla, Himachal Pradesh Sundaram studied painting at the Faculty of Fine Arts, M.S University of Baroda (1961-65) . Later at the Slade School of Art, London (1966-68) he studied history of cinema. Being active in politics throughout his life art works also created a handwringing ceaselessly forever in varied circles. After all that's also the task of any artist anytime anywhere too.
He set up a commune in London where he lived till 1970 and later on after his return to India he worked hand in hand with artists and students/unions at a time when emergency was at its all-time rage. His constant association with people like Safdar Hashmi and K.P Krishnakumar and unions made his installations telling about a reality in the best of its probabilities.
In one of the interviews he even acknowledged  the fact that it is the 'Place for People' seminal exhibition that gave him the courage to handle the difficult subject of mortality and melancholy vis-a-vis his personal history in The Sher-Gil Family (1983- 84).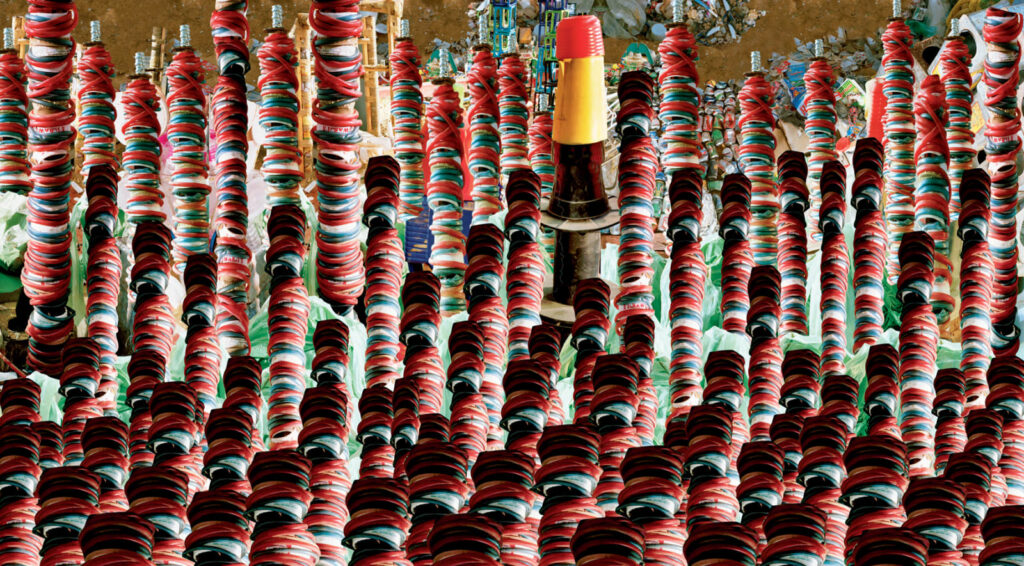 Sundaram's installations
Two of his painting in the 'Place for People' exhibition was Guddo (based on the Mathura rape case) and People come and go. "Tracking" (2003–04), "The Brief Ascent of Marian Hussain" (2005), and "Turning" (2008) were certain other exhibitions where he used found objects to make installations. Trash (2008) in particular emerged as an interesting intervention in art installations as it was based on the economy and aesthetics of second hand goods and urban waste. In 2012, "Black Gold", an installation of potsherds from the excavation of Pattanam/Muziris in Kerala, was also his major contribution which is nothing but another old story: in search of black gold which is pepper which has a deep rooted history and trade in Muziris.
Today when seeds of surveillance are at all time high and artists are manufactured in a very homogenous fashion, where artists are forced to fear about their installations Vivan Sundaram emerges as one which also makes him a resurrected figure, constantly dwelling with a time not just through his installations but also through his deep enquiry for history using memories and archives. His artistic journey states that , raising voice against the rule is no longer a thing of the present but art field has largely fallen victims earlier as well. It is that deep sense of history that needs to be seen fettering throughout in the 'space' as well as in the 'works' of Vivan Sundaram which are spoken as it is.
Art fused with activism
Vivan Sundaram breaks all the conservative backlashes and emerges as that unique pioneer with that deep sense of historical materialism deeply rooted in an analysis of everyday lived realities that are firstly as well as lastly always political.
A few of Vivan Sundaram works comes as a reminder to all of us which Walter Benjamin long back posited and that is – "History is not merely counting of the beads on a rosary rather history is grasping hold of a memory in the moment of a danger". These works include
House (1994) – The installation carries echoes of communal violence in Mumbai in 1992-1993, following the demolition of the Babri Masjid in 1992. The 'House' is a basic cubic structure, with walls made out of thick handmade paper produced in the Gandhi Ashram in Ahmedabad. Inside the house is a space for a stark contrast to the soothing white of the inner walls wherein a black box rests a vessel with a transparent base. Through the transparent base a video loop of leaping flames devouring household furniture symbolize the reference to the virulent form of communal aggression determined to occupy the centre-stage.  
Imperial Overcast (1991) – Stains of engine oil are the result of the artist's experiment to 'show' what was being touted as a civilizational war that largely surrounded around oil as the obsessive commodity fetish. Imperial powers and land possessions falls the larger theme of the installation and Sundaram called it a 'relationship of spill and stain' – the oil spills, and a land stained by an act of violence, an act of war.
12 Bed ward' (2005) – In an ill-lit room placed are 12 iron-framed beds with their surface made up of shoe soles placed in a crisscross weave where the bodies of the shoes are missing. This installation comes as an immediate reminder to the lockdown where many died because of a lack of forced disembodiment towards an urban space. Such an installation can however be looked into even going down the course of history which is the larger context of the Nazi concentration camps where people were recklessly slaughtered. It can even be a proof of waste pickers who have created some order in a decaying urban landscape affected by the consequences of excessive consumption. Yet, even as they do so, their own lives remain fragile as ever, and as 'disembodied' by the blow of invisible policies. In other words, disembodied is the logic of not just history or the present but most importantly the present made to realize the disembodiment with history as a product of the present.
 Vivan Sundaram continues to be that rare artist who weaved a history by fusing history into a present as much as taking present to a history. A series of Sundaram's drawings from Heights of Macchu Pichu (1972) is currently on view at the Kochi Biennale.