World over, classical music is followed only by a few, exactly why such programs are aired mostly on publicly supported or government-funded TV and Radio stations.  With a specific geographical stamp, Indian Classical Music automatically becomes even more niche. Yet, there are some who practice/follow it who are so passionate and wish for others to experience the joy that they themselves derive from engaging in it.  
The lay person often construes Indian Classical Music as complex and out of reach, entailing formally dressed performers in staid arenas with strict codes of conduct and behaviour, not to speak of listeners who follow dress codes. 'Off the beaten track'  is a series that looks at several entities who are rethinking all aspects of the art and its presentation with a view of expanding its listenership and following.  The first in this series features the Carnatic rock band 'Agam'.
Agam set the field ablaze when they arrived over ten years ago as the pioneer of what Rolling Stones magazine called Carnatic Progressive Rock. Leading classical musicians like Aruna Sairam, Ranjani and Gayatri and Kaushiki Chakraborty have since collaborated with them. Agam has a cult following ranging from children to senior citizens with sold out crowds wherever they perform. If this sustained success seems laudable, when one talks to them, one is only left further impressed.
Agam's seven members, aged 30 to 45, are distributed in three cities. Lead vocalist Harish Sivaramakrishnan, lead guitarist T. Praveen Kumar, drummer Yadhunandan and keyboardist Swamy Seetharaman live in Bangalore. Bass guitarist and backup vocalist Aditya Kasyap is in Bombay while ethnic percussionist Sivakumar Nagarajan and rhythm guitarist Jagadis Natarajan are based in Chennai.
So how do they practice? "Every April, all band members get together in Bangalore every weekend to jam and hash out new repertoire. The rest of the time, we regularly discuss online." says Aditya. "The rest of the practice is a couple of hours on the day of each gig." The fact that group members have stayed quite constant since inception (except for two who left India quite early on) means an almost instinctive stimulus response between band members that works very spontaneously on stage, aided by thorough familiarity with existing repertoire. While all the guitarists are self-taught on the instrument, the remaining band members have received training in their respective areas.
BITS- The breaking ground
Agam began at the Birla Institute of Technology and Science (BITS) at Pilani as a few undergraduate students jamming together casually. The common factor was all were South Indians who had taken lessons in Carnatic music to varying levels. "We initially began by playing covers of songs we loved – Led Zeppelin, Pink Floyd, Metallica and so on. When we had to compose pieces, we realised all of us naturally gravitated to our Carnatic training," says Aditya. Juxtaposing the Carnatic sound to their instrumental skill sets made the Rock Carnatic marriage a natural synthesis for them.
Of the seven gentlemen comprising the current Agam band, only Yadhunandan, the drummer, also the youngest, is a professional full-time musician. The remaining six (some of whom went on to prestigious graduate schools like IIM Bangalore and Indian School of Business), have continuously held down full-time, high-level technology and management positions at leading companies like CRED, Hindustan Unilever, Cognisant, Google and Adobe whilst being consistently active with Agam too.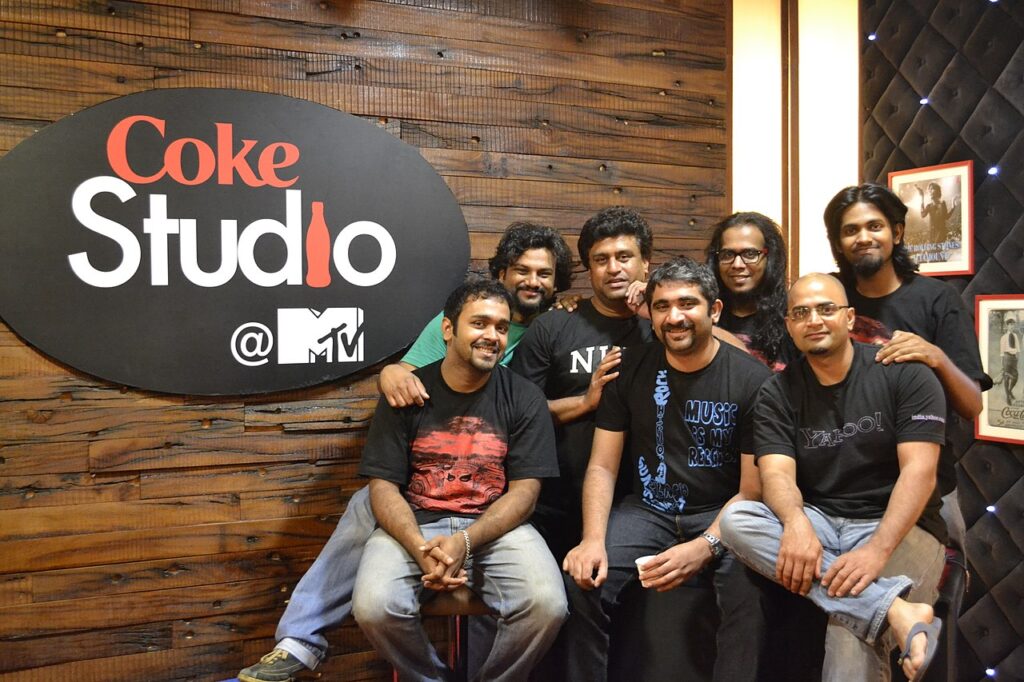 "We compartmentalise our time very clearly – with full time careers, we have to," says Aditya who is a Product Head at Hindustan Unilever. "We do not do any office work on weekends but Monday-Friday is dedicated exclusively to our desk jobs. Our office colleagues understand that too and appreciate the clear delineation of work week and weekend."
Agam's numbers feature the lyrics of classic Carnatic songs sung by Harish in quite the conventional manner. He reserves his flights of imagination for the improvisational aspects incorporated seamlessly, yet creatively, as introductions, intermediate interludes and conclusions. Western style guitar riffs, keyboard sequences, both western and Indian percussion patterns, all arrange themselves around the vocals.
The guitars and the keyboard often take up ragams different from the lyrics – in the second half of one of their very popular pieces – Mist of Capricorn featuring Manavyalakincaradate (a composition of Thyagaraja) in ragam Nalinakanti – the instrumental interlude in the second half is actually in ragam Katanakutuhalam, and specifically the chittaswaram from Harikesanallur Muthiah Bhagavatar's composition Giripriyam gangadharam. Aditya explains that they do not constrain themselves in performance. Indeed, Agam's ear for identifying which ragams go with each other is commendable – the soundscape reflects no incongruency.
In some programs, Agam incorporates the local musical talent using choral groups and orchestras for newer layers further increasing a community feeling. Besides some original compositions created by the band, they also routinely includes 'hooks' within pieces that allow the audience to enthusiastically sing along. Some songs might also feature additional instrumentation by visiting artistes such as the sitar in Rangapura Vihara.
Pulling the crowd
Agam receives full houses wherever they go, an energetic dancing audience hanging on to their every syllable. Attendance is often limited only by the space of the venues with 1,000 to 2,000 people routine and over 5,000 at some college concerts. That a band comprised of mostly married-with-children middle-aged men can have a rave following among both teenagers and much older people, speaks of their successful transcending of demographics, musical genres and preferences.
An artiste management company handles bookings and a manager ensures that the group's needs are met at each venue. Agam is particular about professionalism. "We might finish a little later to respond to audience requests, but we always start on the dot. The audience is spending their valuable time and money on us." The group consciously refrains from over-the-top visual stage gimmicks, preferring to let their music make the statement. The performers too are casually attired and quite staid in their movements.
Pre-COVID, they performed 40-50 shows a year, including a few tours abroad. The group releases some made-for-YouTube videos periodically which receive millions of views and are eagerly awaited. So popular are these that hundreds of fans remix them and post them all over social media. Agam's regularly presented pieces are immediately recognisable and looked forward to by many with no South Indian roots or Carnatic familiarity. But of most satisfaction to Agam members is parents coming up after every program stating that their children have resumed Carnatic lessons with renewed enthusiasm after listening to them. That Agam has 'popularised' the Carnatic idiom and made it 'cool' is in no doubt.
Off the Beaten Track is a series that looks at several entities who are rethinking all aspects of Carnatic music and its presentation to popularise the art form globally. To read more in this series click here.