In the last three parts, we discussed various sets of Thaganam adavus of Mohiniyattam. Here we are discussing the next set of Thaganam adavus.
ADAVU – 1
Thom Thatha Thatheiyyam thitheyyam dhithitheiy
Hold Hamsasyam gesture near the chest and stand in the aramandalam position. For the jathi Thom stamp the right foot in front of the left foot at a distance of about one foot from it. Bring both hands above the right foot with a circular movement holding the Ardha Chandra gesture and holding them close to the chest forming an egg shape. Bend the body towards the left.
The eyes should focus on the left diagonal above the hands. The heel of the left foot should be lifted from the ground as in figure 1.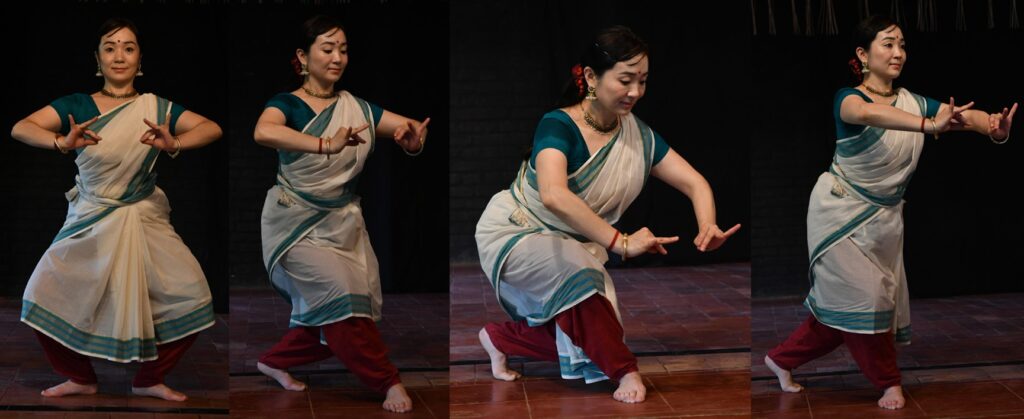 For Thitha, stamp the left foot and bring the hands back to the original posture through a half-moon movement. (figure 2).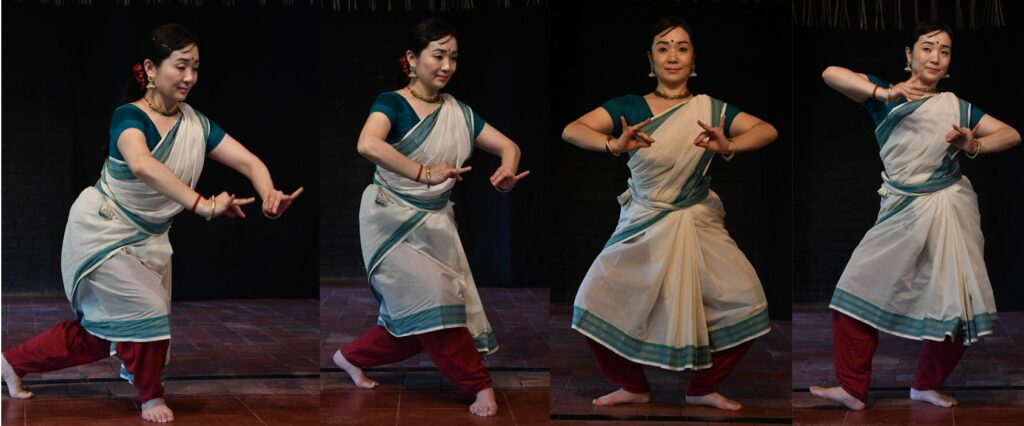 Bring the right foot back to half-sit position and touch the base of the right foot first and at about one foot away from the left foot and then hit the toes down. (Photo 3)

Hold Ardha Chandra gesture and raise it above the head and move it downwards in a circle and hold it above the right foot and below the right knee. The body should be bent towards the right. And eyes should focus above the right foot. (Photo 4)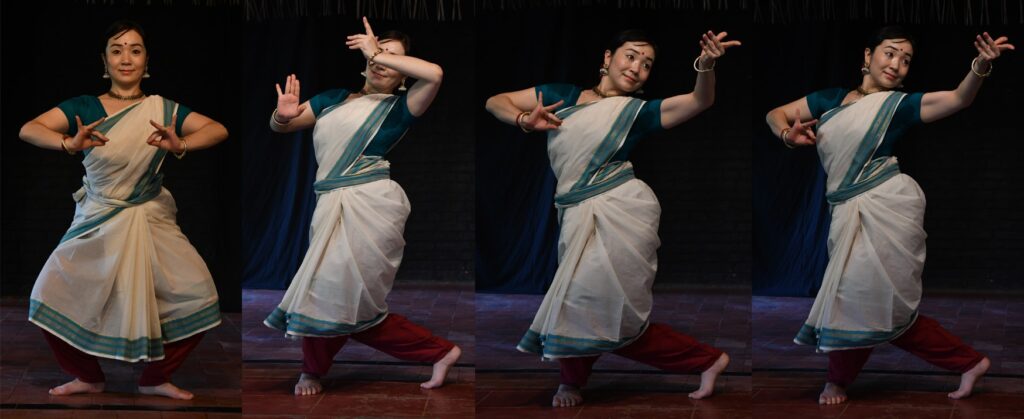 For Thitheyyam – Take the lefthand from the chest and move above the head and towards the left with half-bend arms in Ardha Chandra gesture. Turn the face towards the left hand and hold the right hand in Hamsasya close to the chest. Move the left foot at a distance of half foot in front of the right foot. Press the toes for dhitheyya before placing down the base of the foot. (Photo 5)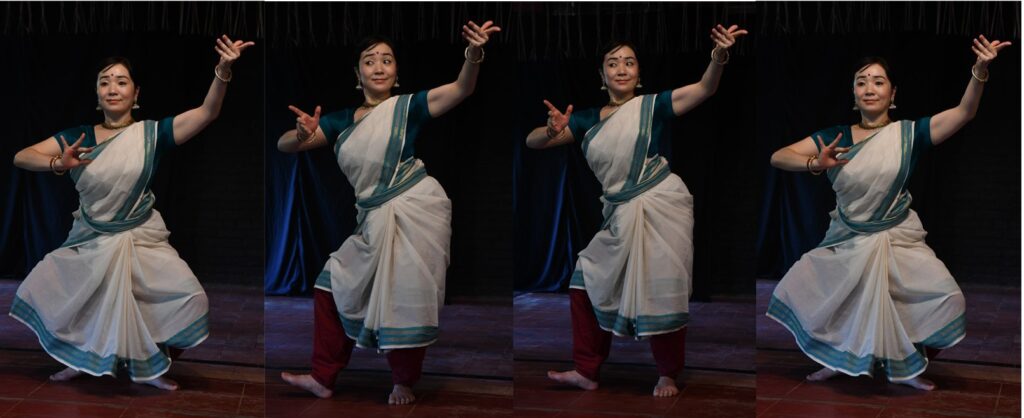 Bring the right foot to half-sit position for Thei and then hit the base of the foot two inches diagonally in the front. Hold Ardha Chandra in the right hand for this and look towards the right diagonal. Hold the left hand in half-bent position and for yyam lift the left foot and hit at the same position. For thatha bring the right foot to aramandalam position and hold hamsasya in the right hand with no change to the eyes.
Adavu – 2
Tha Theyyam Thithayyam Dhimi Theyyam Theyyam Tha Tha

Similarly Adavu two can be done. Gesters shown in the photos.
Photo Courtesy: Natanakairali Archives
Artist: Keiko Okano,
Video Clipping: Mohiniyattam Artist. Ameen Shanavas