A name synonymous with Kathak, Pandit Birju Maharaj created a style that had vigour, lasya and bhava.
When the news of the demise of world-renowned Kathak exponent Pandit Birju Maharaj at his residence in Delhi at the wee hours of Sunday night, after suffering a heart attack, a pall of gloom descended in the Indian art and culture space. Condolences poured in as the news came in. The legendary dancer would have turned 84 next month.
An exceptional dancer, guru and choreographer, Birju Maharaj was a torchbearer of Kathak for more than six decades. His brilliant performances across the world won recognition for Kathak as an art form on the global map. A follower of the Kalka-Bindadin Gharana of Lucknow, his style was unique so much so that it is being followed by dancers across Gharanas.

Popularly known as Maharaj-Ji among his disciples and legions of followers, Birju Maharaj was born on Feb 4, 1938, in the Maharaj family of Kathak dancers, which includes his two uncles, Shambhu Maharaj and Lachhu Maharaj, and his father and guru, Acchan Maharaj. By the age of seven, young Birju had accompanied Acchan Maharaj to Kanpur, Allahabad, Gorakhpur, Jaunpur, Dehradun, and even far off places like Madhubani, Kolkata and Mumbai sharing the stage with him. However, his father passed away when he was nine years old. Later he was trained by his uncles. Birju Maharaj's first major solo performance was at Manmath Nath Ghosh celebrations in Bengal where he received recognition as a young dancer with great potential and he never looked back after that.
With his expressive abhinaya, swift feet movement and perfect rhythm, Birju Maharaj developed a style that blends elements belonging to both his uncles as well as those belonging to his father. He had said that he inherited the precision of footwork and the play of the face and neck from his father, while the stylised fluidity of movement from his uncles."Shambhu's dance was full of vigour, while Lachchu Maharaj's dance was very subtle. My father on the other hand had his own style, which was a combination of both vigour and lasya. I created my own style of Kathak that had vigour, lasya and bhava," he said. He was especially known as a brilliant choreographer.
A musician and a composer
Birju Maharaj was an exceptional musician, sensitive poet and captivating orator. Not only his verses but his 'bols' were filled with bhava. He could play string instruments including Sitar, Sarod, Violin, Sarangi with precision, though he never underwent any formal training. Having strong command over Thumri, Dadra, Bhajan and Ghazal, he sang from the heart with a deep resonating voice that could bring out the feeling behind every word. His in-depth understanding of laya helped him easily compose new pieces and 'tihais' especially Ginti Ki Tihai.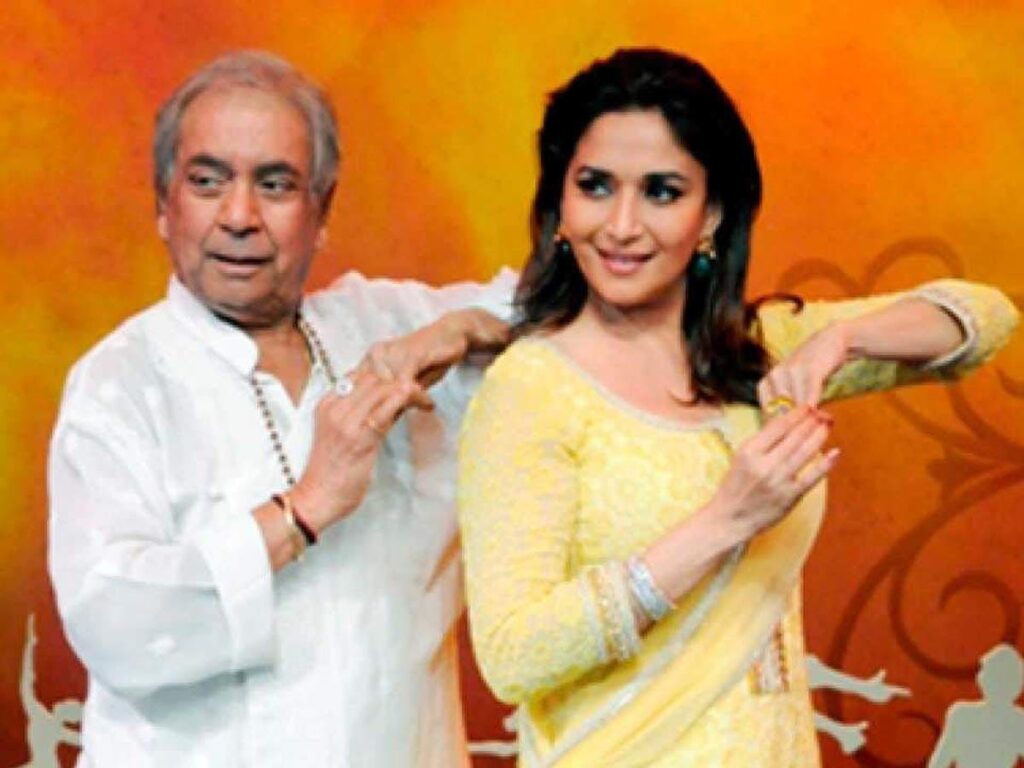 It was his comprehensive knowledge that prompted legendary filmmaker Satyajit Ray to ask him choreograph two dance sequences for his film Shatranj ke Khilari.He composed the music, and sang, for two dance sequences in this film. Thereafter he choreographed in many acclaimed movies including Madhuri Dixit in Devdas, Deepika Padukone in Bajirao Mastani and Kamal Haasan in Vishwaroopam. A master storyteller, he interlaces his performances with incidents from his life, narrated to captivate the audience.
A teacher par excellence
Birju Maharaj started his career as a teacher when he was just 13 years old. After teaching at Sangeet Bharati, where he began his career, he went on to teach at the Bharatiya Kala Kendra Delhi. Soon he was invited to head a team of teachers at the Kathak Kendra, a unit of Sangeet Natak Akademi where he served as the Head of faculty. As chief of the Kendra, he experimented with various themes and created a large corpus of choreographies. He developed a comprehensive teaching methodology for the dance. His compositions serve as the standard curriculum for Kathak dancers and teachers today.
A measure of his genius is the fact that at the young age of 28 years, he received the Sangeet Natak Academy Award, besides several other prestigious awards like – Kalidas Samman, Nritya Choodamani, Andhra Ratna, Nritya Vilas, Adharshila Shikhar Samman, Soviet Land Nehru Award, Shiromani Samman, Rajiv Gandhi Peace Award. He received the Padma Vibhushan in the year 1986. That said, the Pandit considered the appreciation of his audience as his biggest honour. "If, someday the audience says, 'Maharaj, you have won our heart; you have given words their true meaning through your dance; you have taken us to a world of ecstasy', then, I would feel fortunate," he said.