Singer and musician Remo Fernandes writes about his meeting with India's former Prime Minister Rajiv Gandhi
As my Indian Airlines flight taxied into place at the Delhi airport, I noticed an official white Ambassador car with a red beacon flashing on its roof rushing up to it. 'We must have some VIP on board,' I thought to myself. As I climbed down the aircraft steps with my handbag, my only luggage, a military man in full livery walked up to me and saluted.
'Welcome to Delhi, Mr Fernandes. My apologies, but due to the delay in the Goa flight, the prime minister asks if you might come directly to his residence, instead of being taken to your hotel first?'
Sure. I changed out of my 'Goa clothes' (Bermuda shorts, t-shirt and crocs) into the more formal clothes I was carrying, in the back seat of the moving car.
When I walked in, the room was already full of the who's who of Indian rock, pop and jazz. I barely had the time to say hi to everyone when Rajiv Gandhi walked in and, with a broad bright smile, opened the meeting.
'It's such a pleasure meeting with you artists after all the politicians and bureaucrats I have to meet all day long!' he greeted us.
Until then, apart from the Dresden festival, India had been officially represented at international events exclusively by classical and traditional folk artists. There was a Festival of India at the USSR coming up, and Rajiv wanted to project a young, vibrant image of India for the first time.
It worked wonders. Everywhere we performed, people were telling us they had no idea that rock and pop and jazz even existed in India. I just loved travelling around that enormous country and, for the first time, I felt like a real rock star, with girls rushing the stage through the curtains at the end of my performances.
The communist countries I visited (first East Germany, then Bulgaria, and then the USSR) were total revelations. It was easier and more popular to travel to capitalist Europe or the US, and I had not expected to ever have an opportunity to see the 'infamous' communist world first-hand. My head was filled with images which the Western world had projected, and I was surprised that no cloak-and-dagger person was following me on the first day.
But ah, I had been assigned a personal interpreter/guide! She was certainly my spy in disguise, assigned to see to it that I didn't go to undesired places a visitor wasn't meant to see… On the third day I decided to test her out. I said, 'Birgit, I won't need you tomorrow. I'm just going to sightsee on my own.'
I expected her to do a double take and say that wouldn't be advisable, that it was dangerous, that I might get lost, whatever… But all she said was, 'Oh, great! I can take a holiday! Have a great time tomorrow then!' Was she going to stay home and send the cloak-and-dagger man to trail me all day instead? Nah, I was letting my imagination run too wild. It was my turn to do a double take: 'No, on second thoughts, I think it would be great doing the sightseeing with you. So please do come, Birgit.'
She would point out all the good things about her communist country she could, though. She proudly told me once that their cars were made out of a metal-like substance created out of cardboard which was compressed through a very special process. She wasn't too happy when I asked, 'And what do you make out of the cars in case of accidents, schoolbooks?'…
Remo: The Autobiography of Remo Fernandes
Book details:
Remo: The Autobiography of Remo Fernandes
By Remo Fernandes
HarperCollins India
508 pages; Rs 799
Publication date: 30 November 2021
…I did quite a few concerts for the ICCR too – that's the Indian Council for Cultural Relations. While I guess they reserved offers for concerts in cities like London and Paris for artists who didn't shy away from wielding influence and connections – and which I, who had lived in Europe for a couple of years and not just visited it on some demented quickie 'foreign shopping spree', had no interest in revisiting – I was offered concert tours in countries like (besides the aforementioned communist ones) Kenya, Mozambique, Seychelles, Mauritius, and so on: offers which I devoured hungrily. The ICCR offered honorariums and per diems which were negligible compared to what
I was earning in my concerts, but the way I looked at it, I was actually being paid to travel to destinations I would have happily paid to visit!
Some months later Rajiv wanted to promote rock and pop more widely within India, and he called the rock and pop musicians to his residence again to ask for suggestions. A prime minister, or even just an average government authority, who asked for suggestions and advice from the youth was unheard of in India. We suggested television exposure, and he proposed starting a special programme featuring a different artist each week. When the time came to name it, I suggested the tongue-in-cheek 'Pop Goes India'. He and Mani Shankar Iyer saw through it though, and settled on the bland and safe Pop Time instead.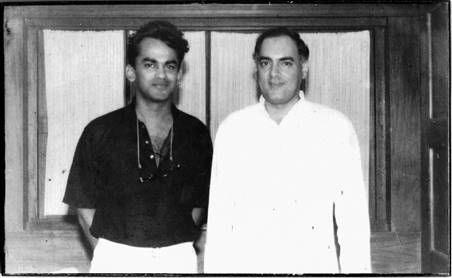 Remo Fernandes with India's former Prime Minister Rajiv Gandhi; Photo courtesy: Remo Fernandes
Modern music was not the only thing Rajiv was encouraging in India. My knowledge of politics and economics is meagre, and was even more so at the time. But I knew that he had big plans to open up the Indian economy, which had hitherto choked under the stranglehold of policies that bordered on the communist. India was a giant just waiting to break free. And I knew that if allowed to go smoothly forward, Rajiv's new modern plans, which he had already started working on, could usher in a golden era for our country. But all of a sudden, all that remained of those golden plans was a pair of sports shoes on a ground in Sriperumbudur, near Chennai. Rajiv had been blown up by a seventeen-year-old Tamilian girl, a human bomb belonging to the LTTE.
Michèle told me about the assassination as I woke up. I didn't utter a word. Just stayed in bed the whole morning, feeling empty. Then I got up and silently went up to my studio and poured out my feelings into an instrumental piece I named 'The 21st of May'. I also rewrote the lyrics to 'Hello, Rajiv Gandhi' and named the new version 'Goodbye, Rajiv Gandhi'.
These featured in an album called Politicians Don't Know How to Rock 'n' Roll. My entire being was mourning and hurting, not just for Rajiv whom I had grown very fond of, but for our country.
Ironically, despite the guitar being my main instrument, I had not been able to use one on any of my albums until now due to the silly reason that I didn't have enough tracks to record on. But now I had graduated from my four-track Portastudio to an eight-track spool Fostex, had just bought a superb anniversary model Jackson electric guitar and, together with my acoustic guitar, finally gave vent to my favourite instrument on this album. Incidentally, this is my son Noah's favourite album of mine.
(Excerpted with permission from HarperCollins India from the book Remo: The Autobiography of Remo Fernandes)