From samosas to shelf space, a bibliophile's digestive journey through Daryaganj.
As threatened, here's Part 2. You guys are gluttons for punishment, aren't you? Many of the sellers who offered their books at Daryaganj had warehouses or godowns where they stored their books, while some of them used to keep the books in their homes. As I became acquainted with the sellers, I received invitations to their godowns and warehouses. Many of these were located in Daryaganj itself, which is renowned for its publishing houses and bookstores. I spent numerous contented hours in these warehouses, perusing stacks and bundles of books. The scent of paper and ink evokes a sense of euphoria in book lovers, reminiscent of the 'high' experienced by cannabis smokers. In a heightened state of bliss brought about by the aroma of books, one would seemingly glide through these warehouses, marvelling at the wonders that unfolded when examining the laden shelves. Here, Karl Marx's 'Das Kapital' would be positioned alongside Adolf Hitler's 'Mein Kampf'; a James Bond thriller would cozy up against a Denise Robins romance novel or a collection of Christina Rossetti's poems. A selection of classic children's books by Richmal Crompton, featuring the mischievous scamp William, might lean casually against a stack of copies of Louisa Alcott's 'Little Women', as though attempting to feign ignorance of the tousle-haired child. Every now and then, you would chance upon a genuine gem, a book that you had sought for decades, and you would feel as if you had achieved Nirvana. God resided in his heavens, birds sang, and all was harmonious in the world.
During the initial years of my visits to Daryaganj, in the 1990s, most of the books that appeared in the market were usually personal collections of elderly book enthusiasts, discarded by their family members after they had departed to the Great Big Library in the Sky. In many instances, if luck favoured you, you might stumble upon a complete stack of books by a specific author, books diligently amassed by a book lover of yore over a span of time. I was fortunate to acquire several such collections, including approximately 40 books each by British thriller authors John Creasey and James Hadley Chase. Also, I came across various books on art, meticulously amassed by some unnamed connoisseurs, only for them to be discarded by their unappreciative descendants. Among my discoveries were stacks of golden age detective fiction, including vintage paperbacks by luminaries such as John Dickson Carr, Rex Stout, and Michael Innes. Additionally, I found a bunch of vintage Indrajal comics, spanning from number 51 to number 80, all in excellent condition and priced at five rupees each. Two of my most significant finds were the complete 24-volume set of the Tarzan series by Edgar Rice Burroughs and around 25 mint-condition hardcovers from the 1950s, accompanied by vibrant dust jackets, authored by the beloved children's writers of yesteryears, Anthony Buckeridge and Enid Blyton (each costing a mere two rupees).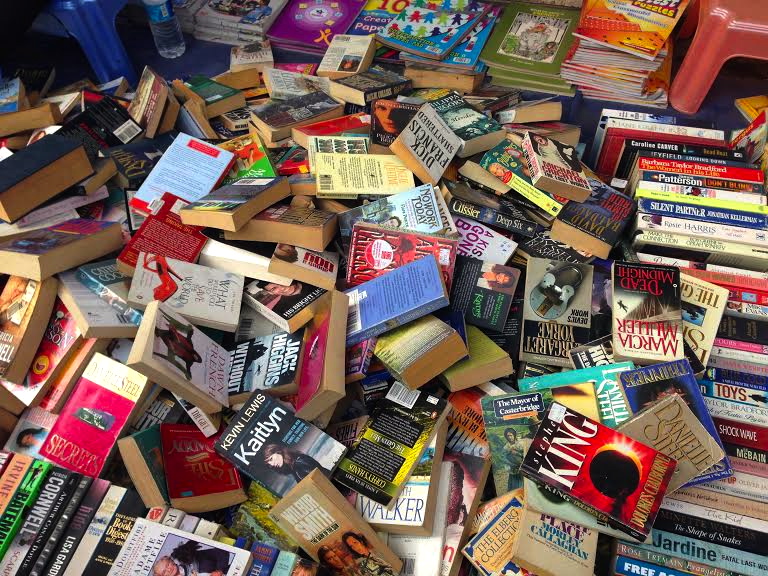 As the new millennium unfolded, used and remaindered books from the UK and USA began arriving in the market, shipped to India in containers. These volumes were in impeccable condition and were sold at remarkably low prices – paperbacks going for a maximum of twenty rupees and hardcovers priced at up to fifty rupees each. This proved to be an authentic windfall, sparking a frenzied rush among bibliophiles who could scarcely believe their good fortune. Yet, over time, the prices began to rise, as sellers became increasingly cognizant of the worth of the treasures they were amassing and distributing like so many sacks of potatoes or tomatoes. This era also ushered in the peculiar practice of book vendors selling books by kilogram, a phenomenon I had not encountered elsewhere.
Encounter with a goat in Daryaganj
A specific incident that remains etched in my memory from this period is when I received a call from one of my seller acquaintances in Daryaganj. He informed me that he had acquired a substantial collection of books from a container, and among them were several vintage British Annuals that I held a special fondness for. This friend of mine invited me to his residence in Daryaganj, located in a narrow lane behind the Delite Cinema. The call reached me on a Friday, and the very next day, I swiftly hopped onto an auto-rickshaw and headed straight to his place. After navigating the tight lane and finally reaching his house, I entered the courtyard and called out his name. He responded from inside the house, instructing me to come in through the main hallway.
Upon stepping into the main hall, I was abruptly halted by the sight of the largest and most sinister-looking billy goat I had ever encountered. The creature lay just inside the doorway, and as it began to rise to its feet with a malevolent glare, I found myself doubting whether this goat was indeed a herbivore like its counterparts. The thought of a swift retreat began to cross my mind, fuelled by uncertainty about the goat's intentions. Just then, my friend emerged from inside the house and issued a firm command to the goat. To my relief, the goat promptly settled back onto its haunches, as if attempting to feign innocence and nonchalance. I cautiously sidestepped past the goat and entered the hall, where my friend had stacked cartons of books for me to peruse.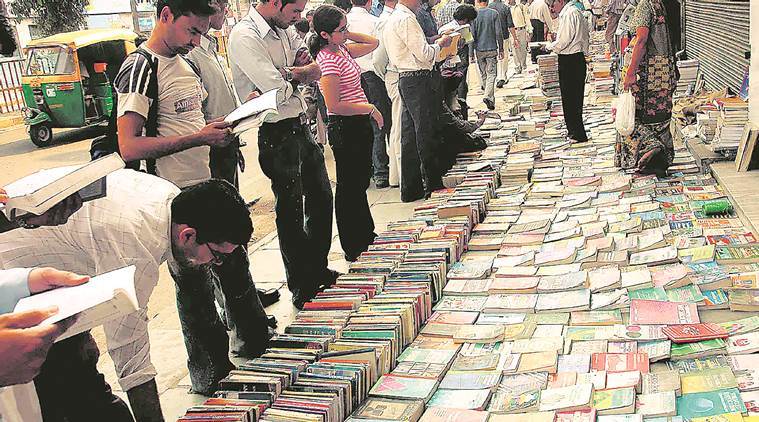 My friend explained that the goat had been purchased about four years prior, intended to be the centrepiece of the Eid celebratory dinner. However, the children of the household grew attached to the goat, resisting any plans to transform it into lamb chops. Consequently, the once-potential main course had evolved into the family's unconventional pet, finding refuge inside the house. On that day, I did manage to acquire a delightful selection of books. Nevertheless, the presence of the Goat of the Baskervilles cast a shadow of uncertainty over my visit. Eventually, laden with my newfound treasures, I exited the premises, maintaining a wide berth from the goat (a peculiar transformation from its lamb origins). The goat bestowed upon me a parting, lingering gaze, directed at the vicinity of my pants. The look seemed to promise something for our next encounter, though fortunately, I was spared any further meetings – a state of affairs likely beneficial for both my well-being and the goat's digestive system.
Another incident that remains vivid in my memory took place during a visit to the Anupam Cinema Complex in Saket in 2015. However, my purpose for being there wasn't to enjoy a movie but rather to explore the various pavement bookstalls that adorned the complex. Engrossed in perusing the books displayed at one of the stalls, I suddenly heard a robust shout of 'Uncleji.' Without delay, a well-built young man in his thirties, sporting a distinctive handlebar moustache, rushed over to me. Fearing that I had encountered an escaped lunatic, I frantically scanned my surroundings for assistance. Yet, my apprehensions were soon allayed as the young man warmly clasped my hands and launched into a lengthy and decidedly one-sided conversation.
In his animated discourse, he reminisced about how decades had passed since our last encounter. He humorously noted that while the passage of time had rendered me aged and decrepit, my unwavering passion for book acquisition remained unchanged. Gradually, it dawned on me that he was the son of one of the booksellers in Daryaganj. A faint recollection stirred within me, evoking memories of a mischievous young lad who once loitered around, causing a ruckus and inadvertently obstructing book enthusiasts as they perused his father's stall. Astonishingly, this same moustachioed individual had blossomed into the grown-up version of that very same rascal. Grateful that I wasn't destined for a grim fate at the hands of an eccentric, I allowed myself to be cajoled into a roadside teashop. Here, my newfound acquaintance treated me to tea and samosas, while also summoning several of his fellow book-selling comrades.
To my surprise, it appeared that these individuals were familiar with my presence, recognizing me from their childhood days when they accompanied their bookseller fathers to Daryaganj. The manner in which they described me evoked a sense of being a literary Rip Van Winkle, complete with a venerable, time-honoured beard. This encounter served as a poignant reminder that my decades-long sojourn among Delhi's pavement bookstalls had transformed me into somewhat of an institution – the eccentric yet endearing "Uncleji" who persisted in his pursuit of acquiring books and comics, rather than engaging in more ostensibly purposeful endeavours.
Digestive dilemmas
No discussion of visits to the Daryaganj bazaar would be comprehensive without acknowledging the allure of its street food. The locale boasted numerous modest shops and dhabas where you could procure piping hot samosas, kachoris in varying sizes, Delhi's signature bread pakoras, along with paneer pakoras and paneer bread pakoras. A petite South Indian establishment adjacent to the Daryaganj Police Station, as well as another within the Golcha theatre complex, offered delectable fares such as fluffy idlis, crispy dosas, and sambhar vadas (or "saymber veda" as Delhiites tend to pronounce it). The outlet near Golcha Cinema also served up the quintessential Delhi delight, chole bhature, which tantalized the taste buds upon consumption but often led to post-indulgence regrets as it wreaked havoc on one's digestive system.
Furthermore, the market hosted several more sophisticated dining establishments, including Moti Mahal, Zaika, Delhi 6, and Bhaja Govindam, all catering to even the most seasoned and discerning palate. For many patrons frequenting the market, the primary attraction was the food, with the books serving as a delightful supplementary experience. Without fail, I would start my day with breakfast in Daryaganj before embarking on the more serious pursuit of book hunting. During my bachelor days, I would even partake in lunch and tea there, leaving only after my stomach and book bag were both satisfyingly full.
In 2017, I ultimately bid farewell to Delhi, opting for voluntary retirement and relocating to my hometown in Kerala. A staggering 90% of my baggage consisted of cartons of books—precisely 110 of them. The financial burden would likely have overwhelmed me had it not been for the gracious assistance of the Government, which, in gratitude for my decision to depart, covered my transportation expenses. The task of hauling the cartons to the first floor of my home proved monumental. I still recall the pained expressions and hollow groans of the blue-clad union workers I had enlisted for the task, many of whom were convinced they were lugging granite blocks rather than mere books. To their amazement, the cartons contained solely literary treasures, and they managed to deliver them intact. These cartons now stand in my library, encapsulating my memories of Daryaganj.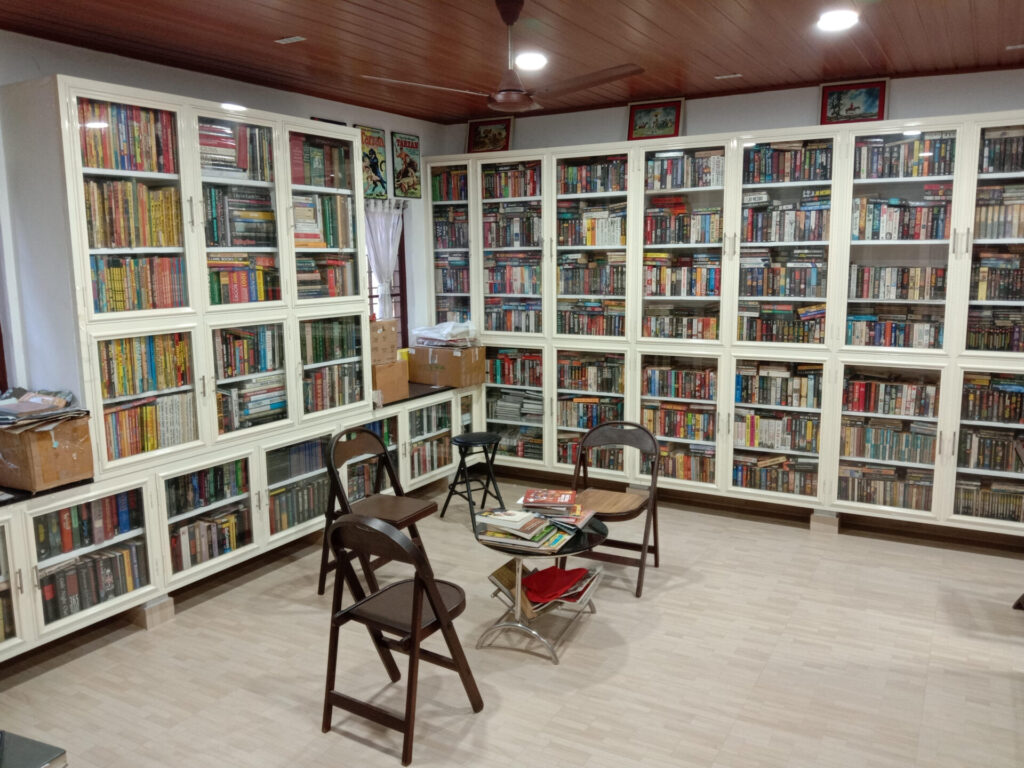 I can confidently assert that despite nearly three decades spent in Delhi, my yearnings for the city centre around three things: street food, cherished friendships, and above all, Daryaganj. Regrettably, the market has dwindled from its former glory, compelled to relocate from Daryaganj to Mahila Haat under the court's orders, ostensibly to alleviate traffic congestion. The market's operating hours have also been curtailed. A once-vibrant cultural emblem of Delhi still endures, though in a pauperized state compared to its former regal stature. Fortunately, I am spared witnessing this gradual, agonizing decline. Daryaganj, for me, will forever remain vibrant in recollection, a formidable sovereign bestowing invaluable pearls upon its devoted subjects.
A wonderful poem from Julia Donaldson I just had to share. Donaldson is the author of several books including the wonderful ' The Gruffalo' which should be read by children of all ages from five to ninety-five. :
I Opened a Book
"I opened a book and in I strode.
Now nobody can find me.
I've left my chair, my house, my road,
My town and my world behind me.
I'm wearing the cloak, I've slipped on the ring,
I've swallowed the magic potion.
I've fought with a dragon, dined with a king
And dived in a bottomless ocean.
I opened a book and made some friends.
I shared their tears and laughter
And followed their road with its bumps and bends
To the happily ever after.
I finished my book and out I came.
The cloak can no longer hide me.
My chair and my house are just the same,
But I have a book inside me."
Julia Donaldson
Click here to read Part 1