"I aim to ignite and arouse people's fascination for Dasa Sahitya and Vachanas, as everything encapsulated within these two literary and musical forms comprises practical life lessons," affirms film director Madhusudhan Havaldar. His second film, 'Prasanna Venkata Dasaru,' part of his Dasa series, is currently drawing packed audiences and running to full houses."
After centuries since its creation, Dasa Sahitya continues to demonstrate its timelessness and relevance. This sentiment is expressed by film director Madhusudhan Havaldar. When asked whether he was surprised by the packed audiences attending his film 'Sri Prasanna Venkata Dasaru,' which features the talented young star Prabhanjan Deshpande, Havaldar remarks, 'It's gratifying that my film is drawing full houses despite concurrent releases of star-studded movies, including 'Oppenheimer.' Initially, my friends were apprehensive about the reception of a devotional subject intertwined with profound philosophy. However, I wasn't caught off guard, given that my first film, 'Jagannatha Dasaru,' equally captivated audiences with over 100 shows both in India and abroad, especially during the Covid-19 pandemic in 2021!' declares Madhusudhan."
The Bhakti movement…
Dasa Sahitya and Vachana Sahitya in Kannada literature constitute the devotional forms of centuries-old, crucial written material that maintains social relevance even today. They were day-to-day living treatises preached by saint philosophers in simple Kannada, intended to reach out to the common man.
Dasa Sahitya poets and saint-scholars (such as Sripadaraya, Vyasathirtha, Vadiraja, Purandara Dasa, Kanakadasa, among others) succeeded in revealing the profound secrets of the Vedas and Puranas. They did this through compositions sung in lyrical meter, referring to themselves as the Servants of God (Haridasas). In Vachana Sahitya, the Sharanas who wrote vachanas seeking refuge in Shiva—Basavanna (Basaveshwara), Helavanakatte Giriyamma, Akka Mahadevi, Allama Prabhu, and Devara Dasimayya, among many others—wrote and lived in such a way that the hierarchical caste structure was dismantled, making spiritual experiences accessible to all.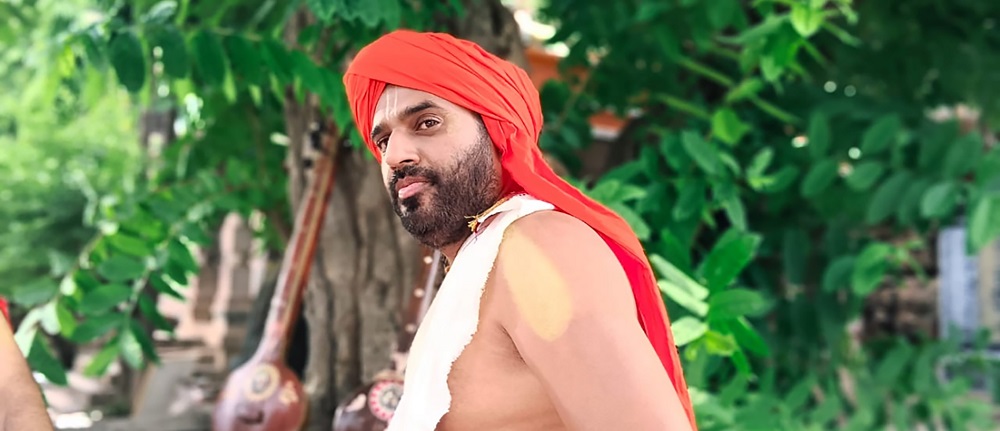 I have dedicated myself to our Dasas and Sharanas, as I have charted a 10-year project where I intend to cover Dasa Sahitya and Vachana Sahitya. It might sound ambitious, but I am resolute in my commitment to cover them comprehensively. I am driven by a sense of responsibility towards the vast literary treasures that our Haridasas and Sharanas have brought forth from the Kannada land. The expressions they have left behind convey practical messages—urging us to forsake the pursuit of worldly wealth and affluence, and to lead lives of righteousness and detachment, surrendering to a higher power. This devotional movement paved the way for other regions in India to initiate parallel Bhakti-oriented dissemination, led by saint-philosophers who propagated the spiritual privileges of a true devotee," adds Madhusudhan.
Mother, his inspiration
What served as the source of inspiration for Madhusudhan's shift toward devotional subjects after a 25-year tenure as a wholly commercial film director? "My mother, Ambujabai, was a specialist in Harikathe, her renditions of Dasarapada and bhajans exuded a graceful harmony. A vivid memory I retain is accompanying my mother to her performances and attending numerous Dasara Aradhane events. The devout atmosphere that enveloped my upbringing has deep-seated roots within me. The dormant thought process within me, which awaited the right moment to blossom, perplexes me. It was only after my mother's passing that I comprehended her counsel, wherein she had encouraged me to create films centered around devotional themes, including Dasa Sahitya. As a meaningful tribute, I inaugurated my production banner – Matambuja Movies – with 'Jagannatha Dasaru' in 2021," reveals Madhusudhan. His father, Rama Rao Havaldar, who retired as a Tahsildar from the Revenue Department, also harbored a pronounced affinity for music and drama.
From Hospet to Bengaluru…
Madhusudhan's upbringing transpired in Hospet, Karnataka, where his educational pursuits ceased at the pre-university level (PUC), as his mind was captivated by the realms of art, music, and literature. "I used to contribute to orchestras, transitioned into a playwright, and composed music for various theatrical productions. Academic studies held minimal sway over me; not even my parents' fervent aspirations could divert my attention," Madhusudhan reflects. His relocation to Bengaluru in 1996 was steered by his elder brother's introduction to filmmaker TN Sitaraman, under whom Madhusudhan engaged in crafting TV serials that marked a new trajectory.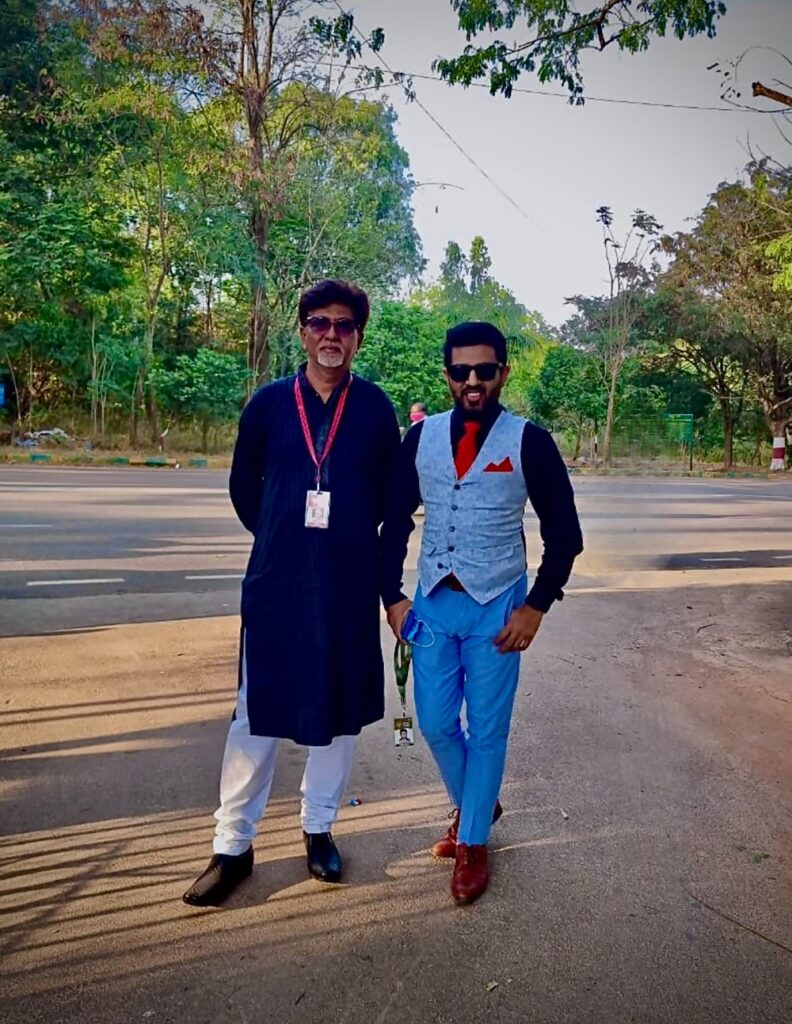 Before long, Madhusudhan amassed the resources to produce documentaries and tele-serials for Doordarshan. His foray into filmmaking naturally unfolded, with his inaugural Telugu film 'Vamsham' clinching 13 awards in Andhra Pradesh, including the Sangam Academy Award. "I take pride in having introduced singers such as Hemachandra and Karunya to the Telugu film industry!"
When the going gets tough…
With a larger repertoire of films in Telugu and an attempted commercial venture titled 'Aa Marma' in Kannada, among others, that ended in disappointment, every endeavor he undertook failed to satisfy his creative appetite or bolster his finances. It dawned on Madhusudhan that a quarter of a century was a substantial duration to traverse a challenging path. Despite facing a blow to his morale, his resolve to contribute something "more beneficial to society" prevailed. Clinging to his resolute never-give-up attitude, he recounts that a "divine force aided his decision" to embark on a project centered around Haridasas with a clear perspective.
Almost five to six decades following the triumphant films on Purandaradasa and Kanakadasa, no one had dared to approach such weighty subjects. Madhusudhan made the daring choice to appeal to individuals intrigued by music, literature, and philosophy, nurturing a dream to construct a significant documentation for Karnataka. "As things began to progress, I lost my mother. With a heavy heart, I solidified my resolution to launch the 'Matambuja Movies' banner and initiated my first film, 'Jagannatha Dasaru,' in her honor. Astonishingly, the film defied all odds, achieving considerable success, from international screenings to an impressive 60-day run in Gandhinagar! It struck me as ironic that when I least anticipated anything, everything was bestowed upon me!" Madhusudhan shares emotionally.
Film locations and music…
When inquired about the actors, filming locations, and music in his two films, each component tailored to perfection, Madhusudhan explains that he enlisted newcomers who possessed an intense passion for their roles. "Debutants in my first two films, such as Sharat Joshi, Prabhanjan Deshpande, and Trivikrama Joshi, should be witnessed for their unwavering commitment and convincing performances. In terms of musical compositions, Vijaya Krishna's traditional melodic essence infused with Dasa Sahitya's resonance lingered within one's consciousness for days on end," Madhusudhan reflects. His filming journey took him to picturesque settings including Gangavati, Anegundi, Kanakagiri, Raichuru, Hospete, Huligi, Koppala, and Bagalakote, locations where the Dasas once resided.